Affiliate links in this post will be clearly marked with a *. Clicking one of these links means I earn a discount or receive payment.
This week of super easy dinners is going to be a mixture of slow cooker dinners (that are still easy to make without a slow cooker) and fast dinners.
I'm a real fan of a lazy dinner. I love to utilise my slow cooker where possible. Often I don't want to spend more than 10-15 minutes preparing dinner, but I still want to serve my family something tasty.
For me, I love to be able to put dinner on in the morning and then come back, at the end of a day of work, and find that dinner is ready to serve. This is so convenient, helps us avoid the takeaway and saves us money too.
Be sure to check out my slow cooker tips while you're here too.
A week of super easy dinners
Slow cooker cottage pie
This slow cooker cottage pie is a real crowd pleaser with my family. It is simple to prepare, and best of all I can either make components of it during the week as I make other meals, such as the mince base, or the mashed potato topping, or I can freeze the whole thing in advance.
Sometimes I cook up a double portion of this and then have it ready in the fridge for a couple of days later. It is a great meal for this because the flavours really improve from that extra time marinading in the fridge.
Slow cooker chicken nachos
A big steaming hot plate of chicken nachos ALWAYS goes down well in this house. What I love about this dinner is that I can prepare it in advance and then it is literally 2-3 minutes from arriving home to having dinner served up, if I need something quick.
This goes well with a whole host of sides. We love slow cooker rice, my easy homemade garlic bread and sometimes, if I have the time and effort, I make my own air fryer tortilla chips from homemade tortillas.
Slow cooker beef keema curry
When we want a takeaway style meal, without the expense or added calories, this slow cooker beef keema curry is a real winner! I love the flavours of this dish.
It tastes exactly the same as the one that we would buy from the takeaway and I can always tone down the spice a little if I want my little ones to enjoy it too. I love to serve this either with microwave rice, rice in the slow cooker or my 3 ingredient no yeast flatbreads.
Slow cooker chicken tikka masala
Another curry dish that works really well for us is this slow cooker chicken tikka masala. It is a really flavoursome dish, that requires minimal effort, and goes great with microwave rice or some lovely potatoes.
We love to make a curry in our slow cooker, as the flavours are really enhanced from a whole afternoon of cooking. It is SO simple to prepare curries in the slow cooker and these are great dishes for hiding a load of veggies in from fussy little ones too.
Salt and pepper chicken
This salt and pepper chicken is a really lovely, lighter version of the Chinese takeaway dish. We love to have this on a Chinese themed night, and I'll often serve it alongside my salt and pepper chips, homemade egg fried rice, shop bought prawn crackers, homemade sesame prawn toast and fortune cookies for a real authentic feel.
Chicken fajita triangles
Chicken fajitas has to be one of the real simple, go to meals in our home. It takes just minutes to prepare, can be cooked on a sheet pan in the oven and the leftovers are great turned into these delicious chicken fajita triangles.
These are VERY unhealthy, as they are deep fried, but you could probably cook them in your air fryer! Speaking of air fryers, I've got a whole range of great suggestions of what to cook in an air fryer!
Bolognese pasta bake
When I make a slow cooker spaghetti bolognese, or even a 15 minute spaghetti bolognese, I like to make a big enough portion that I have leftovers for this mince pasta bake. It is a really simple, filling, hearty meal and goes great with any type of bread smothered in my homemade garlic butter.
I also love to make air fryer mac and cheese or air fryer pasta bake too when I'm on a time deadline.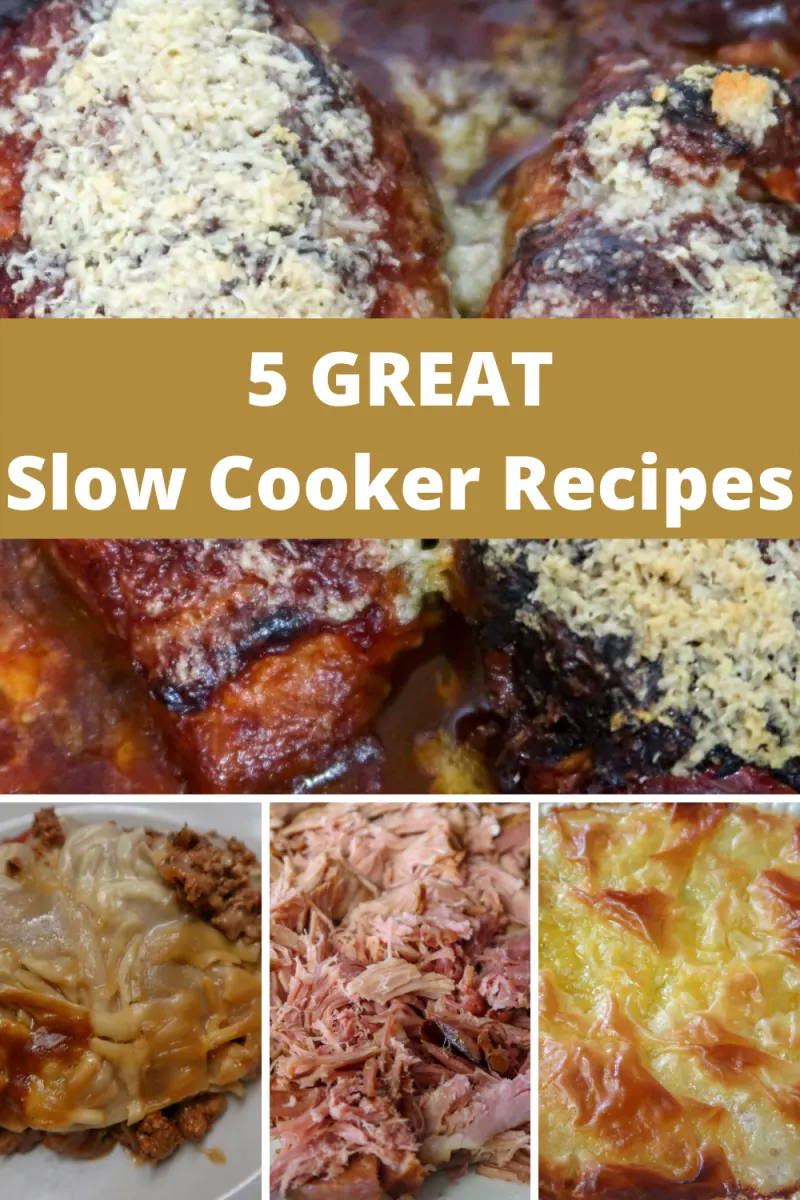 This is a dish that can be made in advance and frozen too, then you'll just want to add the mozzarella fresh before popping it in the oven.
I LOVE the above meals. They're all super convenient, easy to make and using the slow cooker saves us a lot of time, money and effort. We've been converts for a few years now and really love coming home to a hot meal at the end of a long and/or busy day.
All of the above dinners can be made without a slow cooker, in around 30 minutes or so, and then either served or popped in the oven to brown off.
A lot of the above are chicken breast recipes, as this is typically one of the cheaper meats to buy. If these aren't your bag then check out my slow cooker beef recipes or even just look at my favourite recipes for some mealtime inspiration.
Looking for other ways to make life a little easier at meal times? Check out my meal planning tips for mince and how to avoid overspending on groceries too.
ALL of the slow cooker recipes on this website have been cooked using a Ninja Foodi OL750UK, or the previous model, but you can use ANY slow cooker, as timings should be very similar.
These are a few of my favourite slow cooker cookbooks too for further inspiration:
If you enjoyed this post I'd love it if you could pin it on Pinterest!