Affiliate links in this post will be clearly marked with a *. Clicking one of these links means I earn a discount or receive payment.
Like a lot of people, I'm sure, we are big fans of a nice takeaway. Some nights you want to enjoy something little different, or even just enjoy not cooking yourself. This air fryer frozen chicken burger is perfect if you want to create a Fakeaway style dish at home, on a budget, or just quicker than it takes for Uber Eats or Just Eat to deliver.
Takeaways are great and all, but they're also rather expensive these days and we're in a cost of living crisis don't you know (sure you do!).
I love how convenient it is to make up a chicken burger from home. I either use frozen supermarket buns, that I defrost with a wet paper towel around them in the microwave, or I make my own air fryer bread rolls or soft white floury rolls. When I want to make the night feel extra special I serve with a Cosmopolitan Mocktail.
These frozen chicken burgers, cooked in the air fryer, are super convenient, quick, cheap and great for those nights you just don't want to cook from scratch but want something tasty too.
My air fryer, the Ninja Foodi OL750UK multi-cooker to be more specific, makes it really convenient for me to make simple meals, particularly dinner in a hurry. The air fryer cuts down on cooking time, is very easy to use, and as it is on the worktop in my kitchen it is really convenient to use on higher pain days with my chronic illness.
Frozen food takes less time to cook in the air fryer than in the oven and you get super crispy delicious results every time too.
We are huge fans of an array of air fryer side dishes, and enjoy serving air fryer chips or air fryer frozen halloumi fries alongside this chicken burger for a real Fakeaway experience made at home and for a fraction of the price.
Whenever my husband is home, half the week, I like to make tasty lunches for us to enjoy together, to break up the working day. The air fryer makes it really simple to prep food in under 10 minutes. I love to make air fryer chicken recipes as they're a great way to have fast dinners or even sandwich fillers.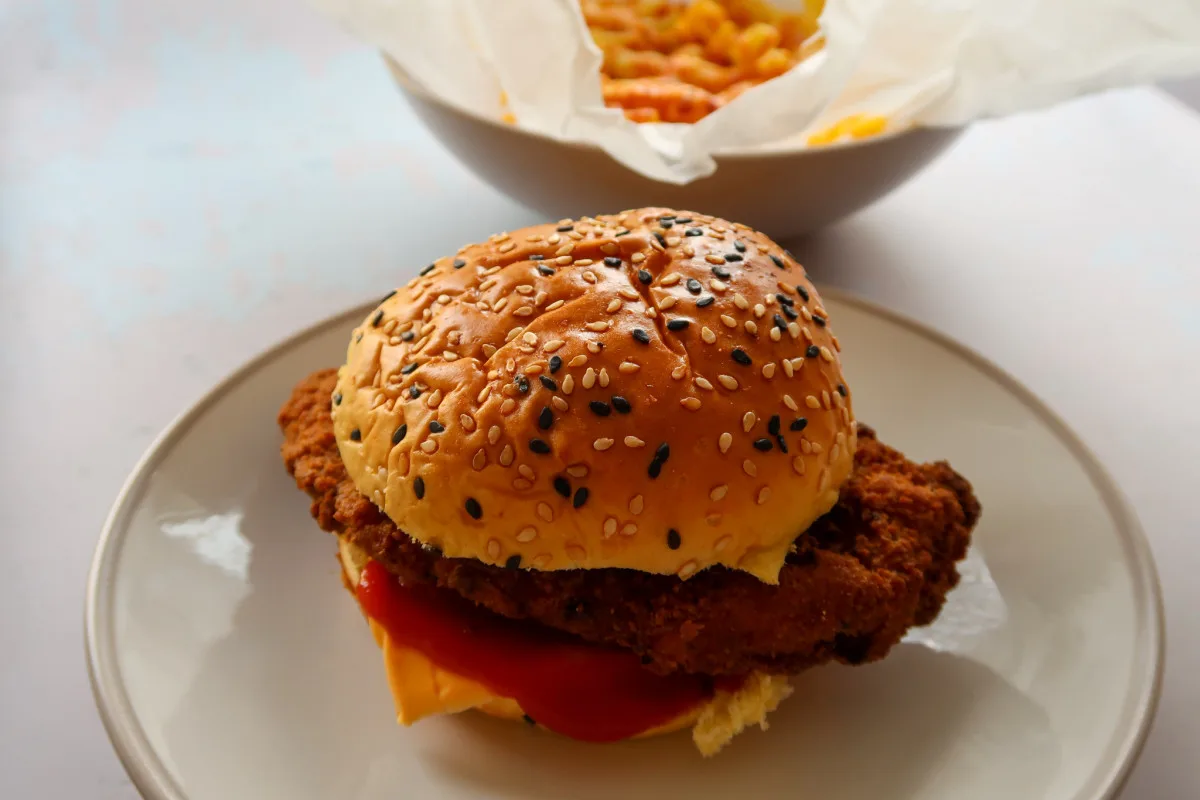 Ingredients for air fryer frozen chicken burger:
Chicken burgers. We buy frozen ones and that is what I use in this recipe and the photos you see here. Personally I really like the Birds Eye ultimate chicken shop chicken fillet burgers. You can buy whatever your budget stretches to, or your preferred chicken burgers.
The ones I buy are available in most UK supermarkets and can be kept in the freezer for months. I often stock up when Farmfoods have special offers on to save a considerable amount of money. These remind me of those chicken minis that you can get from Chick-Fil-A.
Something to note about air fryer recipes is that all air fryers have different sizes, depths and as such the cooking times can vary. All air fryer recipes on this website are intended as a guide, and not a guarantee that the timings will be perfect. Enjoy!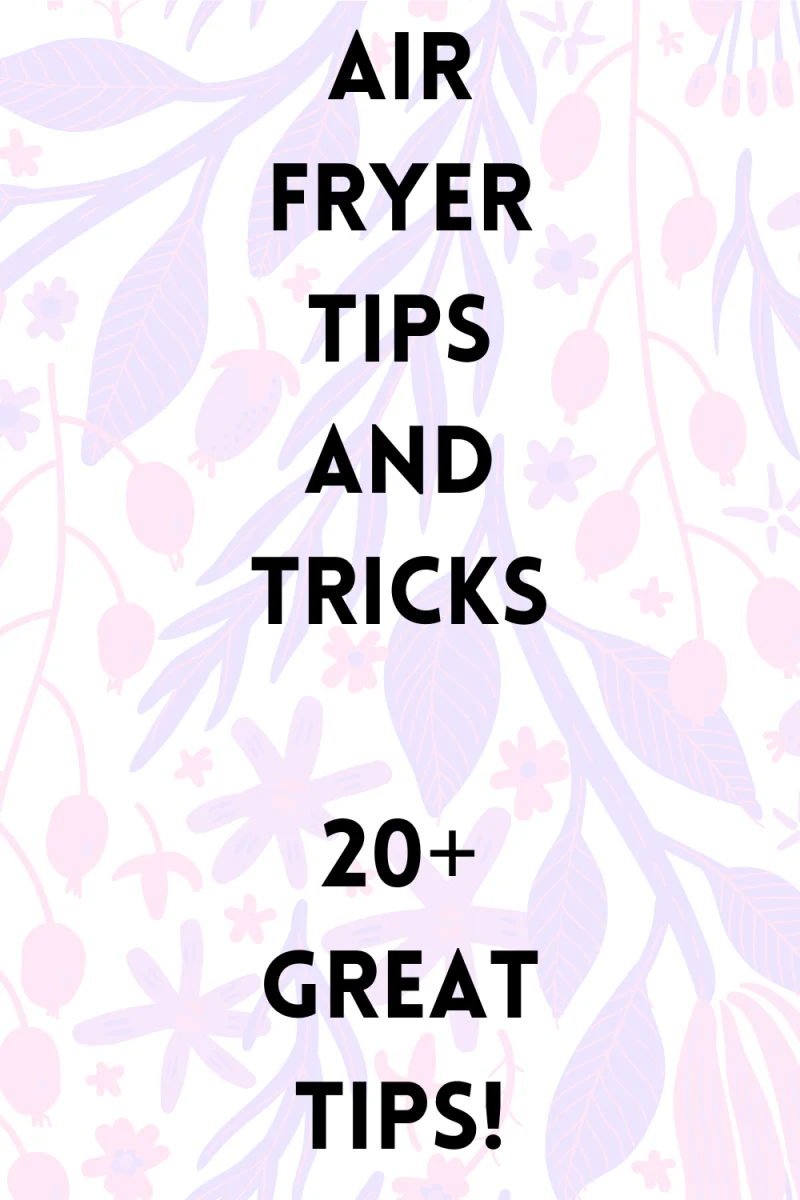 Method for cooking an air fryer frozen chicken burger:
Cooking frozen chicken burgers in the air fryer is so simple. Take them out the freezer, open the box, place into the air fryer basket and you're ready to start cooking!
For the Birds Eye chicken fillet burgers I use I like to place them directly in to the air fryer basket, which I wipe over with a tiny bit of oil before I do so.
Frozen food in the air fryer cooks SO well and it is a breeze. Start with a temperature that is 20C less than the cook temperature recommended on the packet. If there is a fan oven temperature listed then you can use that instead. Then start with 1/2 of the cooking time, and move up to 2/3 of the cooking time as needed. Use a meat thermometer to make sure your food is safe to serve.
The burger you see pictured here was cooking for 14 minutes at 190C, and was crispy, delicious and absolutely perfect. If cooking from scratch I expect you'd need around 20 minutes.
Just use your judgement when cooking frozen chicken burgers and cook for 1-2 extra minutes at a time if needed. Things CAN BURN super quick in the air fryer, so keep a close eye on it!
Usually I will flip these chicken burgers once during cooking, just to ensure that they are brown all over. This avoids them sticking to the basket of the air fryer and makes it easy to serve them up too.
With the frozen chicken burgers I don't shake them up during cooking, as they don't tend to stick thanks to the added batter and/or oil using in the coating.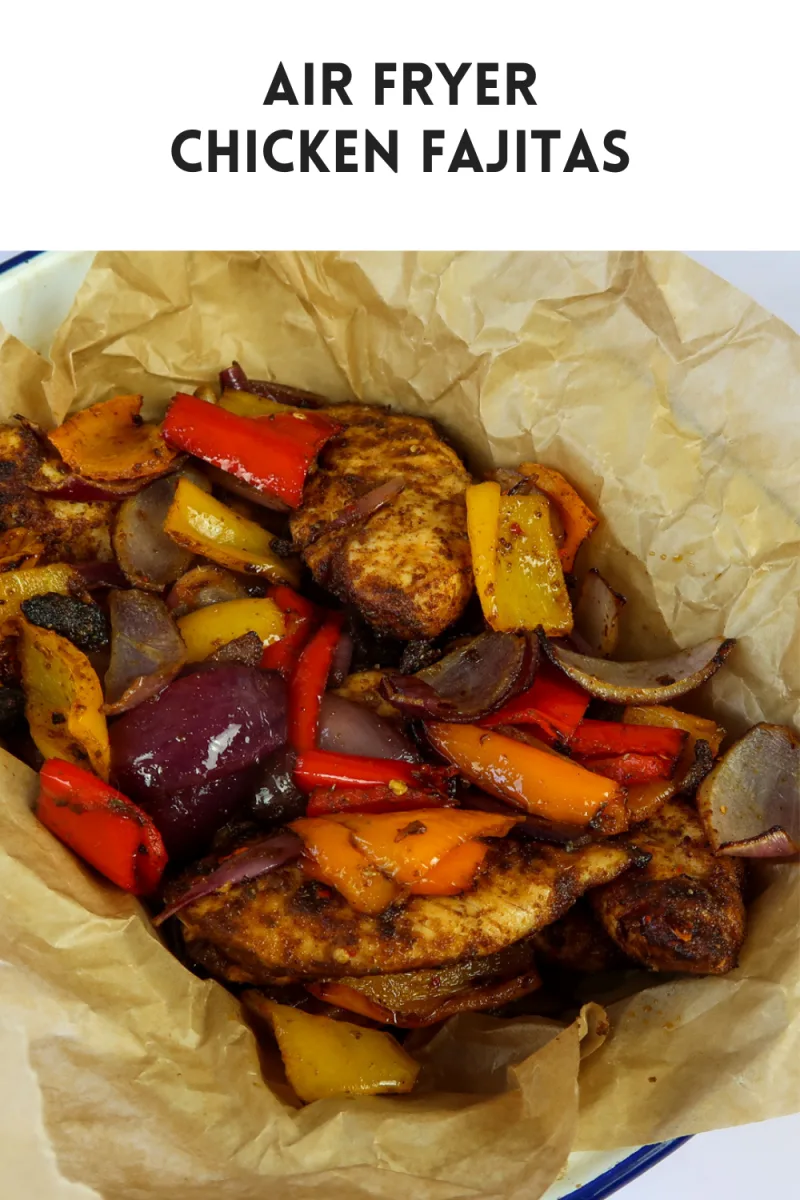 Which chicken burgers are best for the air fryer? Homemade or frozen?
If you're going to make them from scratch you'll want to freeze them before cooking, to help the batter/breadcrumb mix to stay on while air frying.
Personally I feel that frozen chicken burgers work the best, as they are super crispy and delicious while being soft and delicious inside too.
If you want to make your own they'd be great too, but this is designed to be a low effort recipe, for those nights you just don't want the extra mess or effort.
When you can't find chicken burgers specifically you can use frozen breaded chicken fillets, frozen chicken fillets, breaded chicken breasts or just about any chicken fillets really. These all work very well in buns, with a nice dollop of sausage and some lettuce or other salad leaves.
What goes well with chicken burgers?
The classics are tomato ketchup or burger sauce. I also love a little English mustard, pickles or air fryer onions. An air fryer frozen onion ring or two works really well and I love to serve with air fryer frozen french fries, air fryer frozen potato wedges or air fryer diced potatoes instead.
We love to make buffalo chicken burgers, with buffalo sauce. So different to the norm and a nice hit of flavour that works really well!
Sliced cheese goes great on chicken burgers, and we love to use the classic 'plastic' burger cheese, or nacho cheese sauce.
Why not try some of my other air fryer recipes while you're here?
Can you reheat chicken burgers in an air fryer?
If you've made chicken burgers from scratch then you'll be able to re-heat once.
Chicken burgers are best enjoyed fresh and frozen chicken burgers definitely should not be re-heated for food hygiene and safety reasons.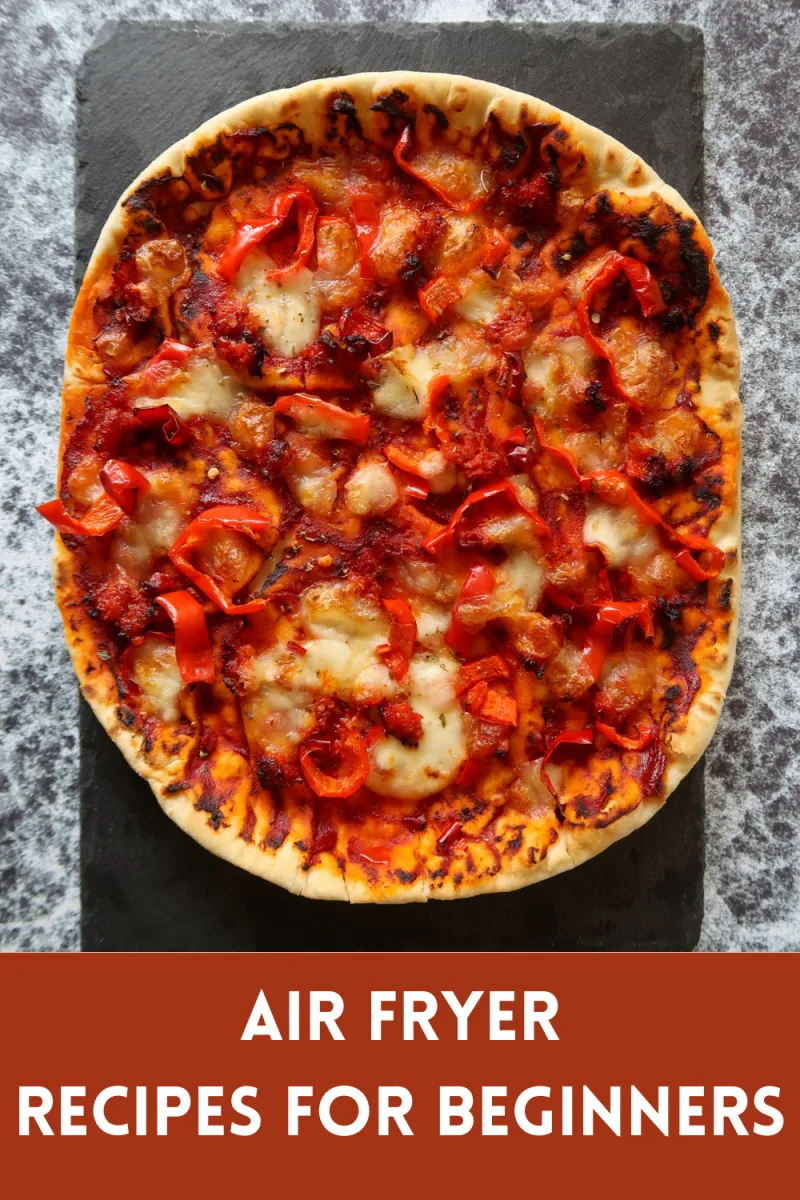 How to air fry frozen chicken burgers in Ninja Foodi:
I always use the crisper for chicken burgers to get the best, crispiest results. Follow the time method mentioned above as no other changes should be required based on specific models of air fryer.
Do you need to defrost frozen chicken burgers before air frying?
No! Just cook from frozen, at a high temperature, and you'll save time and effort. If you have fresh chicken burgers, or have made your own chicken burger patties, then reduce the cooking time by a few minutes and check one additional time during air frying.
If you enjoyed this post I'd love it if you could pin it on Pinterest!