Affiliate links in this post will be clearly marked with a *. Clicking one of these links means I earn a discount or receive payment.
We're big fans of a nice tasty dessert in our family, and if we can make it in an air fryer even better! An air fryer helps to cook things very fast and it is cheaper to use than the oven too. I love that my air fryer just sits on the worktop and I don't have to lift heavy dishes in and out of the oven when I'm suffering from a pain flare up.
Air fryer frozen churros are one of my favourite desserts to make in the air fryer. They are SUPER fast, ready in just a few minutes, very simple; just open the bag or box and pour into the air fryer, and they are often dairy and soya free too, which is perfect for my little girls to enjoy, as they have allergies.
I love to serve churros alongside an air fryer pizza and air fryer frozen potato wedges, for a tasty family dinner that is very simple and pretty cheap too.
Often I will serve these after we enjoy a roast dinner, or another special meal, as I know they take just minutes and can be cooking while I'm tidying up from dinner, so we can enjoy them hot with dipping sauces.
We are BIG fans of sweet recipes here, with some of the current favourite in our home being banana bread, banana chocolate chip muffins, midnight cookies, air fryer apple crumble and rhubarb and pineapple crumble.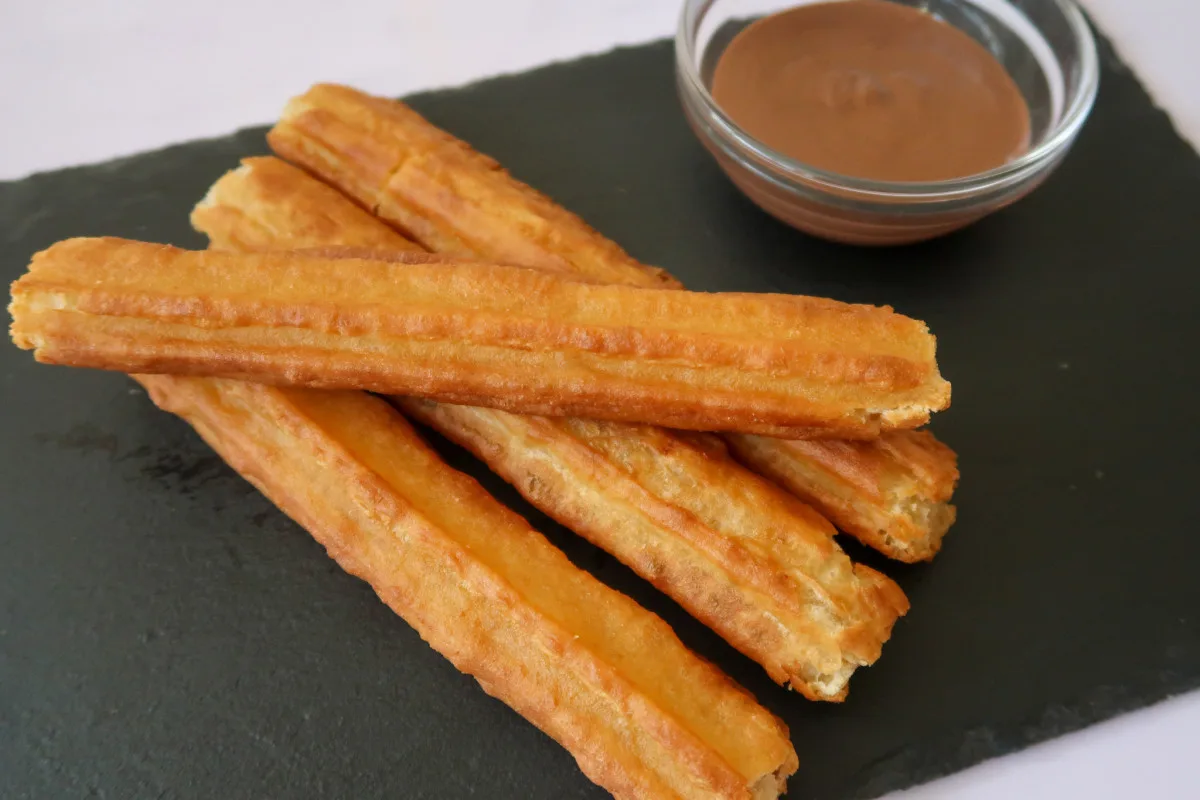 Ingredients for air fryer frozen churros:
A packet of frozen churros. I've used both the mini ones and the XXL ones from Lidl.
You can buy any brand or size that you want, as I'll tell you shortly how to adjust the packet cooking times for cooking frozen churros in your air fryer.
Something to note about air fryer recipes is that all air fryers have different sizes, depths and as such the cooking times can vary. All air fryer recipes on this website are intended as a guide, and not a guarantee that the timings will be perfect. Enjoy!
Want to make churros from scratch?
I really rate these *churro mixes that I picked up from Amazon. What I do is make them, pipe them flat onto a baking paper lined baking tray, and then I put them in the freezer overnight. Then I transfer them to a freezer safe bag or storage container and I will just air fryer from frozen as and when I fancy making churros for my family.
Where to buy frozen churros?
Personally I buy them in Lidl and Tesco mostly. There are some available in Iceland sometimes, and you could also look at frozen food warehouses such as Iceland Warehouse and Farmfoods. When I see them on offer I tend to stock up, but I have made my own homemade churros and frozen those before too!
How long do I air fry frozen churros?
Heating frozen churros in the air fryer is really simple. Churros already come with a coating on them usually, which helps them to crisp up lovely. Also, the frozen ones have often been deep-fried already, so you're just re-heating them and bringing them back to their crispy best!
The coating on churros ranges from just being plain to being coated with sugar or a cinnamon sugar mix. You can make this yourself very simply too, and often the packets of frozen churros come with a cinnamon sugar mix inside too, that you can sprinkle along the churros once they're cooked.
The cooking time that I follow is to reduce the cooking time on the packet to half, and then reducing the temperature by 20C also.
For the mini churros I find that 190c and cooking for 2-3 minutes is perfect, and for the XXL frozen churros I find that 3-4 minutes is usually the perfect cooking time.
Can you air fry Lidl churros?
Yes! These are the exact ones that I buy. During different times of the year Lidl have different churros on sale. Sometimes they have the XXL ones, and other times they have the mini ones. Both are frozen churros and both of them are simple to cook in the air fryer.
I absolutely love the Lidl churros. They are packed full of flavour, well made, simple to cook in the air fryer and they sometimes have little packets of sugar mix inside too.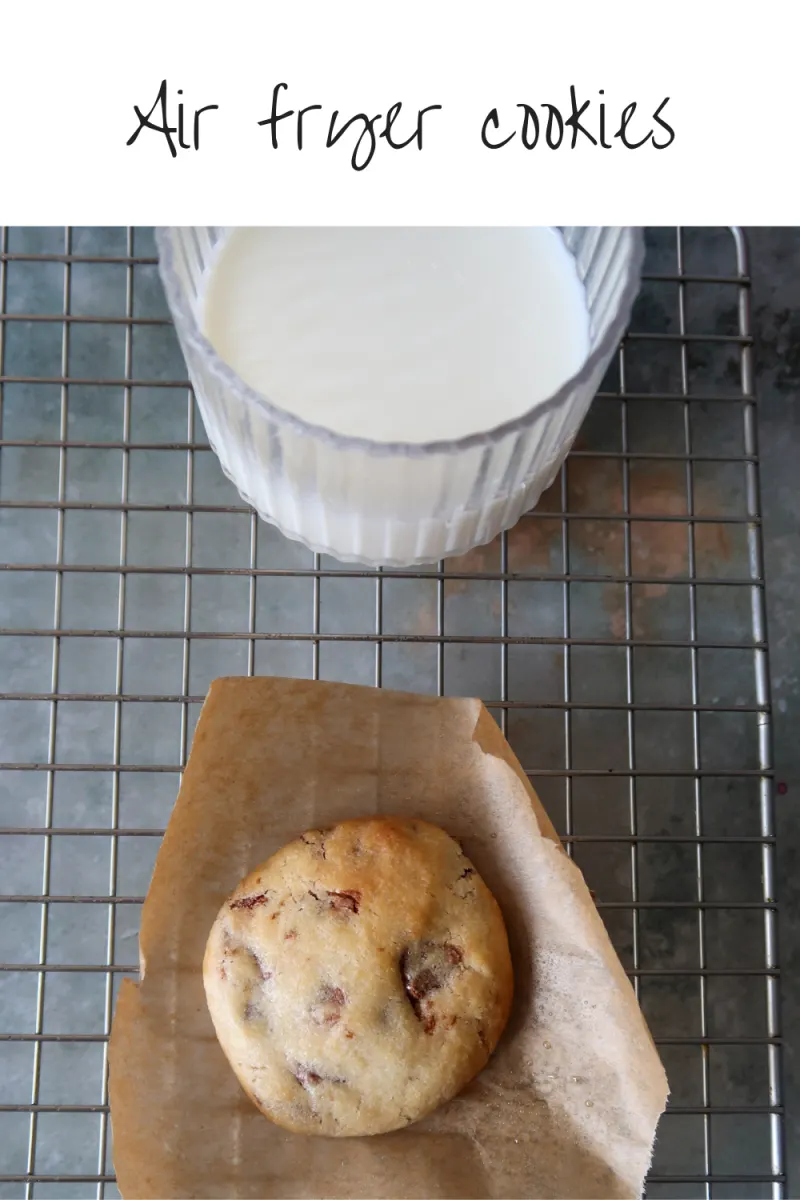 What to serve with air fried frozen churros?
If your churros don't come with a sweet cinnamon sugar mix, or other sauce, then you can make your own. Icing sugar works great, just dusted on the top, or my chocolate sauce (without cream) is delicious too. If you want to save a little bit of time or effort then you could melt a little chocolate spread or Biscoff spread in the microwave in 5-10 second increments. 15-20 seconds usually is perfect to make a runny dipping sauce.
Hot chocolate for dipping, or dulce de Leche are both traditional items to serve with churros. Vanilla ice cream works great too, and is a great way to stretch a portion fo churros among a larger family or if you have visitors.
How do you eat a churro?
Let them cool just a little after you remove them from the air fryer and then you can hold them like a breadstick and just dip into your sauce of choice.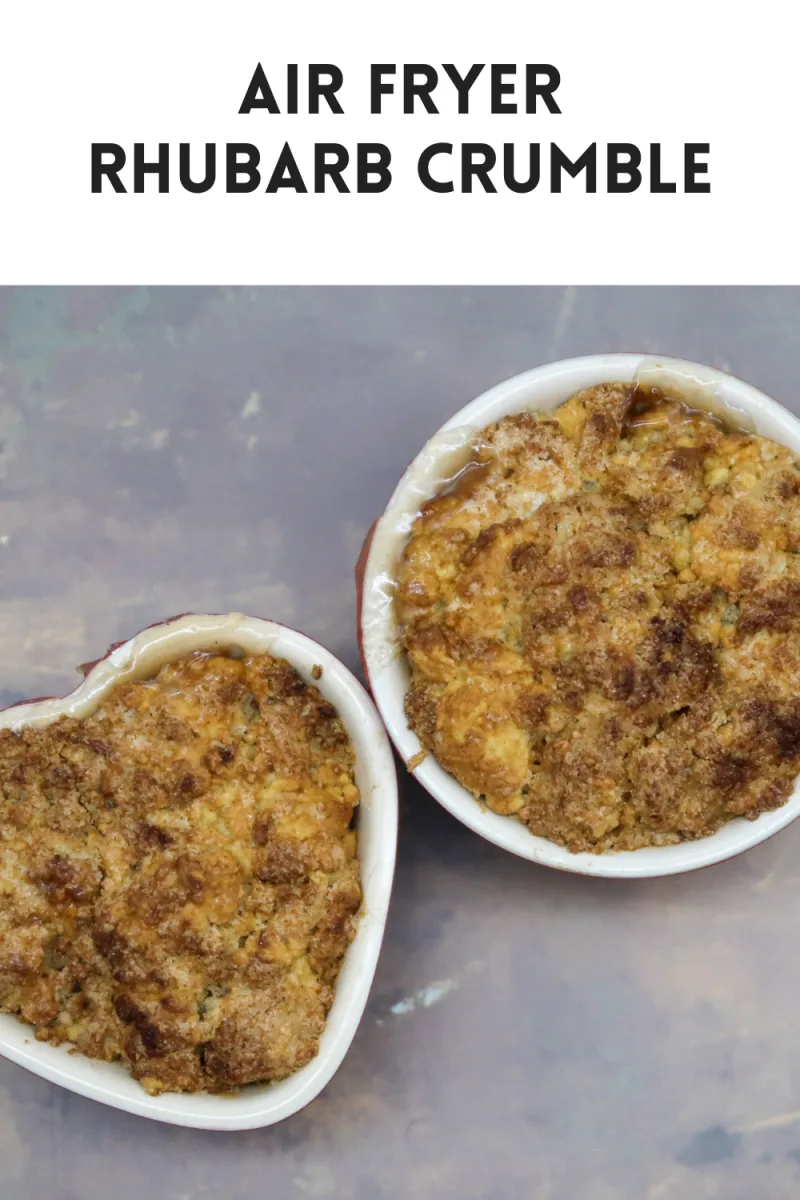 Are churros like donuts?
Yes! They are basically donut sticks. Crispy and delicious with a soft fluffy inside. Perfect for holding in your hand and dipping in a range of lovely sauces.
Are churros supposed to be gooey on the inside?
No, if they're gooey then they probably need a little more cooking. Consider air frying for another minute, at a slightly lower temperature, to get them fully cooked inside.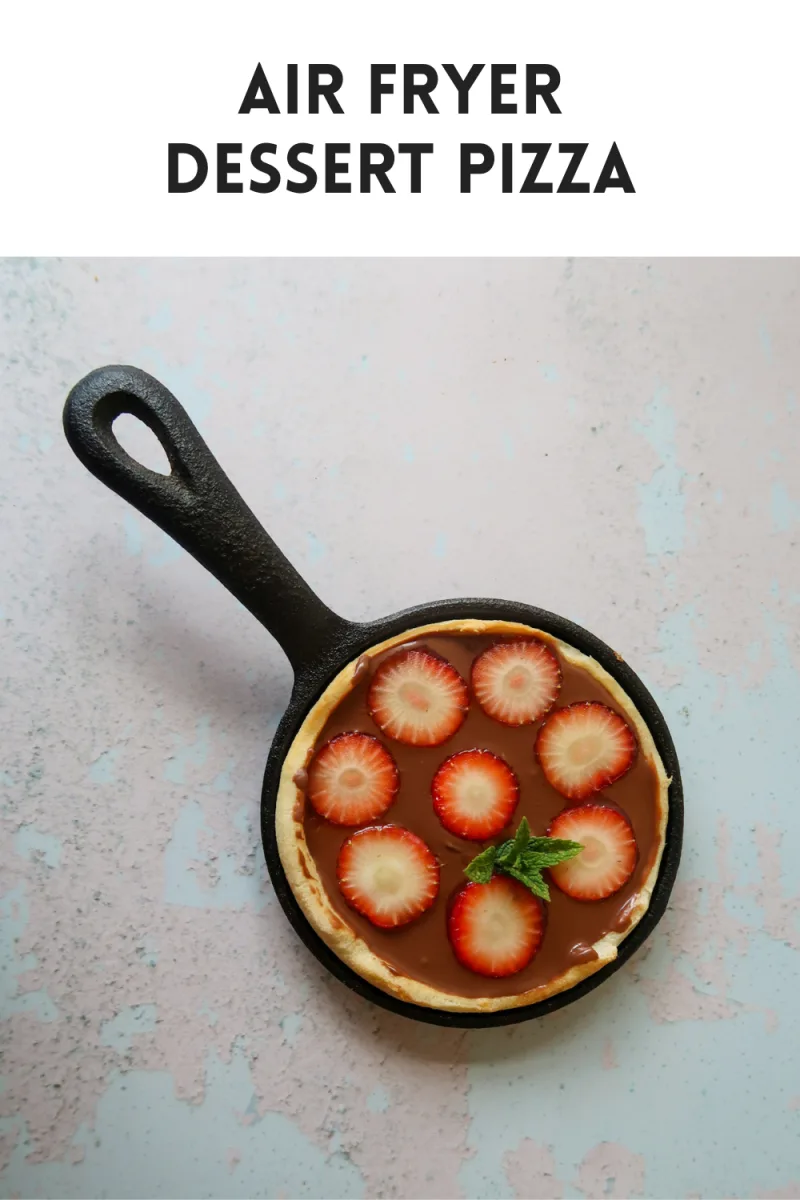 Can you re-heat frozen churros?
Ideally you'll only want to re-heat them from frozen one time, for the freshest churro and to ensure no bacteria build up.
Can you cook frozen churros in the Ninja Foodi?
Yes, absolutely. I almost always use my Ninja Foodi OL750UK air fryer function for air frying recipes on this website. I've made a variety of air fryer desserts in this now.
While you're here why not check out some of my latest recipes?
If you enjoyed this post I'd love it if you could pin it on Pinterest!