Affiliate links in this post will be clearly marked with a *. Clicking one of these links means I earn a discount or receive payment.
If you're got some spare bread, that is about to go to waste, why not do your bit to reduce food waste and turn it into a delicious garlic bread? Air fryer garlic bread has to be my favourite way to make garlic bread, as it just goes so golden, crispy and delicious, without losing all of that delicious garlic butter!
When cooking for a crowd I always find that a couple of garlic breads is a great way to stretch a meal a little further, with minimal effort.
While you're here be sure to check out my air fryer tips and tricks. Whether you're a total beginner to air frying, or just looking to get more from your air fryer, this is sure to help!
Ingredients for air fryer garlic bread:
Homemade garlic butter – made with 2 tablespoons of butter, 3 garlic cloves and 2 tablespoons of fresh parsley (1 tablespoon if using dried).
Bread of your choice. I find a crusty baguette, day old roll or even just sliced bread all great for making garlic bread.
Method for air fryer garlic bread:
This is SO simple I know…!
All you need to do is slice your bread.
Then crush your garlic cloves with a crusher, or in a pestle and mortar.
Place the garlic into a microwaveable bowl, add the butter and parsley.
Microwave in 10 second bursts until the butter has melted. I found 20 seconds suitable in my microwave, which is 800W.
Place into the air fryer basket.
Bake at 200C for 6 minutes. If you've got very small slices of bread I recommend checking at 4 minutes in!
Making your own garlic bread is a fantastic way to use up leftover bread. I also love making homemade croutons (air fryer croutons are my fave!) or using the end pieces in an air fryer sage and onion stuffing. Delicious!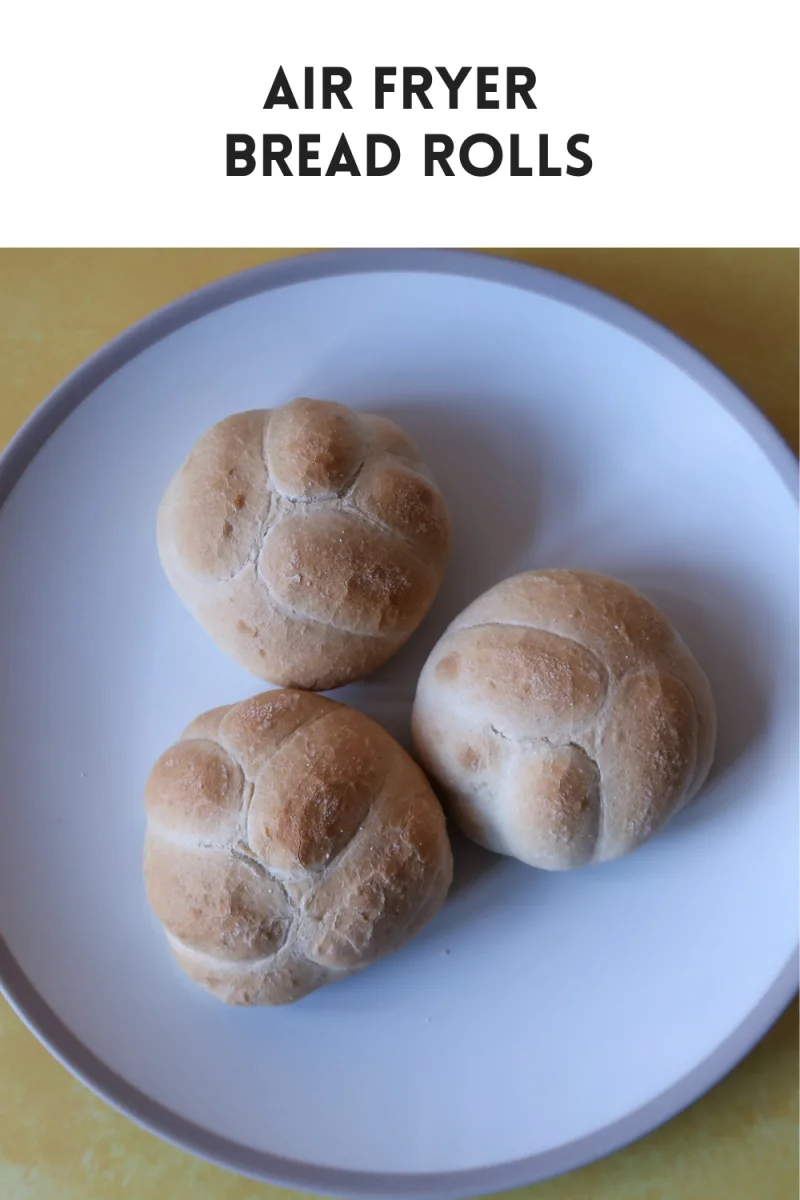 Want to cook frozen garlic bread?
Sometimes you just don't want the effort of making things from scratch, I get it! So what you need to do when cooking a frozen garlic bread, or garlic baguette, is just add 2 minutes onto the cooking time.
8 minutes at 200C is more than enough to cook an entire garlic bread from frozen.
Here is a little look at one I made recently:
As you can see the garlic bread goes wonderfully crisp and there is still lots of garlic butter on each of the pieces too! This is a fantastic way to cook garlic bread to accompany a 15 minute spaghetti bolognese.
Garlic bread is a great crowd pleaser, and SO simple and fast to make.
Want to make garlic bread with cheese?
Sprinkle a little grated cheddar and/or mozzarella on to the cooked garlic bread and air fryer for another 1-2 minutes. A delicious way to add some protein! I find that cheddar with a little parmesan is a great blend for garlic bread!
Can you re-heat garlic bread in the air fryer?
Yes, absolutely! Personally I find about 2 minute is plenty. I'd recommend a little splash of water on the bread before re-heating, to help avoid the outside going too hard.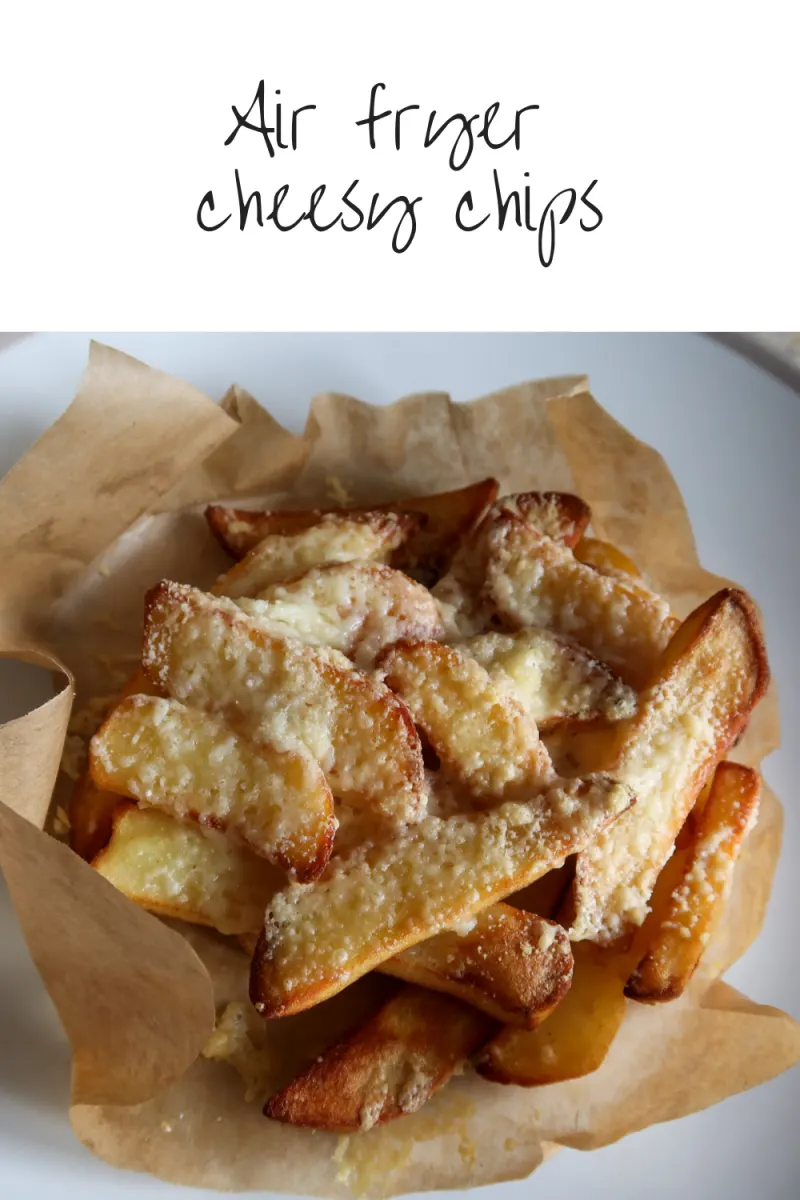 Don't have any fresh garlic at home?
Don't worry! You can use garlic granules or even garlic salt if that is all you have available. Melt the butter and parsley together and then mix in 1 tsp or 1 tbsp depending on how much garlic flavour you like your garlic bread to have.
What type of bread can you use for garlic bread?
You can really use absolutely anything that you want! Crumpets, buns, rolls, baps, english muffins, wraps, sandwich bread, baguettes/french bread, breadsticks, dough balls and more. Anything bread based works well with garlic butter turned into garlic bread, but I find that white bread products tend to taste the best for garlic bread.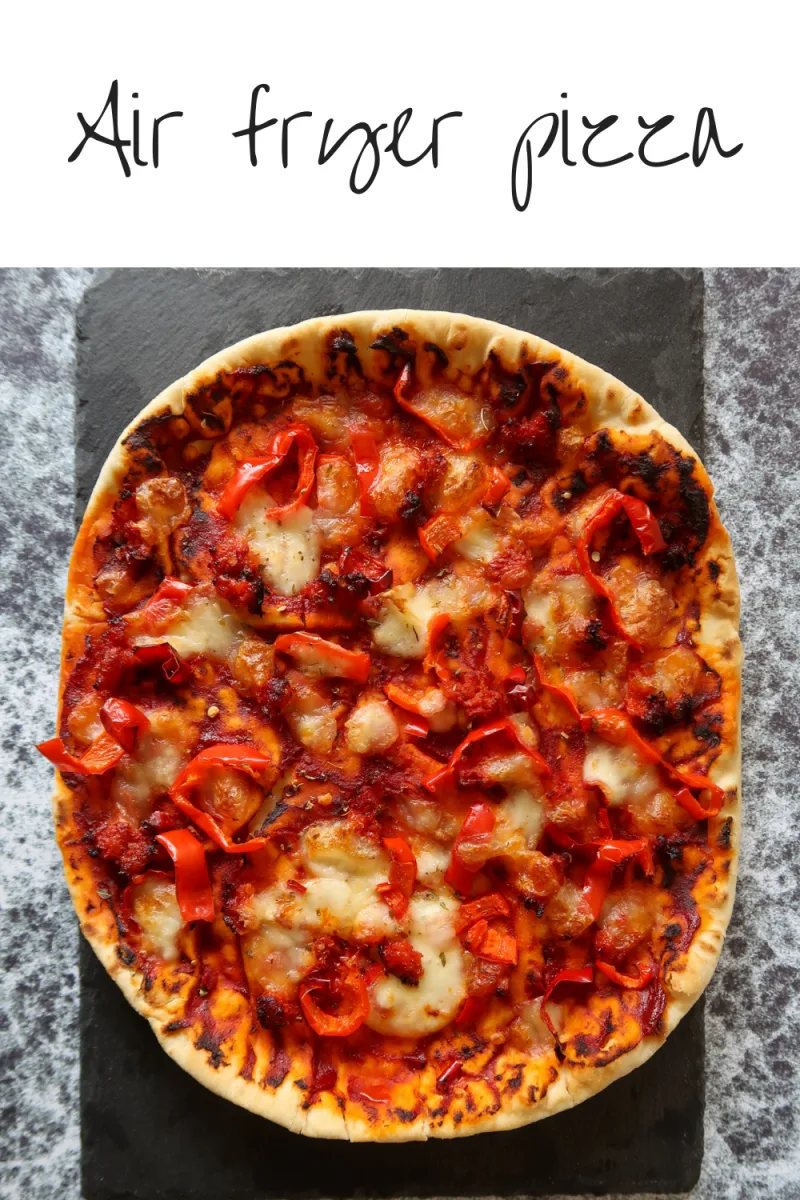 Looking for some other air fryer recipe inspiration? Why not check out my latest air fryer recipes:
Here are some of my favourite air fryer cookbooks and accessories:
Something to note about air fryer recipes is that all air fryers have different sizes, depths and as such the cooking times can vary. All air fryer recipes on this website are intended as a guide, and not a guarantee that the timings will be perfect. Enjoy!
How to air fry garlic bread:
Air fryer garlic bread
A simple method to make homemade garlic bread to air fryer
Ingredients
4

slices

bread

2

tbsp

butter

3

cloves

garlic

2

tbsp

fresh parsley
Instructions
Crush the garlic cloves, or slice if no crusher.

Add butter and parsley to the garlic in a microwaveable bowl.

Microwave in 10 second intervals until melted. 20-30 seconds will be sufficient.

Spread the garlic mixture on to your bread.

Air fryer for 6 minutes at 200C.
Note: All calorie information is for demonstration purposes only and is based on the specific uncooked ingredients that I used when creating the recipe.
If you enjoyed this post I'd love it if you could pin it on Pinterest!