Affiliate links in this post will be clearly marked with a *. Clicking one of these links means I earn a discount or receive payment.
My air fryer is one of my favourite kitchen gadgets. I love cooking and the air fryer really helps to speed things up for me. I love to cook up air fryer bacon, air fryer hash browns and these sausages, for a tasty but slightly healthier cooked breakfast! These sausages also go great in a bacon, sausage and egg wrap!
I've made a whole host of food in my air fryer and some of my favourite recipes are airfryer chips, air fryer roast potatoes, air fryer pigs in blankets and airfryer parsnips. Lately, I have been making lots of hash browns too and they're a real breakfast maker! I love to make up a load of sausages to serve on my breakfast grazing platter.
I get a LOT of messages from people who find my air fryer recipes on Google and I get lots of questions too. I love finding new recipes to test, and creating my own too!
I'm working on share more of my recipes, from the simple to the sublime, and today I'm going to give you all my pointers for cooking sausages from frozen, cooking sausages in the Actifry and even cooking sausages in the oven!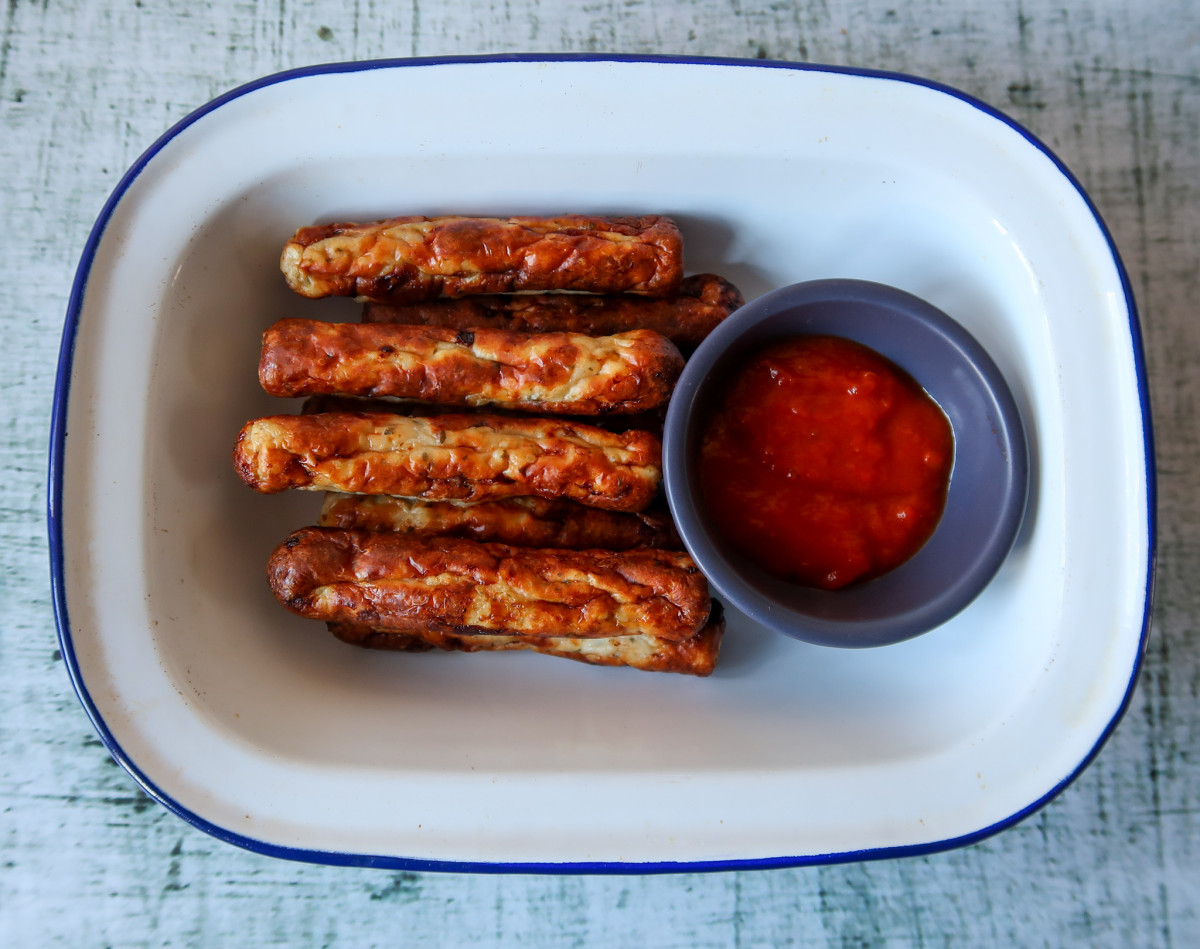 Ingredients for air fryer sausages:
Fresh sausages!
Spray oil if the sausages are very lean (I didn't use any for this recipe)
How to air fry sausages:
Set your air fryer to 180C and leave it on for a couple of minutes to heat up.
Prick your sausages.
Place them into the air fryer basket.
Cook for 7-8 minutes.
Shake.
Cook for 7-8 more minutes checking halfway through.
I use a *meat thermometer to ensure the temperature was at least 71C for safety.
In total the pictured sausages were cooked for 19 minutes as I love the well cooked finish when having a sausage sandwich!
Serve with your choice of delicious sides or just with a delicious dip! I love air fryer mashed potatoes and onion gravy with mine!
I would advise using sausages with skins only, unless you're happy for them to get a little beaten up!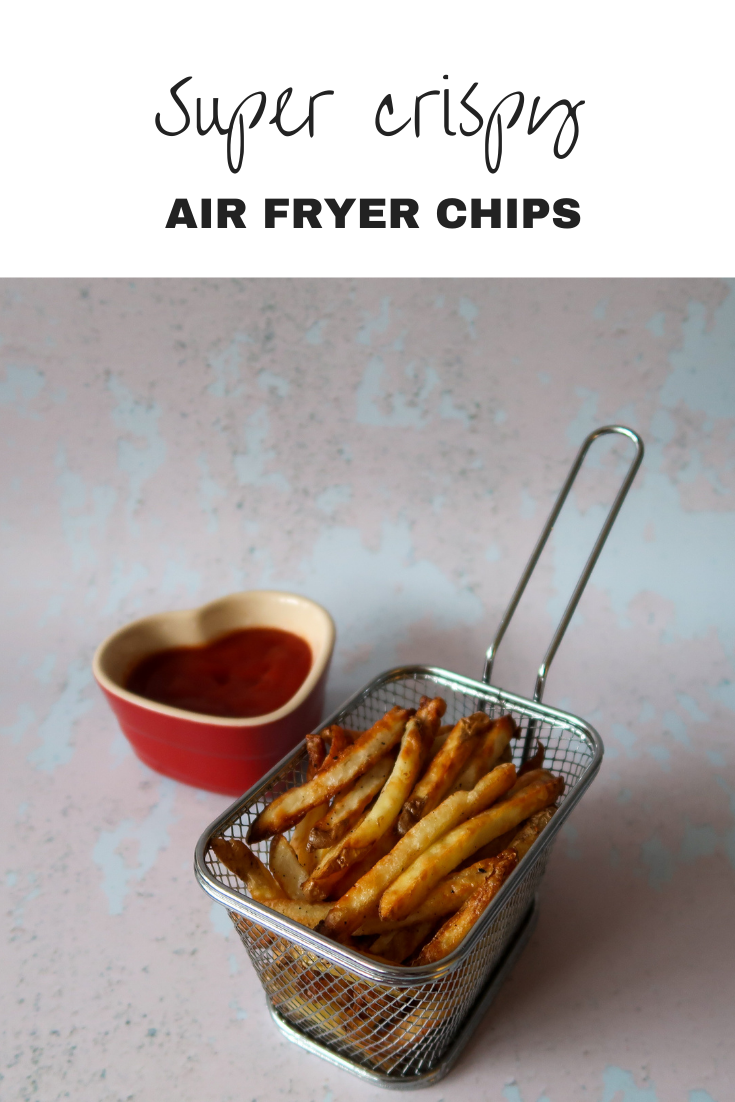 Can you cook sausages in the oven?
Yes! I have done this lots of time, just ensure that you cook them evenly and check the internal temperature before serving. I find that an extra 10-15 minutes is usually needed on the quoted cooking time.
Can you cook sausages from frozen in the Actifry or air fryer? What about the Ninja Foodi?
Yes! Absolutely. Add 10-15 minutes onto the cooking time, check and shake frequently. If your air fryer has a grill to raise it up then do so as you may find quite a lot of liquid releases when air frying frozen sausages.
I personally own a Ninja Foodi and I use the air crisp setting. When cooking I like to use the basket, within the bowl, as I find that this gives sausages the most even cooking.
Can you air fry sausage patties?
Absolutely. I would say to cook for half of the advertised time and check halfway through this time. So 10 minutes if the package advises 20 minutes but check after 5 minutes.
Can you air fry sausage rolls?
Sure thing! Cook them for half the quoted time on the packet and check halfway through.
You can use a little spray oil or brush them with egg or even milk if you want to give them more of a golden finish.
Be sure to shake 2-3 times through the cooking to avoid things sticking. Also, these soausages would go lovely in one of these soft floury white rolls.
Can you cook sausages and bacon at the same time in the air fryer?
Absolutely! You can cook most of the ingredients for a delicious Full English cooked breakfast, but obviously adjust your timings.
I find that air frying means things take around 1/3 less. What I would do would be to almost entirely cook the sausages and then add the bacon near the end. There is no reason that you can't cook everything in the air fryer basket.
As the air fryer cooks food so fast you could just buy the sausages to one side while you give the bacon a quick air fry!
Looking for something a little different to make with sausages? Here are a few other tasty recipe ideas:
Want to make more than sausages in your airfryer? Check out these recipe books:
Why not try one of these great airfryer accessories?
Want to add some vegetables in while cooking?
I find that peppers and onions work really well for the cooking time of this dish.
I love to slice the peppers and onions into wedges and then I will add them at the halfway mark after I have turned over the sausages. This is such a simple way to cook some nice vegetables to fill the buns up with, or just serve on the side.
Something to note about air fryer recipes is that all air fryers have different sizes, depths and as such the cooking times can vary. All air fryer recipes on this website are intended as a guide, and not a guarantee that the timings will be perfect. Enjoy!
How to cook sausages in an air fryer:
Air fryer sausages
Ingredients
Sausages

Spray oil

(if the sausages are very lean)
Instructions
Pre-heat your air fryer to 180C.

Place them into the air fryer basket.

Cook for 7-8 minutes.

Shake.

Cook for 7-8 more minutes checking halfway through.

I use a meat thermometer to ensure the temperature was at least 71C for safety.

Cook for around 19 minutes if you want a similar finish to me.

Serve with your choice of delicious sides or just with a blob of sauce!
Like this airfryer recipe? Fancy trying another one of my airfryer recipes? Here are some latest recipes:
If you enjoyed this post I'd love it if you could pin it on Pinterest!