Affiliate links in this post will be clearly marked with a *. Clicking one of these links means I earn a discount or receive payment.
We LOVE using our air fryer. The best EVER recipe I've made would have to be airfryer chips! They are crispy yet fluffy inside with my two temperature method and best of all you need just TWO ingredients to make these. We love these chips but we also love my air fryer cheese chips too! If you're reading this but really don't want the hassle then be sure to check out my air fryer frozen french fries post too!
One thing we love to serve on the side of these chips are air fryer frozen chicken nuggets.
Read on for tips on cooking temperatures, best potatoes and oil to use, how to make air fryer chunky chips, fries and much more! I also answer ALL of your airfryer chip questions below.
We have been working to save money on takeaways and one of the ways we've been doing so is by eating fewer takeaways. I decided to make airfryer chips recently, to accompany a slow cooker kebab recipe that I'll be writing about soon.
We've had these tons of times now and I've really perfected the recipe. If you want to know how to cook chips/fries in an air fryer then I've got you covered with this post!
Cooking chunky chips, chips or fries in an air fryer is really easy and takes just minutes to get prepared and these are great with air fryer sausages!
Air fryer chips from scratch
Ingredients for airfryer chips / airfryer home made chips / fries :
600g potatoes
1 tsp salt & pepper
Spray oil (optional but will be drier without Frylight)
How to cook chips in air fryer? How long to cook chips in air fryer? How to make chips in an air fryer? My method for airfryer chips:
Peel your potatoes. Use a potato chipper and if you slice the potatoes in half they're super quick to chip.
Rinse the chips in cold water.
Pat them dry on a clean towel or using kitchen towel. No need to pre-soak the potatoes.
Season the chips with salt & pepper. You can use other seasonings too if you like.
I like to add Chinese Five Spice to boost the flavour of the airfryer chips with next to no effort. Also, garlic granules work really well in the air fryer if you're using spray oil.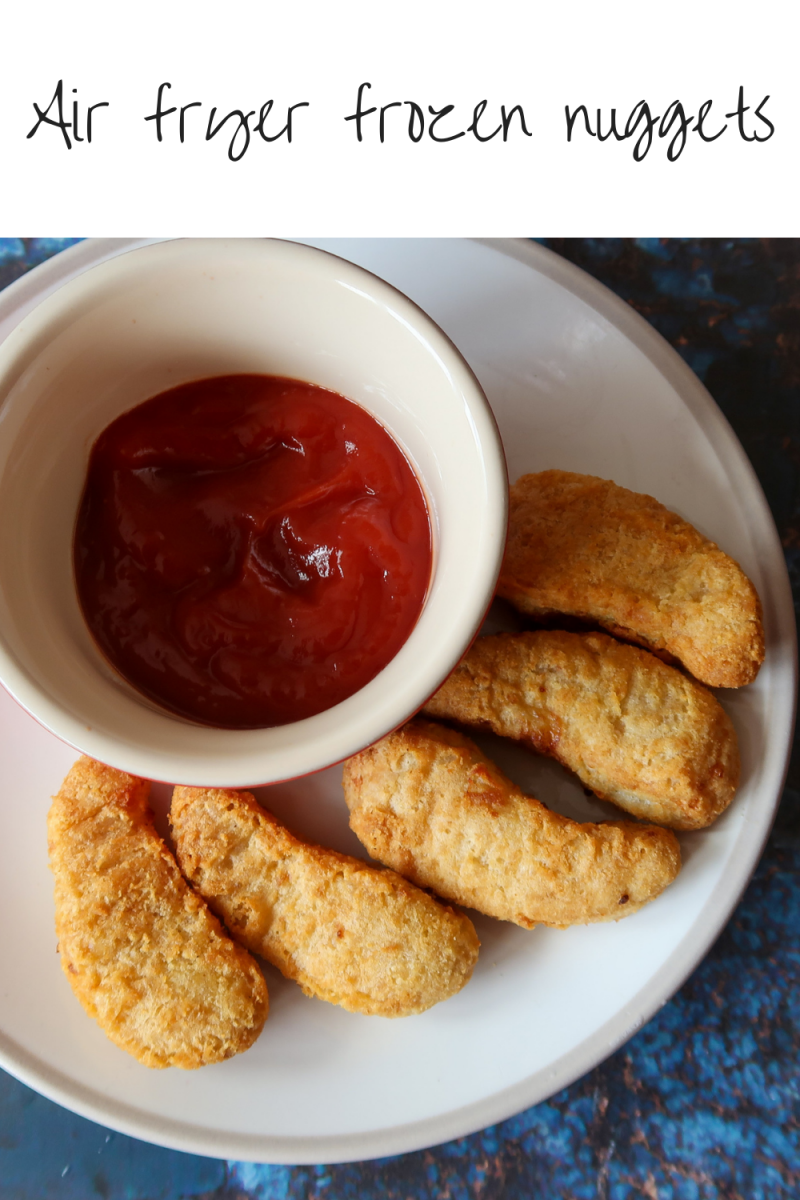 Cook for 12 minutes at 160C in your airfryer. Shake several times during cooking.
Turn up to 200C for another 10 minutes. Check after 5 minutes as depending on size they can cook quickly. You'll want to shake your chips regularly, to ensure even cooking.
If your chips look raw then exercise some common sense and give them a few more minutes to cook! Cooking times can vary depending on chip size, potato type and even the type of air fryer being used.
I find this the best way to get crispy airfryer chips that are crisp on the outside and fluffy inside. See below for more cooking tips or suggestions.
Do you parboil chips before air frying? Air fryer chips boil first?
As you can see from the above recipe I personally don't bother. You can do if you want them to be even fluffier inside.
I have found that parboiling in hot, salted water for 6 minutes if perfect. Drain them well, and allow them to steam for a couple of minutes, like you would roast potatoes.
Make sure you're adding them to a pre-heated air fryer too for best cooking results.
Air fryer chunky chips
I personally cook these for around 10% more cooking time than the fries/normal chips, as they are so wide! Part boiling really seems to help the air fryer chunky chips to cook a little more evenly.
What are the best potatoes for airfryer chips? What chips to use in air fryer?
I tend to just use whatever I have at home but I find King Edwards or Rooster particularly nice! A floury type of potato is going to make the best airfryer chips.
Can you make airfryer chips without oil?
Yes! I would suggest using spray oil if you want them to crisp up better. You only need a few sprays and then you can toss the chips to make sure they're properly covered. Repeat this again during the cooking process to get the best finish.
Air fryer chips dry / too dry?
Add a few sprays of low calorie spray oil, during cooking, and shake them up!
Can you cook frozen chips in an airfryer?
Yes! Basically set your airfryer to the temperature advised on the packaging and then keep an eye on them. Check about 1/3 into the time and then again 2/3 into the time.
A lot of frozen chips are already coated with oil, seasonings and even flour on occasion. The airfryer will help the frozen chips crisp up lovely and taste great! Cooking frozen chips in airfryer is so simple!
How do I cook frozen fries in my air fryer?
I've found that the cooking time is often reduced by about 1/3. Just cook them at the temperature recommneded by the cooking instructions on the packet and then keep an eye.
Shake regularly to avoid them sticking together or to the air fryer basket.
How to cook chips in a tower air fryer?
All air fryers are much the same. Prepare your air fryer chips or air fryer fries and then turn on the air fryer.
Shake and check regularly to make sure the potatoes aren't sticking to the basket. I love to serve with Vegan coleslaw.
This is what the air fryer chips look like while cooking:
Shake regularly so that they cook evenly!
How long to cook frozen chips in air fryer? How long does an air fryer take to cook chips?
Reduce the suggested cooking time by around 1/3 – 1/4 and you should have perfect crisp yet fluffy chips.
Want to make airfryer chips and cheese?
Cook your chips up and 2 minutes from the end pop some grated cheese on! You can pop back in the air fryer OR you can grill for a couple of minutes instead.
Are your airfryer chips burning?
Drop the heat down a little! Make sure you have a splash of oil on the chips and shake at regular intervals.
What about making an air fryer wrap with chips?
I've got a great tortilla recipe that is super simple (and cheap!). Make this, or get a pre-made wrap, cook your chips up, pour on into the wrap, roll up and enjoy!
Are your air fryer chips too dry?
Use a little more oil! Shake on the regular too.
Soggy air fryer chips?
Dry them thoroughly before cooking and then turn up the heat a little faster. Add on 2 minutes to the cook time BUT keep an eye on them!
Airfryer chips
Crispy, fluffy air fryer chips, chunky chips and fries
Ingredients
600

grams

Potatoes

more if you have a generous appetite

1

tsp

Salt & pepper

1

tbsp

Plain flour

optional
Instructions
Peel your potatoes. Use a potato chipper and by slicing the potatoes in half first they take just seconds to chip.

Rinse the chips in cold water. Pat them dry on a clean towel or using kitchen towel.

Season the chips with flour and salt & pepper. You may not need the quantities I have mentioned, these are just for guidance.

You can I add herbs or a chopped chilli if you want a kick. Chinese Five Spice is a wonderful way to boost the flavour of these airfryer chips with minimal effort.

Cook the airfryer chips for 12 minutes at 160C.

Then turn the airfryer up to 200C for a further 10 minutes. Keep an eye on them, and shake up, at least twice, during this time as depending on the size of your chips they may need as little as 5 minutes. This is the ideal method to make airfryer chips that are crisp on the outside but fluffy inside.

If you want airfryer chips that are even crisper then add a little spray oil to the fries when you turn up the temperature. I transfer them to a bowl to do this, to shake them and ensure even coverage.
Recipe Notes
Calories are without optional flour.
Products I use to make airfryer chips:
I love these cute baskets for displaying my air fryer fries:
*
If you liked these airfryer chips why not check out some of my other airfryer recipes?
Why not try one of these great airfryer accessories?
Want to make more than airfryer chips in your airfryer? Check out these recipe books:
If you enjoyed this post I'd love it if you could pin it on Pinterest!