Affiliate links in this post will be clearly marked with a *. Clicking one of these links means I earn a discount or receive payment.
Last year I managed to buy an airfryer thanks to an Amazon lightning deal. I got it for a very reasonable price, but now I've tried it I would DEFINITELY pay more for it! One of my regular items to make in it is airfryer roast potatoes. They are so simple and easy that I just had to share.
We LOVE all things potato in the air fryer including air fryer frozen sweet potato fries, air fryer wedges and air fryer fries!
Scroll down to see the full airfryer roast potatoes recipe near the bottom
The concept of an air fryer is very simple. They usually have a little metal mesh basket, like a *deep fat fryer, but you don't use a litre of oil.
You can 'fry' your items using air and you can make significantly healthier food compared to a traditional deep fat fryer.
To get started all I do is peel my potatoes and I soak them in water. I tend to get these ready an hour or two in advance, just because I'm often busy just before dinnertime. You don't need to do this and can peel, wash and use right away.
When it is time to make the potatoes I will give them a rinse and dry them using paper towel.
Then preheat the airfryer to 180C. After that, I will use 1/2 a tablespoon of olive oil and coat with salt and pepper. This is all it takes to prepare the roasties and then I put them into the airfryer.
The temperature that I use is 180C and I find that 25-35 minutes is all it takes to cook, depending on the size of the potato.
Halfway through the cooking time, I will shake the basket and then I tend to add some herbs. I love sage, rosemary, garlic or thyme. I tend to just use whatever I fancy at the time.
These roast potatoes are super simple. They do not stick to the basket, they only need to be shaken once during the cooking time and they are faster than potatoes cooked in the oven.
I often add airfryer parsnips to the top, when there are 20 minutes to go. These turn out lovely and crisp too.
These airfryer roast potatoes have been cooked for around 23 minutes, as they are quite small. I tend to use the setting at 180C as I find that this works well and the extra 20C just isn't really needed to make them lovely and crispy.
However, if halfway through yours are looking very anaemic then you can turn them up to 200C.
My airfryer has been absolutely fantastic, so far, and I usually serve the potatoes with my slow cooker roast chicken.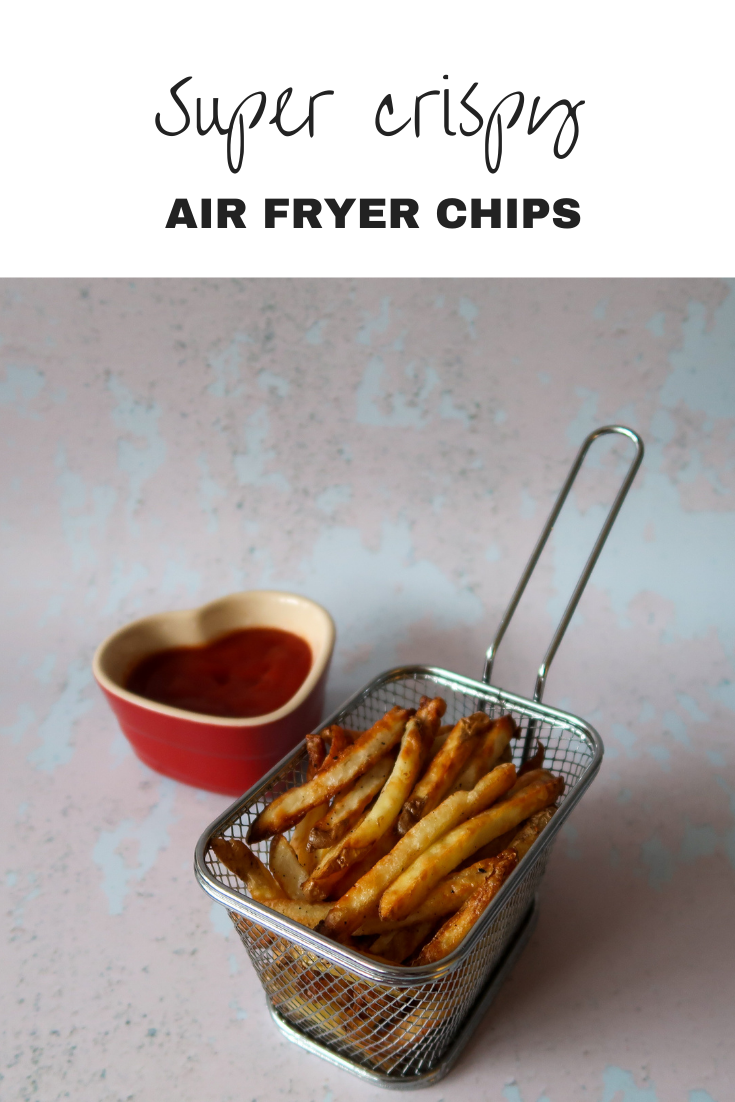 My top tip for airfryer roast potatoes:
If you have leftovers then you can keep them in the fridge and refresh them the following day.
I personally put them in the airfryer for 6-7 minutes and this is perfect to heat them through. They are almost as good as the first time around!
Can you cook frozen roast potatoes air fryer? My tips for cooking frozen roast potatoes in air fryer:
You can absolutely do this! I find that the cooking time needs to be lowered by about 1/3, but this is a great way to get crispy roasted potatoes without putting in the effort!
Shake halfway through, and once more near the end, to avoid the frozen roast potatoes sticking to the basket.
I personally think the best frozen roast potatoes are the Aunt Besties ones, but I haven't tried a huge range as I like to make them myself.
Want to make more than airfryer roast potatoes in your airfryer? Check out these recipe books:
Airfryer roast potatoes
Delicious airfryer roast potatoes in just 30 minutes
Ingredients
1/2

tbsp

olive oil

extra virgin

salt & pepper

600g

potatoes
Instructions
Pre-heat your airfryer to 180C.

Peel and chop your potatoes.

Add salt & pepper and olive oil.

Cook at 180C for 25-35 minutes. Shake halfway through.
Note: All calorie information is for demonstration purposes only and is based on the specific uncooked ingredients that I used when creating the recipe.
Want to check out some of my other recipes? Get some mealtime inspiration now!
Now you know how to make a roast potato in the airfryer why not try some of my other airfryer recipes?
Why not try one of these great airfryer accessories?
Having a roast dinner? These are some of my favourite accompaniments:
Homemade sage & onion stuffing
If you enjoyed this post I'd love it if you could pin it on Pinterest!