Affiliate links in this post will be clearly marked with a *. Clicking one of these links means I earn a discount or receive payment.
Christmas time is all about being together as a family for us. Thomas works shifts, and this year he is going to be working for 12 hours on Christmas Day.
This means that we want to make the run up to Christmas, as well as the big day itself as lovely as we possibly can. For us, being together and enjoying lovely food and drink, is really a big part of the festive season.
We love having nice snacks on hand, and a foodie Christmas gift, is always a winner with the older members of our family, who appreciate cooking nice food at home.
This gift guide is designed to give you some tips, both for gifting to the foodies in your life, and for sprucing up your festivities too!
The PERFECT foodie gift has to be a day out, with new experiences, and trying delicious treats.
This Sherlock immersive cocktail experience for two, held at the Mind Palace, involves a welcome drink, trying out a set of four puzzling cases and then the ingredients to create your own cocktail creation. The perfect afternoon in London, available on Fridays and Saturdays, lasting for 90 minutes.
This fantastic sourdough starter set contains everything that you need to learn how to make a sourdough starter and then go on to make wonderful creations with this.
You receive a loaf banneton, bread scoring blade, flexible rounded scraper, 1kg bread flour, storage container, drawstring bag and a copy of 'How to make sourdough'. Everything that you, or your loved one, needs to make perfect sourdough every time and use the wonderful starter to create a variety of delicious dishes including bread, cookies and more.
Hot chocolate bombes with marshmallows, Santa, Snowman and Reindeer, are perfect to allow little ones to join in with the foodie fun this festive season.
If you're looking to gift your loved one a special chocolate treat, but want something a little bit different, be sure to try these boozy flavour hot chocolate bombes.
There are three, which are flavoured like amaretto, rum and Irish cream. These are perfect for making a delicious, luxurious hot chocolate treat, perfect for those cold Winter nights.
USE DISCOUNT CODE KATYKICKER15 TO BAG YOURSELF 15% OFF ACROSS THE SITE!
When you have guests, who you want to gift something special to, this Taste of Abruzzo gift set, with a smooth and deep Riserva wine and Extra Virgin olive oil is a delightful set. This Riserva offers complex, deep and rounded flavours of Christmas pudding, cocoa and milk chocolate, making it ideal to treat loved ones too.
If you're looking to serve something a little special, and different, this Christmas then be sure to check out this Neitiv coconut flower beer. This is brewed using lager yeast and carefully crafted in two stages of fermentation, which means it takes around 8 weeks to produce.
This drink is Vegan, and contains live cultures from the coconut flower drops, while being brewed and bottled right here in the UK. The bottles are a work of art and the drinks are refreshing and a bit of an experience in themselves!
Whether you're entertaining over Christmas, or looking for a few delicious wines to serve with your various roast dinners, you'll love this Peter Zemmer "Furggl"Lagrein Reserve Alto Adige DOC 2018. This is a dark, smooth and deep Lagrein Riserva from the lowlands of Alto Adige which is the perfect drinkable wine now OR it can be cellared for at least 10 years.
This Lo Sparviere Franciacorta DOCG Brut Millesimato 2014 is a classic single-vintage wine. Only 19 villages are allowed to produce this wine and it would work perfectly with any number of fish dishes over the Festive season.
This Dam Vintage Sloe Gin (distillery edition) is made with locally-picked wild damsons and sloes, that are rested in award-winning Oxford Rye Organic Dry Gin for more than a year, and that then spend another year maturing in a Vintage Port, before being bottled ready to gift to the gin fan in your life.
This sloe gin has a wonderful depth of rich berry and wine flavours and is a delightful gin created by working with nature and not rushing the process too!
Wildjac, home to sustainable and eco-friendly spirits, have a delightful Mini rum gift set.
This fantastic set allows you to try 3 different flavours of rum, including honey spiced, cherry and rhubarb. This is a lovely gift set, particularly for the alcohol drinker who may get more joy from trying several different flavours versus one larger bottle of one flavour. It comes in lovely packaging too.
Make tea time a little special over the festive season with the simple-but-elegant patterns of these Tulip mugs. They are a set of 4, with a delightful white and navy blue colour scheme, complete with lattices, stripes, small daisies and circles too. Each piece is made from durable stoneware, designed to be long-lasting and high quality. Perfect for serving up tea on the daily, or just when you have guests visiting!
Hot chocolate is always a winner in our home, at any time of day, but there is just something so delightful about enjoying a nice hot chocolate in the colder months. We love to snuggle up with a nice hot chocolate, topped with whipped cream.
The Salter Chocolatier cordless milk frother makes a delicious perfect milk froth, with dairy or plant-based milk, and then you can add your favourite chocolate flakes and have a creamy, indulgent and rich hot chocolate, at the touch of a button, in less than 5 minutes. You can even use this to make cold froth, perfect for frappes or topping iced coffees.
When gifting your loved ones this festive season be sure to consider this festive sharing pack. It is ideal for entire families to enjoy together. This festive sharing pack contains a range of delicious Lindt LINDOR truffles plus the classic Lindt teddy, gold reindeer and Santa. Ideal for little ones and adults alike.
Exclusively available in Lindt Chocolate Shops and from Costco.
When you want to indulge over the festive season you can't go wrong with the new Lindt LINDOR assorted chocolates set. Here you'll find a range of delicious LINDOR favourites including milk, salted caramel, double chocolate and dark 45% truffles.
This set is exclusive to Sainsbury's, Amazon, Lindt chocolate shops and from the Lindt website.
When you want to keep it classic at Christmas time, but let someone know you're thinking of them, then you can't go wrong with chocolates. I love this Happy Christmas chocolate message box, which is filled with 25 handmade white and milk chocolate squares.
These are dusted with edible golden glitter, and look absolutely lovely. A great way to let someone know you're thinking of them without having to send a card along as well!
This decorate your own chocolate nutcracker set is wonderful. It contains 2 ready made nutcrackers and 3 icing pens, so you and your little ones can have great fun decorating these AND then get to eat them together afterwards too.
We're BIG HARIBO fans in our family, especially as we have children with multiple allergies!
HARIBO have some great family gifts this year including the HARIBO Superfan Selection, which contains five gift bags of HARIBO sweets including new favourites such as Twin Snakes and Sour Sparks.
HARIBO also have this fantastic Sharing Medley this Christmas, which is packed full of the best of the best sweets including Tangfastics, Starmix, Giant Straws and Supermix, as well as Jelly Babies and Rhubarb & Custard Zing.
Find these in store at great retailers including Sainsburys, Ocado and B&M Stores.
If you're looking for some delicious Christmas goodies, that are refined sugar, dairy and gluten free, then look no further than this lovely 3-item Christmas gift box from Meera's Made From Scratch.
Meera offers a range of healthy, but delicious, goodies, including sweet treats, fermented foods, broths, soups, snacks and savoury goodies all designed with the health of your body in mind. The perfect gift for your loved ones with allergies!
Christmas time is the perfect time for gifting something a little special soaked in alcohol, right? OPIES have a fantastic range of delicious, quality fruits, with delicious alcohol alongside. Peaches with Courvoisier VS Cognac are a particular favourite in own home, and you can buy these from Sainsburys, Morissons, Waitrose, Booths and Nisa. Baby Pears with Luxardo Amaretto make a great gift, and you can buy these from Morrisons, Booths and Nisa.
If you want something a little different then Apricots with Luxardo Dark Rum are super tasty, and offer a real contrast between the two flavours. Perfect for enjoying with loved ones, on a cold Winters evening or even as part of a party spread.
This Acacia wood chopping board is stylish and practical. It is a fantastic kitchen accessory that will allow you to both prep food and serve it on the same board this Christmas.
Crafted from eco-friendly acacia wood this is both hard-wearing and absolutely stunning to look at too. The surface is soft enough to ensure that knives won't be blunted or damaged when cutting on this block. It is reversible, non-porous and has longevity. The handy finger grooves at either end of the board are ideal to help you carry this around your home, ready to lay out a lovely spread for guests.
One of my most favourite items in my home is a bamboo serving tray. I love being able to prepare my coffee in the morning, alongside breakfast, and carry it to my desk, the living room or even my garden if the weather is nice and allows for this.
This set of 3 bamboo serving trays is a versatile household accessory that will allow you to enjoy breakfast in bed, carry drinks around your home or just serve tea and biscuits to guests. This is a great way to be comfortable, and safe, particularly if you have little ones running around like I do! There are hollowed out handles on each of the trays, making them comfortable and ergonomic. You can even use these to display or store trinkets around your home.
There is just something so special about cooking Indian food, at home, from scratch. It is amazing how you can recreate the flavours of your favourite dishes in next to no time and with minimal effort too.
This Luxury Indian spice gift set has everything that you need to get started on making absolutely delicious Indian dishes at home. This set contains multiple spice blends including Korma, Bhuna, Tandoori Masala and even a cooks candle to help neutralise cooking odours after a large cooking session!
This Christmas, for the relative who has everything, why not consider donating to charity instead?
Miracle's Mission allow you to purchase a cat or dog a Christmas dinner, or toy, for just £5 and they will provide you with a certificate to print out and fill in so you can show your loved one you've done something nice in their name.
This Pornstar Martini Cocktail Set is the perfect gift for the cocktail lover in your life. This set contains enough ingredients for four cocktails, a cocktail shaker, snack and a recipe card too to ensure the cocktail is as authentic as possible. I love an espresso martini personally, but am partial to a pornstar one too!
The drinks in this set are branded, to bring a fantastic touch of quality to this gift. If you're looking for a foodie gift with the real wow factor then this is it!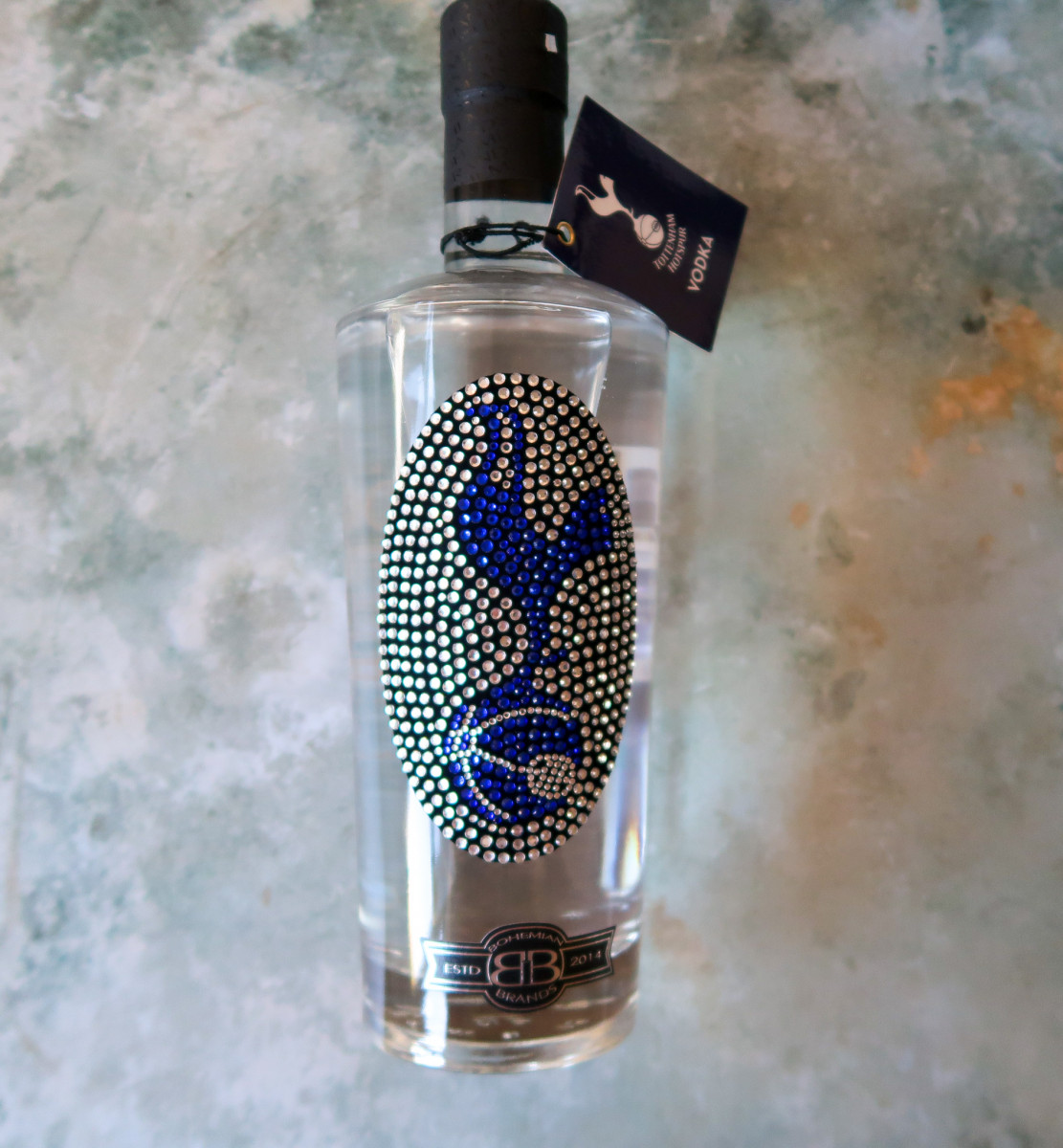 If you have a football fan in your life, but don't want to risk purchasing a kit or souvenir they may already own, then this Pewter Edition Vodka is a fantastic gift!
There are a variety of teams available and not only is this a great nod to a favourite team, it is also a fantastic gift in itself, without the team logo.