Affiliate links in this post will be clearly marked with a *. Clicking one of these links means I earn a discount or receive payment.
We are BIG fans of a roast dinner in my home. My eldest daughter, 7, absolutely loves a roast and would happily eat one every Sunday, regardless of the weather! I'm less of a fan when I have to stand there slaving over the hot oven for 2 hours waiting for everything to cook – especially when it is hot! Cooking air fryer frozen roast potatoes is super simple and takes next to no time.
What I love to do, when cooking these frozen roasties, is also make some air fryer frozen yorkshire puddings, air fryer stuffing balls and then I just use gravy granules to make my gravy, serve with some of my favourite air fryer vegetables and then I'll usually make something like a pressure cooker gammon joint or an air fryer whole chicken. If I've been more organised I'll make a slow cooker beef joint and use the juices for a homemade but simple beef gravy.
While cooking homemade roast potatoes is great, and they're packed full of flavour, it isn't always convenient. Sometimes I don't have the time, or energy, and on these occasions I'll use frozen roast potatoes. It doesn't really matter what brand, Aunt Bessies, McCain, or supermarket value brands all work great, and all have very similar cooking times.
Frozen roasties usually have a coating on them, which will help them crisp up beautifully in the air fryer. You can jazz them up a little more by tossing in some garlic butter when they're cooked and right before serving. While these aren't my #1 potato recipe you can see my best potato recipes if you want some inspiration.
My air fryer is one of my favourite kitchen gadgets. I have an OL750UK Ninja Foodi multi-cooker, and I also have an AF400UK dual zone air fryer with two air fryer baskets. I love being able to have the option to slow cooker, pressure cooker or even just air fry multiple things. If you've got a Ninja be sure to check out my Ninja air fryer recipes and Ninja Foodi accessories.
Ingredients for cooking frozen roasties in the air fryer:
A bag of frozen roast potatoes. I love to use these McCain triple cooked roasts as they are basted for crispiness. In the past I've used Aunt Bessies, Sainsburys, Asda, Tesco and a few others too. All with similar results and similar timings.
Method for heating roast potatoes in the air fryer:
Grab your roast potatoes from the freezer.
Add to the air fryer basket in a single layer, no need to pre-heat the air fryer.
Air fry at 200C (390F) for 15 minutes. If you like them extra crispy you'll want to go for around 20 minutes instead.
Check they are piping hot before serving. I like to poke mine with a sharp knife to check they are soft and fluffy inside while being crispy and golden brown on the outside.
Do you need to add oil to frozen roast potatoes?
Not if they are shop bought. Check the ingredients to be sure but most of the time frozen roast potatoes pre-packaged contain at least one type of oil on them, alongside rice flour, potato starch, salt and other items, such as colouring to make them look more golden when you take them out the packet.
Want to make your own roast potatoes and freeze them?
I love to par boil my potatoes, give them a drain, steam them for a few minutes in the colander, then I will fluff them up, sprinkle over a little flour, salt, pepper and perhaps add some garlic powder and dried rosemary, then I freeze flat on a baking tray for 1 hour on baking paper before transferring to a freezer safe container.
When I want to cook from frozen I add them straight to the air fryer and cook at 200C for around 25-30 minutes until they are golden brown.
What to serve with air fried roast potatoes?
If you're looking to make an air fryer dish, with a similar cooking time, then I love to do air fryer hunters chicken and near the end I add in air fryer green beans.
Obviously a classic roast dinner works great too, and all the trimmings. If you want something different then check out my air fryer chicken recipes. They're all great and cook, mostly, in around 20 minutes.
If you're looking for a simple but tasty dessert then why not try these air fryer cookies.
Can you reheat roast potatoes in an air fryer?
Yes you can. I like to re-fresh them by re-heating for around 6-7 minutes at 180C (355F approx).
I don't recommend re-heating frozen roasties that you've already cooked again. This isn't the safest thing to do in terms of food hygiene, but also they're just not as nice texture wise either.
Looking for a tasty seasoning to jazz up your roast potatoes? I love these:
I also love to make rosemary and garlic roast potatoes. Lots of flavour!
Why not try some of my other air fryer potato recipes while you're here too.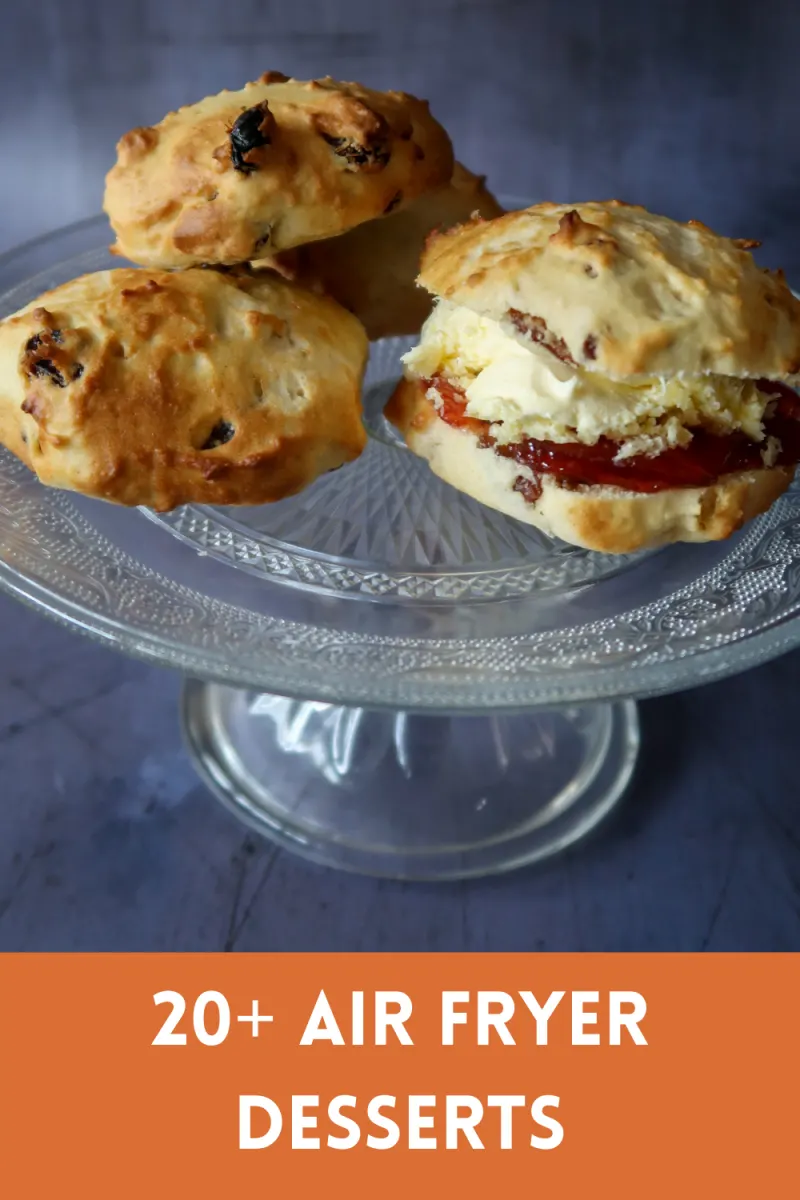 If you're looking to get the most from your air fryer these these are some of my favourite air fryer accessories and cookbooks:
How to cook frozen roast potatoes in the air fryer:
Air fryer frozen roast potatoes
How to cook frozen roast potatoes in the air fryer.
Ingredients
700

g

frozen roast potatoes
Instructions
Grab your roast potatoes from the freezer.

Add to the air fryer basket, no need to pre-heat.

Fill up the air fryer basket with a single layer of the frozen roast potatoes.

Cook at 200C (390F) for 15 minutes. If you like them extra crispy you'll want to go for 20 minutes instead.

Check they are crisp on the outside and fluffy on the outside before serving.
Note: All calorie information is for demonstration purposes only and is based on the specific uncooked ingredients that I used when creating the recipe.
If you enjoyed this post I'd love it if you could pin it on Pinterest!