Affiliate links in this post will be clearly marked with a *. Clicking one of these links means I earn a discount or receive payment.
Homemade croutons are super simple, take just two minutes to prepare and taste delicious too! Scroll near the end of this post for my printable homemade croutons recipe card.
I'm someone who loves to save money. A pound saved is the same as a pound earned. Often I try to make use of my oven being on. I will bake treats such as midnight cookies, air fryer cookies or even cheese straws, when I already have my oven on.
By making the most of the space in my oven I am saving energy, have nice treats at home and save money too.
Ingredients for homemade croutons
Bread (preferably stale bread)
Olive oil or butter (or homemade garlic butter)
Garlic salt
Salt & pepper
Basil
Method for homemade croutons
Cube bread. I personally leave the crusts on. Other people I know discard the crusts. I'm not really sure why as my husband loves these croutons and so do I.
Drizzle melted butter or olive oil over the homemade croutons. Add either salt & pepper, garlic salt or basil, depending on your requirements.
I like to make salt & pepper croutons for soups, and ones with garlic salt or basil for salads. I love to prepare salads in advance. Also, the ones with basil are ideal for blitzing into breadcrumbs as needed. Sometimes I use this lovely homemade garlic butter.
Lazy tip for homemade croutons: Brush the bread BEFORE you cube it. This will mean there are some edges without dressing though, which I'm not a fan of.
Healthy tip for homemade croutons: Use brown/seeded bread and use spray oil instead of butter or olive oil.
Bake in the oven at gas mark 4 (180c) for 15-17 minutes. Remove once browned. Sometimes I cook these at gas mark 5 (190c) if that is the temperature the rest of my food needs cooking at.
These homemade croutons are fantastic served on top of a salad, a nice parsnip soup or an air fryer roasted tomato soup. We store ours in a *lock & lock container and they are fine for several weeks – not that they last that long!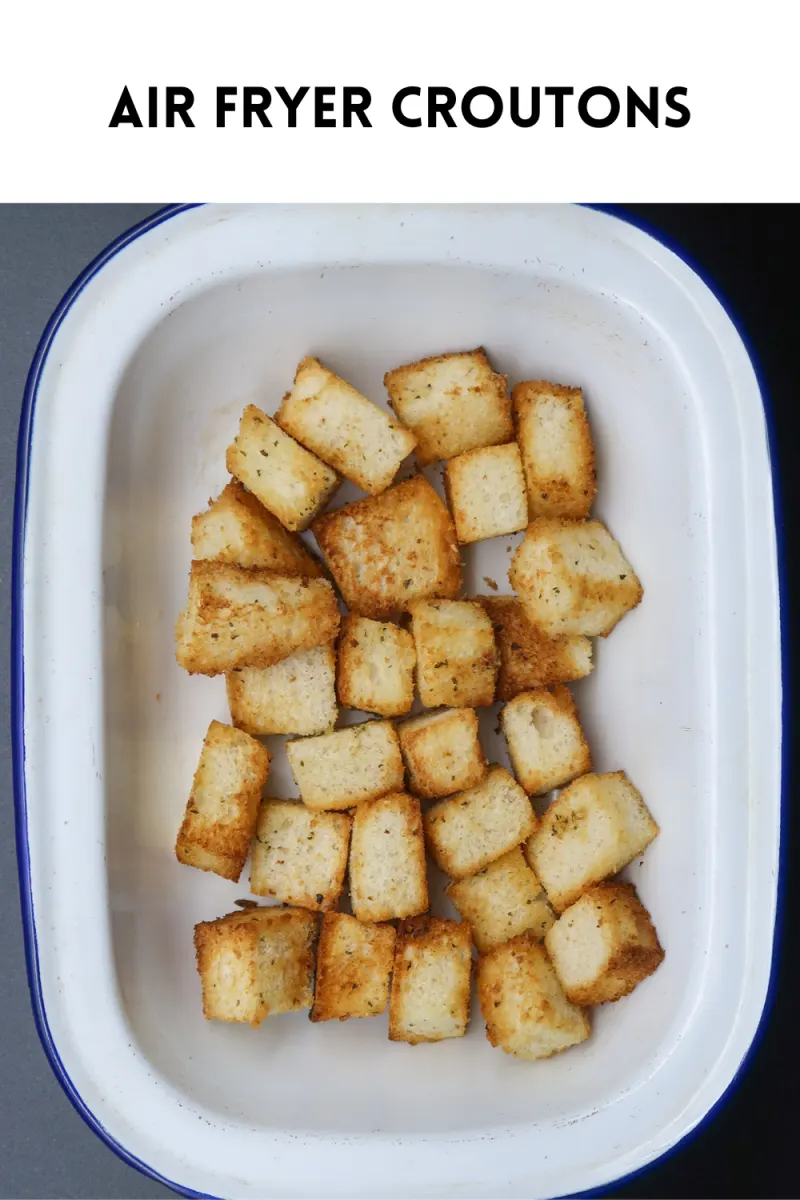 How to make croutons:
homemade croutons
Ingredients
3

slices of

bread

preferably stale

30

ml

olive oil

30

g

butter

1/4

tsp

garlic salt

1/4

tsp

salt & pepper

1/4

tsp

basil
Instructions
Cube your bread. If you're not fussed by them then leave the crusts on to save time/cut waste.

Melt together your butter and olive oil. Drizzle over the cubed bread.

Sprinkle on your choice of herbs/seasonings. I like garlic, salt & pepper and basil.

If you want to save time/effort then brush the bread before you cube it.

To make your homemade croutons a little healthier then use brown or seeded bread and use spray oil instead.

Bake in the oven at gas mark 4 (180c) for 15-17 minutes. They are cooked once lightly browned.
Fancy baking something in your oven while you make these homemade croutons?
If you enjoyed this post I'd love it if you could pin it on Pinterest!