Affiliate links in this post will be clearly marked with a *. Clicking one of these links means I earn a discount or receive payment.
My wonderful husband and I are proud owners of an allotment. It can be a lot of work but it is really rewarding too. Each week we visit 2-3 times, which really isn't enough. However, despite our limited time we manage to grow lots of things, and keep some alive year round. Such as herbs. Today I want to share with you how to freeze fresh herbs, and the methods that I use to do so.
This is a difference of just six weeks at our allotment! It is no wonder I need to know how to freeze fresh herbs!
How to freeze fresh herbs – how to freeze sage / freezing sage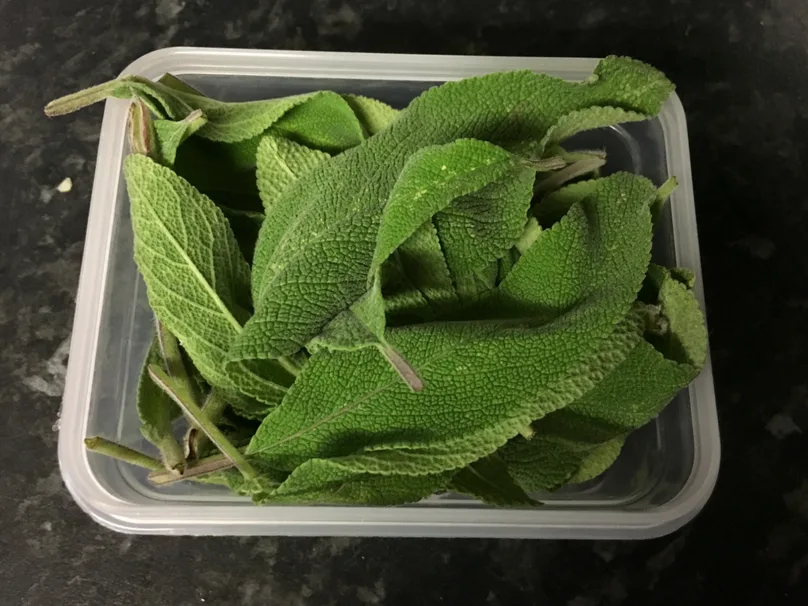 It isn't often that I freeze sage. I pick it fresh and use it the same day mostly. Often I use it for a slow cooker roast chicken.
Personally I like to freeze sage in small *clip lock containers. This is just for convenience. To take up the least space I would suggest freezing it flat on a baking tray, for one hour, then blitzing it up. Or chopping it if you don't own a food processor.
Once the sage is frozen it is super simple to crumble, even with your bare hands. Recently I have used this in sage & onion stuffing. I have also used it on my air fryer roast potatoes and it tastes absolutely lovely if it is frozen while fresh. Much better than dried.
Can you freeze sage? Can I freeze fresh sage leaves? Can you freeze fresh sage?
Yes! Absolutely. Just give it a wash and a dry first. It's never going to be quite as flavoursome as fresh sage but it'll still beat dried hands down.
Freezing sage and rosemary together is great, and they're the perfect flavours for a roast dinner too. Rosemary is one of my favourite herbs and I love to make rosemary and garlic roast potatoes.
How to store fresh sage? How to preserve fresh sage?
The absolute best way to store fresh sage, or persevere fresh sage, is just to leave it on the shrub and then pick off what you need as you're going to be preparing your recipes.
How to freeze fresh herbs – how to freeze rosemary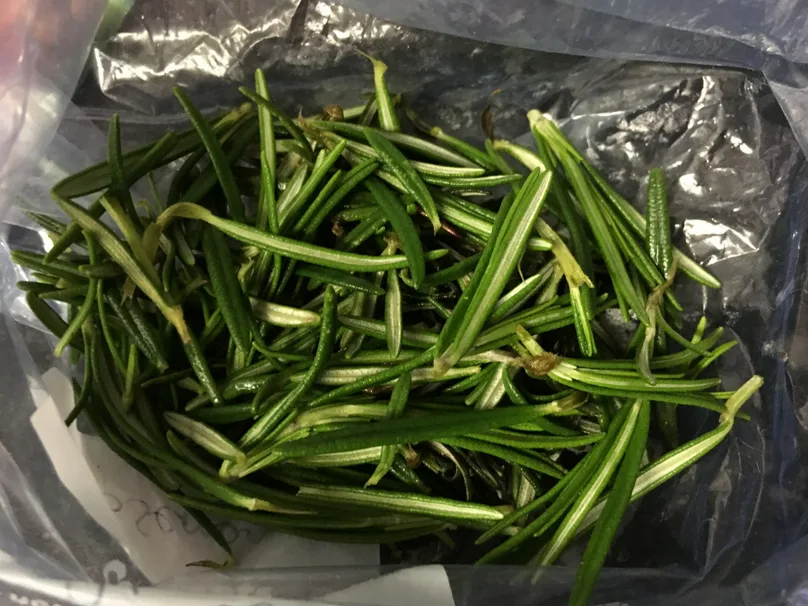 I wash the rosemary stalks and then I remove the rosemary from the stalks. I discard the stalks obviously. For me it is really convenient that I can just grab a little bit of rosemary when I want to. I often flavour my air fryer roast potatoes using rosemary as it is a herb that compliments a roast dinner so well.
It isn't often that I freeze rosemary. Mostly because the stalks keep for a while in the fridge. I then pull off what I want as I want it, nice and fresh. Over the Autumn I build up a stockpile for Winter, so I don't have to keep harvesting from my bush in the colder months.
I would suggest freezing all herbs in an airtight pot and aiming to use them within 1 month. I have used them well past this date, they can just lose their flavour a little.
How to freeze fresh herbs – how to freeze thyme & lemon thyme / can you freeze thyme?
By the time I process my thyme, or lemon thyme as this is, I'm often fed up of all the prepping. I usually freeze my thyme on the stalks. I put them, washed, in a bag and then freeze them. No need to freeze flat or anything.
Then I can just remove a stalk as I want to use it. Also, any leftover leaves are kept in the bottom of the bag to use when I run low.
How to freeze fresh herbs – how to freeze coriander
For coriander I wash it, roughly chop it and then put it in to my *Nutribullet. I use just enough water to make it in to a fine paste. Then I freeze this in *food grade ice cube trays.
When I am making a slow cooker chicken curry or other tasty dish I can just pop one or two cubes in. This gives a great flavour to curries, and other dishes, and is really convenient too. I usually pop the cubes out once frozen, so I can use the ice cube trays to freeze something else.
There are lots of other herbs, of course, and most of them can be frozen in the same ways. While the flavour may be changed slightly, and the herbs may not be quite as strong, this is great for stocking up for Winter time. Also, if you see a yellow sticker bargain, as is often the case with herbs, you don't have to let anything go to waste.
Making a delicious roast dinner? Why not check out some of my great recipes:
Slow cooker gammon joint with balsamic & orange glaze or Ninja Foodi gammon joint
Air fryer parsnips recipe (honey glazed) or air fryer carrots and parsnips
Sage and onion stuffing recipe
If you're a fan of freezing herbs you might love some of my herb packed recipes!
Slow cooker chicken saag curry
Pizza dough made in the breadmaker
If you enjoyed this post I'd love it if you could pin it on Pinterest!