Affiliate links in this post will be clearly marked with a *. Clicking one of these links means I earn a discount or receive payment.
Mince is a fantastically versatile meat. It is cheap compared to other meat cuts and meal planning with mince is super easy. You can buy it in a variety of meats, and you can get lots of delicious vegetarian and vegan alternatives now. Add something simple, like this kale tomato pasta sauce recipe and you have a variety of dishes already.
I love to do my best to make meat stretch further. It saves money and means we reduce our environmental impact slightly too. Any of the below featured easy beef mince recipes can be made with Quorn, or suitable meat equivalent.
Also, by switching to lower fat mince, such as 5% beef mince, where possible we've been able to reduce our calorie intake from our favourite meals! Adding vegetables too means we've increased the health benefits from our favourite meals, and we are saving some money too.
Easy beef mince recipes
Homemade burgers
You really can't beat a delicious burger, especially a homemade one! I love to make these Moroccan burgers, with lamb or beef mince. I always have herbs on hand because I know how to freeze fresh herbs and grow my own herbs in my garden.
I love to blitz air fryer croutons up to make these extra tasty!
Meatballs
This recipe works really well when adapted from the burger mixture above. I tend to make up the burger mixture, separate a portion for the meatballs, and then add different herbs. I mostly add basil, as I love Italian flavours. I love to make air fryer meatballs (or air fryer sausage meatballs) too.
It is really easy to make a simple pasta sauce to go with the meatballs too. I simmer the ingredients down and it takes just minutes to prepare this dish. The meatballs can be cooked in the oven or on the hob. Sometimes I cook them in their sauce in my slow cooker for a few hours and they are delicious!
Cottage Pie
This is a great recipe to prepare on the same day as a slow cooker spaghetti bolognese or vegetarian lasagne. Onions and carrots go great in a cottage pie and are super cheap too. I tend to use more earthy herbs in a cottage pie.
If I am pressed for time I freeze the prepared mince and make the mash up on another occasion. This is a fantastic meal to take straight from the freezer and place into the oven. My slow cooker cottage pie is really simple!
Spaghetti Bolognese
To my 15 minute spaghetti bolognese I add a variety of different vegetables. These vary, depending on what I have, but are typically onions, peppers, tomatoes, mushrooms, courgettes and carrots. I use garlic, basil and any other frozen herbs that take my fancy.
I mostly keep this simple and then I use a portion of this mince in my lasagne recipe. Usually I have a batch of my pasta sauce in the freezer for those days I want to batch cook in a hurry. If I'm feeling fancy I knock up some fresh pasta.
Don't forget you can save some leftover bolognese for this delicious mince pasta bake. It's so simple and you can prep it and pop it in the freezer, or leave it in the fridge for a day or two for some super tasty lunches!
This is one of my favourites of these easy beef mince recipes. SO tasty, simple and anything that can be made with leftovers is a win for me!
I also love to add cooked mince leftovers to an air fryer pasta bake or Ninja Foodi pasta bake and it is absolutely delicious!
Lasagne
Using mince from the spaghetti bolognese I often make a slow cooker lasagne too. Here is a great recipe for a gluten free slow cooker lasagne should you need it.
I make my own fresh pasta and I also make my own white sauce, which doesn't take long at all. My pasta is made using free range eggs and 00 pasta flour and then I run the pasta through my *pasta maker until it is medium thickness.
White sauce is made using flour, butter and milk. It takes me around 15 minutes to put this together.
Chilli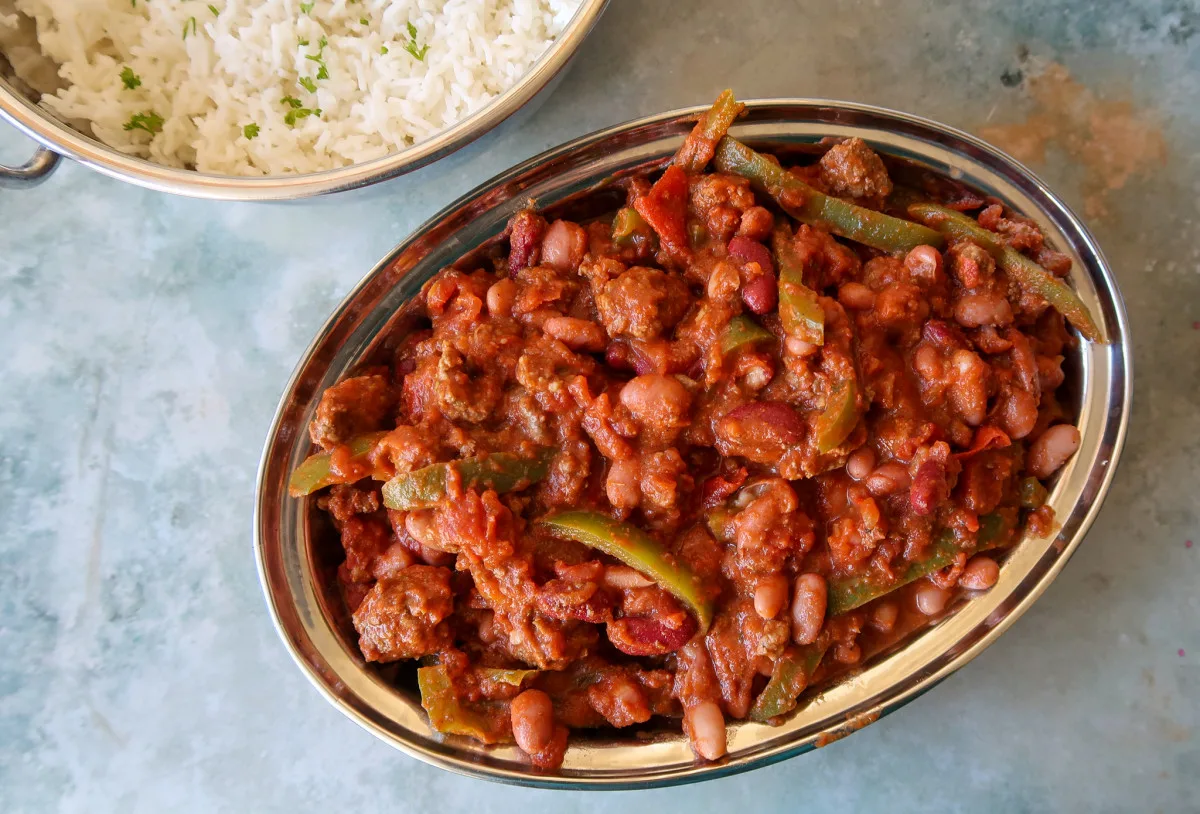 I tend to make slow cooker beef chilli or Ninja Foodi beef chilli for the freezer on the same day as a spaghetti bolognese. This recipe uses most of the same ingredients. Then I will add kidney beans, chilli powder, garlic and paprika.
I typically cook a chilli on a low slow heat, such as in a slow cooker, but it can be prepared on the hob or in the oven too. Chilli is a great freezer meal. Also, you can keep leftovers to use with rice, on tortilla chips, in tortilla wraps, and as a topping for an air fryer jacket potato.
Beef stroganoff
This easy slow cooker beef stroganoff is packed full of flavour, great to prep in advance and it just requires a few minutes of effort before you can serve it up.
The flavour of this dish works fantastically with a variety of different side dishes, such as air fryer mashed potatoes, egg noodles, tagliatelle and much more.
Curry
A bit of a surprising one but I absolutely LOVE using beef mince to make a slow cooker beef keema curry. You can use lamb, to make a more traditional curry, but as long as you get the herbs right you'll have a decent curry whichever meat, or meat substitute, you use.
Enchilada mix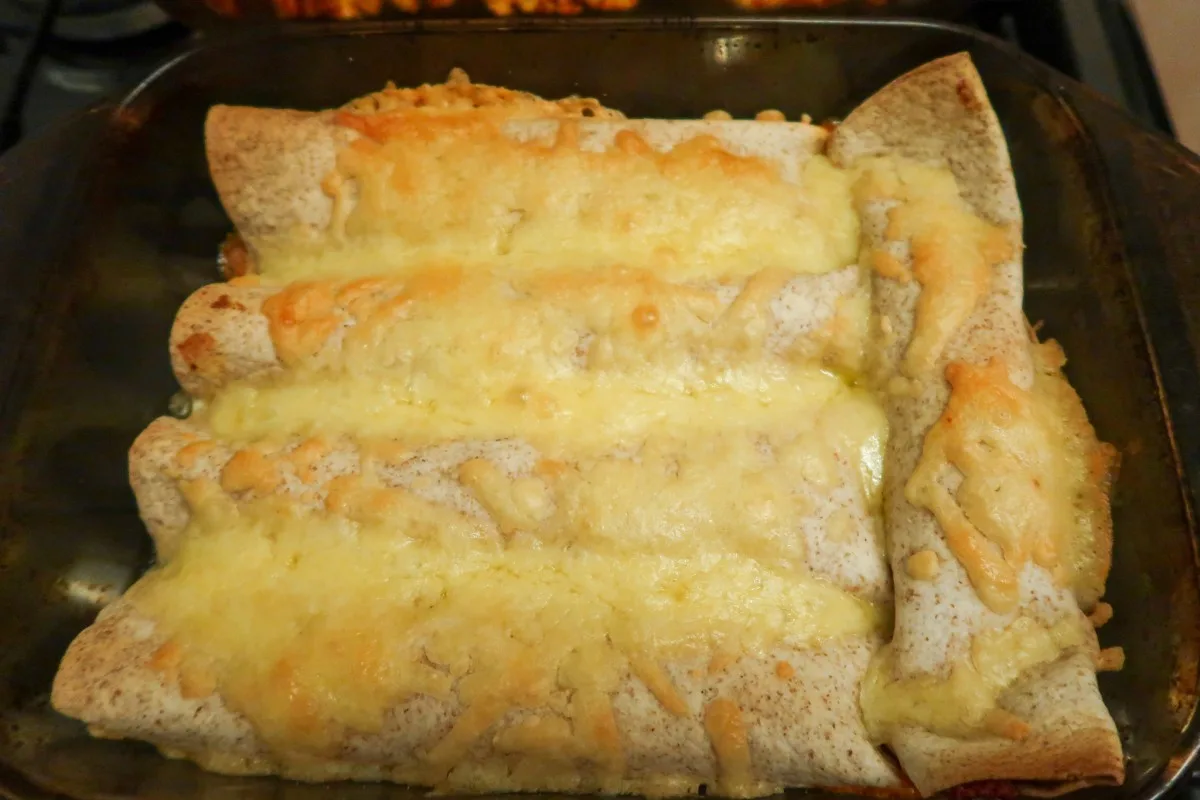 I love to make a big batch of this slow cooker enchilada mix. I can use it for tacos, enchiladas or just to spread over the top of homemade pizza dough for a tasty pizza topping.
This can be frozen before cooking, or after cooking, or even when the enchiladas have already been prepared.
If you enjoyed this post I'd love it if you could pin it on Pinterest!