Affiliate links in this post will be clearly marked with a *. Clicking one of these links means I earn a discount or receive payment.
I'm a BIG foodie, and a lover of gadgets. As such my kitchen had got a little bit cluttered with a slow cooker, air fryer AND a multi-cooker. I also had a small yoghurt maker, that I barely used. I decided to purchase the *Ninja Foodi OL750UK 15 in 1 machine so I could just have one (big) multi-cooker that lives on my worktop and does everything I want/need it to do, then I gave away the other items.
I DID previously own the 11 in 1 model before the 15 in 1, but I upgraded as I really wanted the temperature probe feature and to try out the steam meals functions too.
People are always asking over on my Instagram what I think of the *Ninja Foodi OL750UK, so I've created this review to answer some questions. I paid for this myself of course!
I paid £299.99 for my model, with free next day delivery, direct from *Ninja Kitchen. It's in and out of stock on Amazon too – so be sure to *check the price now!
Features of the Ninja Foodi Max Smartlid Multi-Cooker:
The 15 features are:
Air fry
Grill
Bake
Dehydrate
Prove
Sear/saute
Steam
Slow cook
Yogurt
Steam functions: meals, air fry, roast, bake, bread
Pressure cook with natural release, quick release and delayed release
The *15 in 1 also comes with a digital cooking probe, which you can use to ensure food is cooked to a specific temperature before it turns itself off.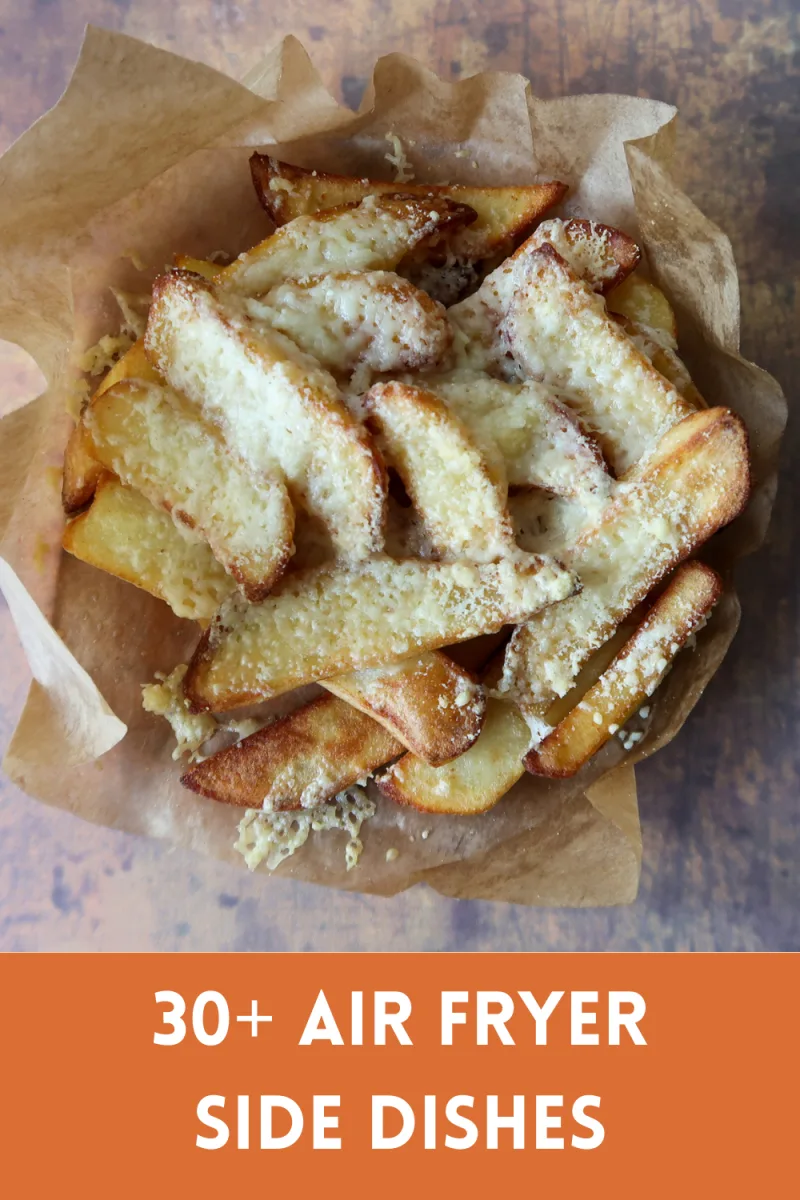 My favourite settings are the air fry, sear/sauté, slow cook and pressure cooker functions. There are the ones that I use about 80% of the time but I have used every single feature now, partly thanks to reading the instruction booklet / recipe book that comes with a purchase from Ninja.
I personally would NOT recommend the recipes that Ninja have created, with the exception of the steam meals, just to be honest. Several items were completely ruined when following the cooking time and there did not seem to be enough liquid to cook some of the pressure cooked items correctly. From a Ninja Foodi group I joined on Facebook this seems to have been a common problem lots of people have had!
Instead I would recommend watching some YouTube videos for recipes, or perhaps checking out some of my Ninja Foodi recipes (I don't have many) or air fryer recipes (I have lots!).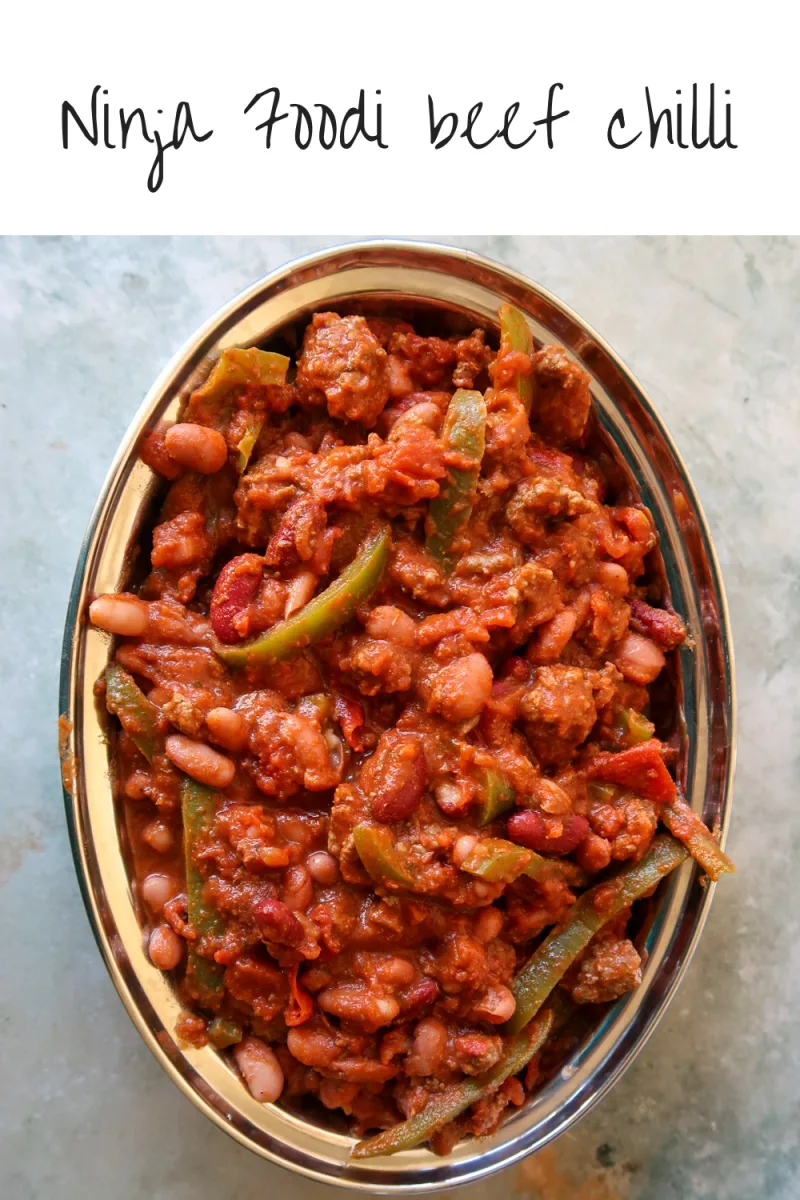 I love the single lid feature. Previous Ninja Foodi models have had two lids, which you needed to swap over based on the different settings that you were using. There was a separate lid basically just for pressure cooking, which was a bit of a faff, and it took up quite a lot of space in the cupboard.
This model is a simple size to the 11 in 1 model I had, but now there is just one lid and you slide a little button along to one of 3 notches, depending on the settings that you're using. The first setting is for pressure cooking, 2nd is for steam settings and the 3rd is for everything else.
What accessories do you receive with the OL750UK?
It comes with a 2-tier reversible rack, the 4.7L cook & crisp basket, detachable diffuser (I leave mine on all the time), 7.5L cooking pot (removable) and then you get the cooker itself with the lid attached and on the side there is the digital cooking probe and probe storage compartment.
There are a LOT of other accessories that you buy. In the past I have not bothered, but I wanted to get the most from my Ninja Foodi so this time I've purchased a few accessories such as:
*Silicone sling (to whole cooked chickens and similar)
*Skewer stand (to make air fryer chicken kebabs or even Ninja Foodi chicken fajitas on)
*Silicone steam release diverter
Here are my absolutely favourite Ninja Foodi accessories if you want to check that out too: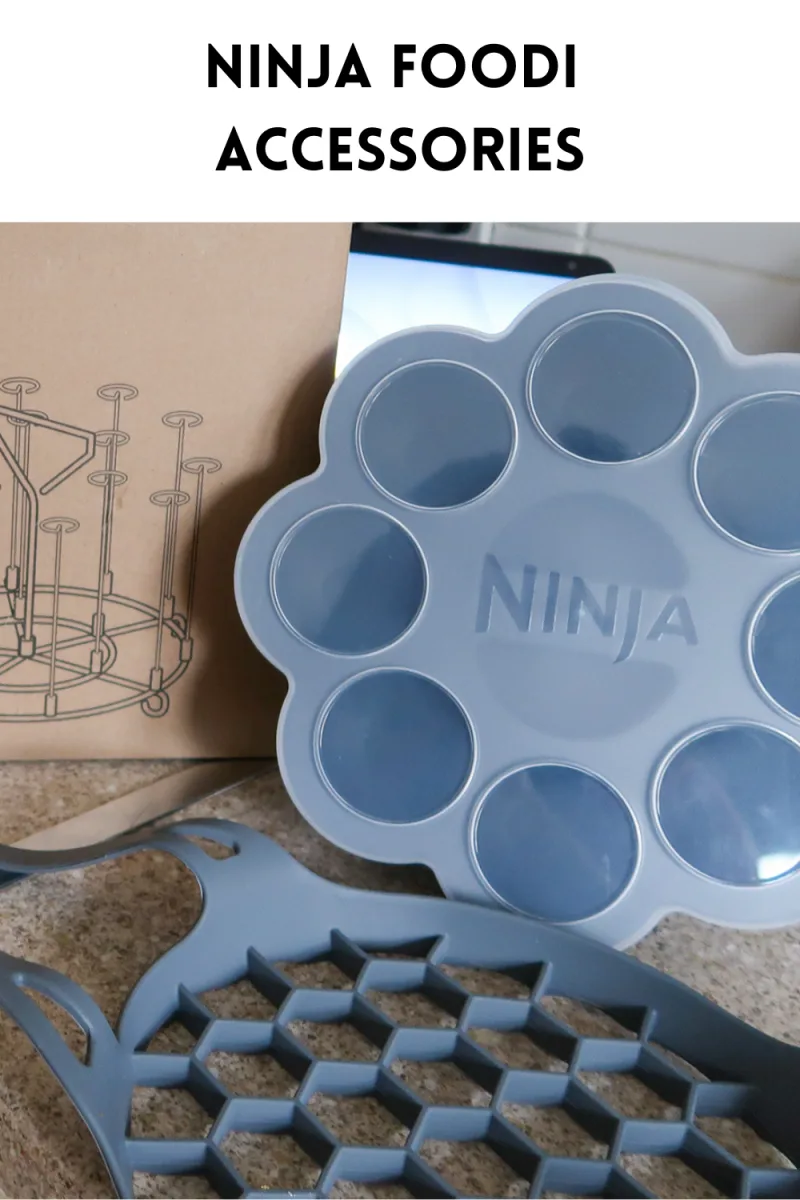 I DID buy some other accessories from Amazon, and a couple of recipe books, but the quality wasn't nice enough for me to want to recommend those to you! I bought my accessories from Amazon as the Ninja website had VERY low stock on a lot of items, and some of these weren't listed for this model, but the all fit great!
You can *check the price on Amazon now if you want to treat yourself!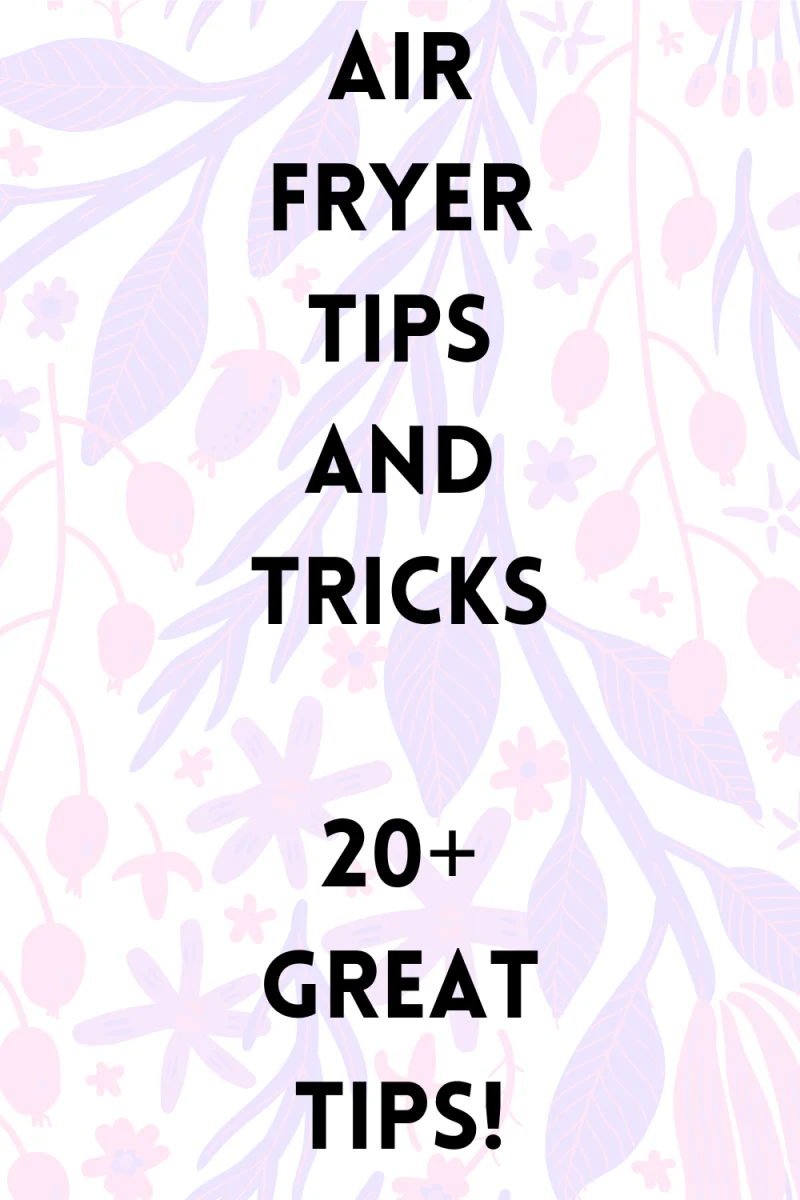 A little overview of what I think of each of the settings:
Air fry:
This is my absolute favourite setting. I probably use it most days! I love to heat up my breakfast in it, whether that's air fryer chocolate protein oats, air fryer cheese crumpets or a bacon, sausage and egg wrap.
Also, I often cook my daughters their dinner in it, around 4:30-5pm, and then make some nice dishes for my husband and I in it. I love this just about daily, sometimes more.
The cook & crisp basket is fantastic, works really well, allows lots of airflow and the diffuser that clips underneath seems to help further. Also, this seems to be MUCH easier to clean than other air fryer baskets that I have used in the past, though it does have a couple of chips to the protective coating already, but I have used it around 100 times (at least) in the 5-6 months I've had it.
Grill:
I don't use this often, as I have a large grill on my oven that is usually more suited to heating up lots of crumpets or muffins in one batch, but it does work well! Stupidly I used the rack to make stuff higher the first time I used it, which wasn't necessary at all!
This works well, no issues with using this setting, but I just don't need it much. If you don't have a grill on your oven then you'll find this really useful. You can cook 2-3 pieces of toast in the basket at one time, you might want to cut on of the pieces in half.
I've used this setting when making egg muffins and cakes. Both turn out really nice, particularly thanks to the mini muffin tray that I have. This is easy to spray with a little spray oil and then everything cooks nice and fast.
I don't use this setting much as I tend to slow cooker joints of meat and make most other items using the air fry setting.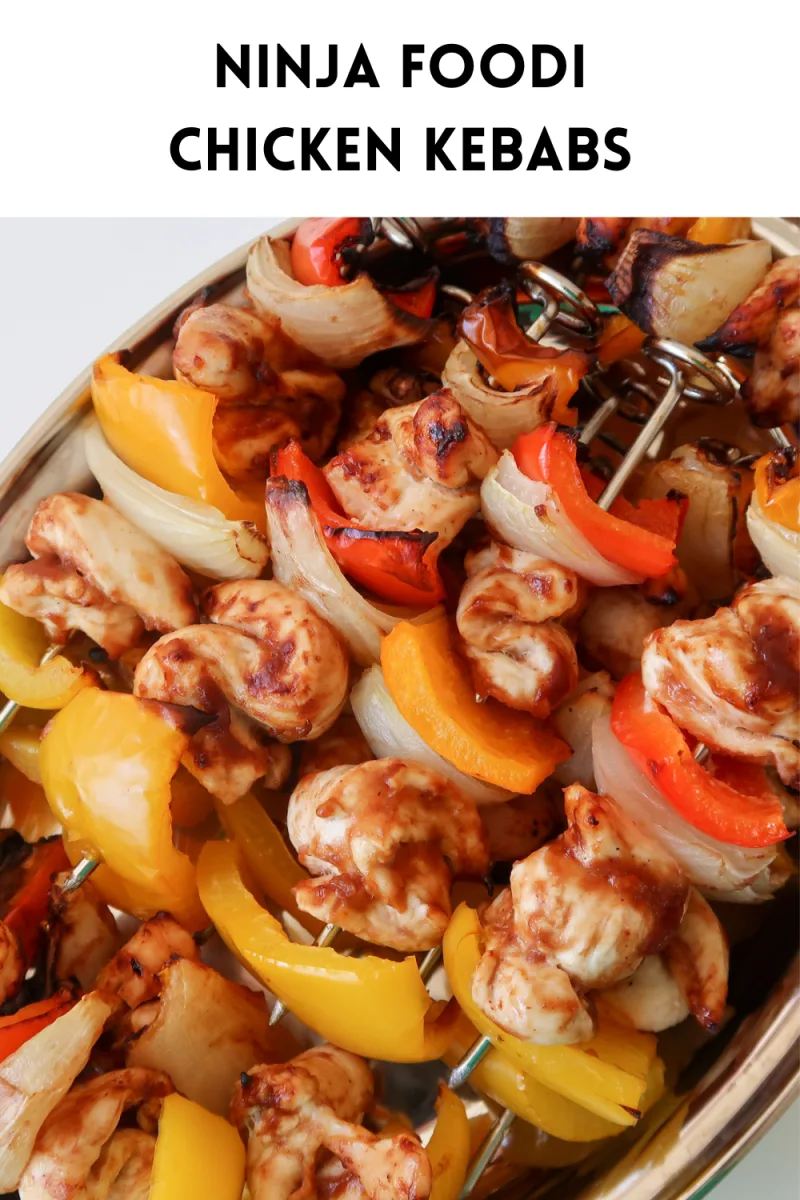 Dehydrate:
This is a feature that I did not expect to love. I've been dehydrating fruit for making cereal, and adding to drinks for pretty garnishes when we have guests.
I have also tested out dehydrating some fresh herbs and then grinding them up to re-fill my herb and spice shakers. This is really fun and my smart meter shows that this is pretty cheap to use too!
Prove:
Another feature that I wasn't sure I'd have much use for. This is great for proving my homemade pizza dough, soft white roll dough, cheese scones (When I want them to be large!) and bread dough too.
Sear/saute:
I use this frequently before I slow cook meals. I love to brown mince, and season it well during this process, as I really feel like it adds to the flavour of dinners.
Being able to brown off meat and vegetables before slow cooking in the same pot is really handy and it saves on the washing up too!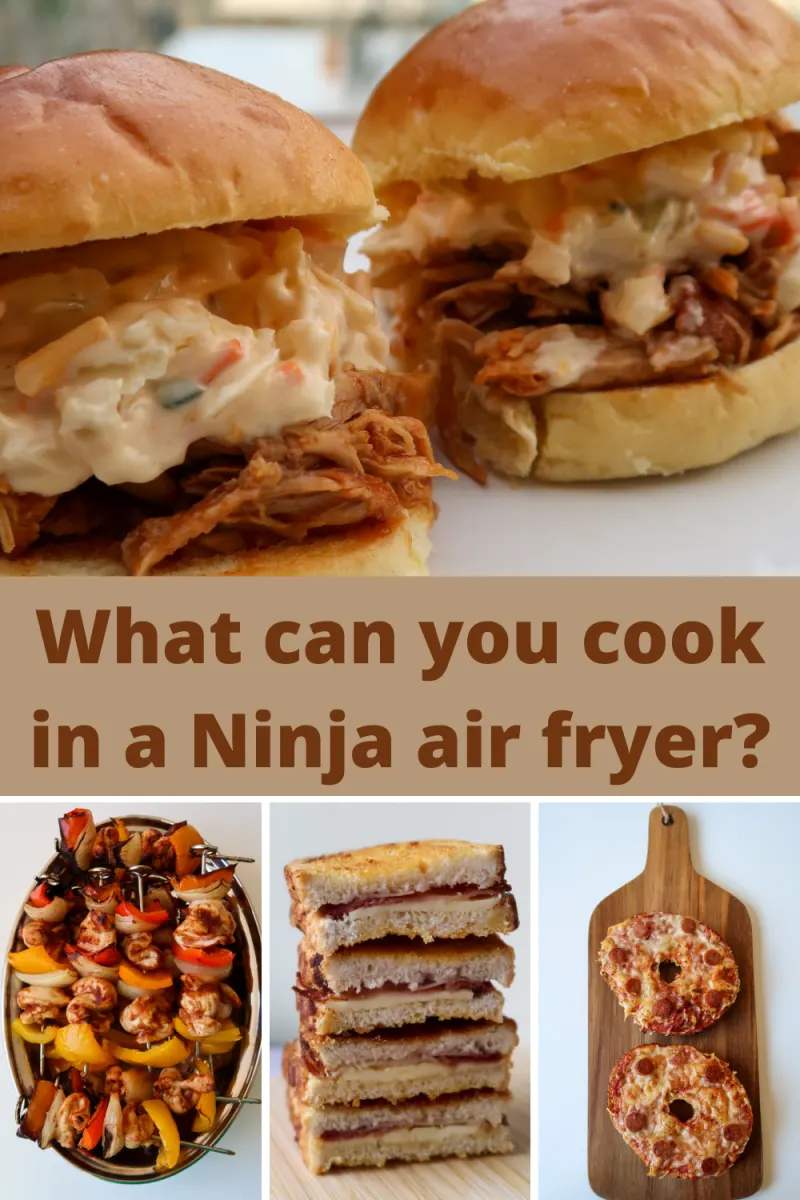 Steam:
I've only used this setting a couple of times, to make some steam meals, and was pleased with the quality of these recipes from the included booklet'. The basic idea is that you can make a full meal in the one pot, just by adding different layers either all at the same time or during varying stages of the cooking process.
For example you could steam white rice, vegetables and salmon all in the one pot together. Cutting down on time and effort too. You just layer up the reversible rack and you're good to go! This can be a great way to make full meals for your family, I've just got a lot of other air fryer recipes I already love and prefer using, which is why I haven't experimented more with this setting yet.
Slow cook:
Alongside the air fry this has to be my next favourite setting. I love being able to set dinner up during the day and have something that is ready to serve, all hot and delicious, for dinnertime.
I've got some slow cooker recipes here that you might find useful.
I find that this slow cook setting seems to need more liquid than stand alone slow cookers, and some recipes cook a little faster, but if you're wanting to slow cook all day you've still got the option to do that. I tend to put dinners in early afternoon, just after lunch, and this is great for using the high setting and having dinner around 5-6pm.
Yogurt: (They spell it this way!)
If you eat a lot of yoghurt it is surprising just how easy it is to make your own from scratch. This is a great way to make a huge batch of yoghurt, some of which you can freeze for use in sauces or even just turn it into yoghurt bark and freeze for a healthy snack for your family.
You'll find a TON of recipes online, and if you've got a plain yoghurt you can often use this as a starter which is great as it just keeps going on and on, much like how a sourdough starter does.
Pressure cook:
I love the pressure cooker setting. I tend to use it with the quick release option, as most of the time I'm wanting to cook things fast. Timings wise it DOES take a bit of time for liquids to heat up, but once they do the cooking time is very fast.
For example if I want to make pasta in the pressure cooker it only needs 1-2 minutes of cook time, but it takes maybe 5-6 minutes to heat up, then 2-3 minutes for all the pressure to release. This means it is a similar time to cooking on the hob BUT I don't need to watch the pan, don't have to worry about it boiling over and this way I can get on with other components of the dinner.
Also, if I want to cook huge quantities of pasta, for batch cooking Ninja Foodi pasta bake or meal planning, this works really well. I can set it to start cooking and then cook up my proteins, vegetables and sauces separately before I drain and then rinse the pasta to cool it down quickly.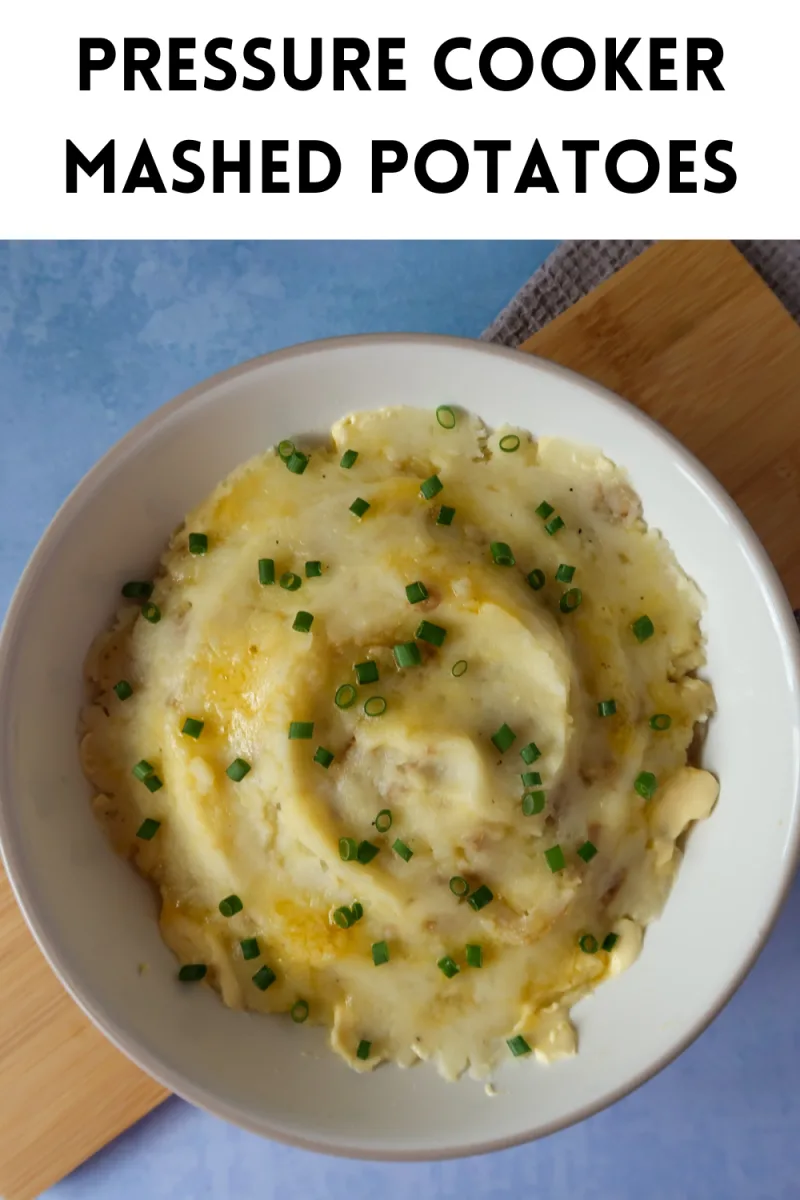 If you're wanting to make a fast meal then the pressure cooker can be fantastic for this. Some dinners cook in just 10-15 minutes from start to finish, including heating and pressure releasing times, with no input required once the ingredients are added and it's set to pressure cook. Also, it is possible to cook a whole chicken in around 25-30 minutes, which is just fantastic!
The temperature probe makes it really simple to pressure cook food. I set the temperature that I want it to reach (I tend to go for a few degrees lower than safe internal cooking temperature as it'll still keep cooking), and then when it's reached that temperature it'll stop cooking and release the steam using my chosen method.
When the steam is released it beeps first, so you know you're not going to get a face full of steam unexpectedly! I've got a steam diverter on mine, just to ensure that the steam is diverted safely away from any cooking areas, in case my children are nearby and don't know what the beeps are.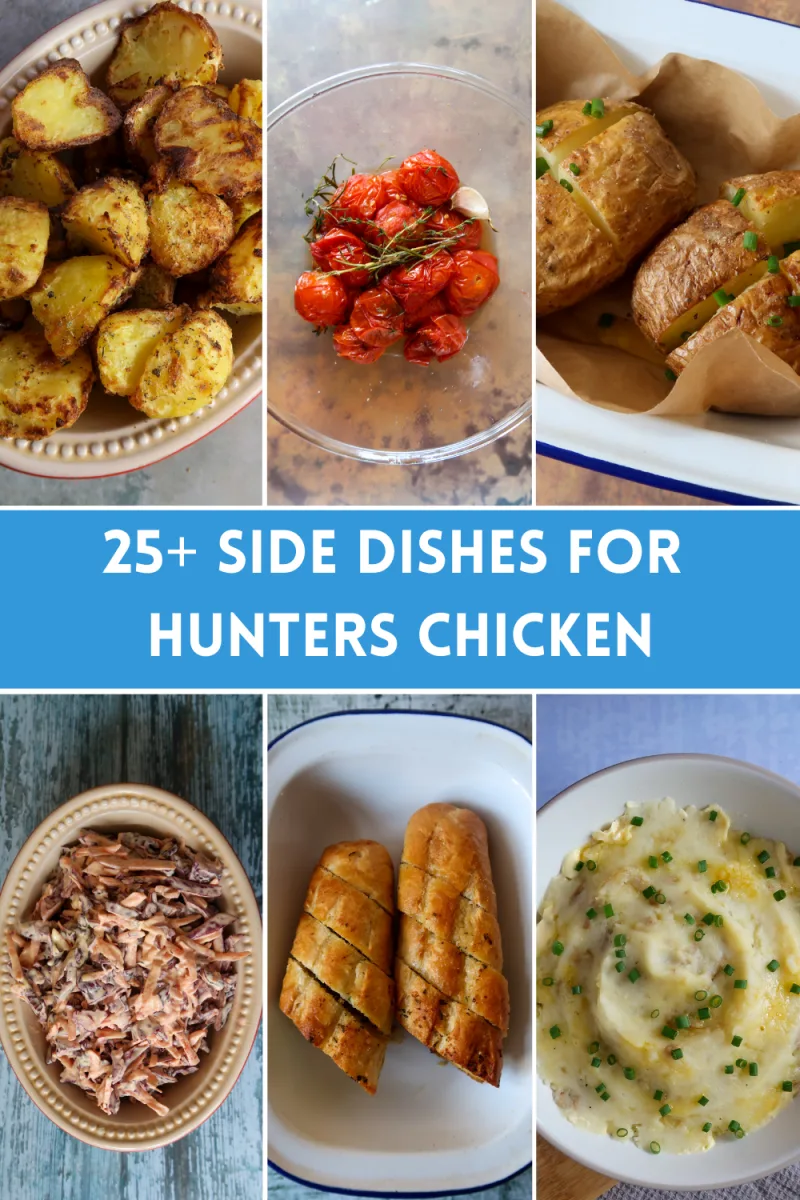 I asked my followers on Instagram for any questions that they had and here are some of the most commonly asked ones:
How heavy is it?
Honestly, pretty heavy! I have fibromyalgia, among other things, so I have time when my hands are pretty sore. I like to leave this out on the worktop, as it weighs just over 10KG (empty) and is pretty heavy!
It has a cooking capacity of at least 4.5L more, depending on what you cook, although you won't want to move this while it's been on, as it can get very hot.
I CAN move it by myself, from the worktop to the floor of my pantry, as needed, but I'd recommend finding a space on your worktop for this if you can, measure the cupboard height first though and ideally place this on a worktop without cupboards above for the best airflow!
Does it stay cool to the touch?
The outside doesn't get hot BUT if you accidentally touch the main cooking basket after it's been on you're probably going to get one of the worst burns of your life!
I burned myself the first time I used this, despite knowing that it gets very hot. Now I ALWAYS use oven gloves or mitts, depending on whether I'm moving the air fryer basket or the larger cooking pot, just to say safe.
Sometimes I think that I can just lift a few items out of the basket using tongs, and then I either touch the edge or almost touch the edge, as it's deep, so again, I'd recommend wearing oven gloves the entire time while using it, even if you don't think it is possible to burn yourself. I didn't either when I started using it, especially as I was just upgrading from the 11 in 1 model (OP500UK).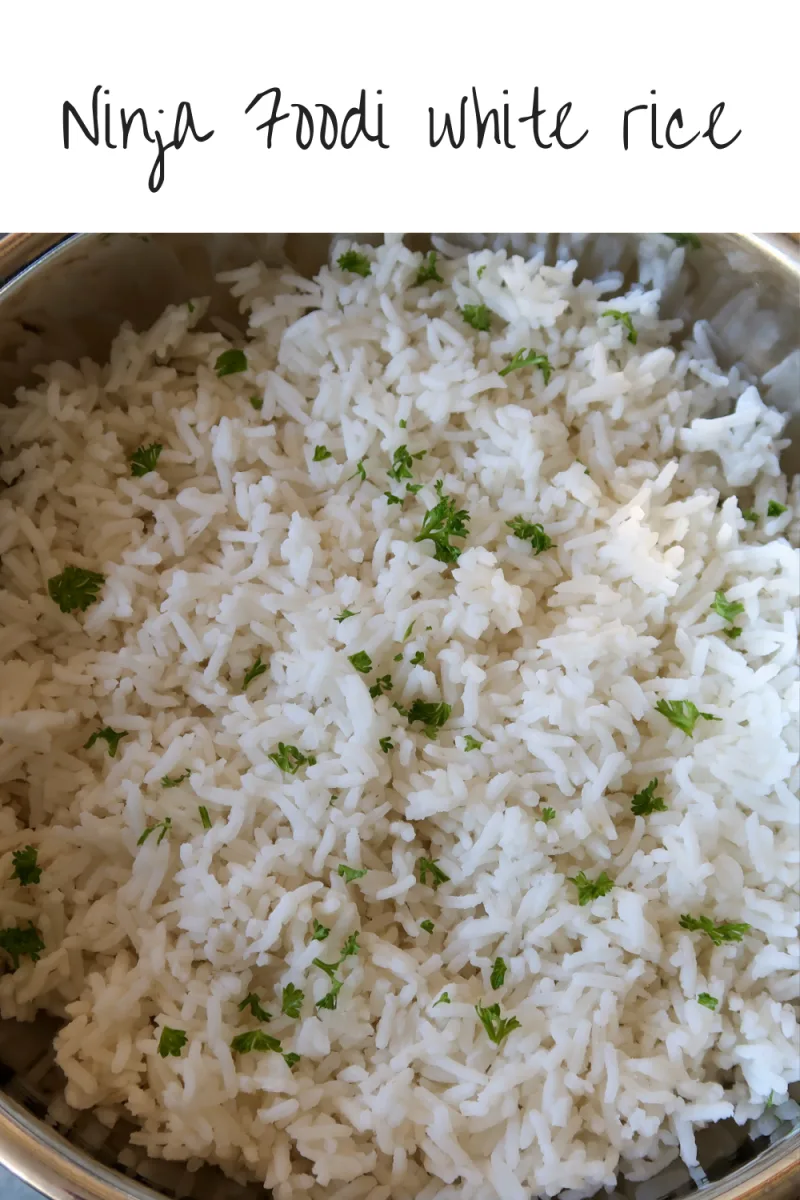 What sort of uses is it best for?
As you'll have seen above there are a LOT of features, all good, however, for me I'd say that it is particularly great at pressure cooking, air frying and slow cooker. I love the sauté feature too, as it heats up quickly, and every feature has it's great uses, especially the temperature probe.
If you've got a lot of meat to cook up in one go, or are short on time to stand around checking things, then just set up the temperature probe to your desired setting and you can come back when your food is cooked. This is ideal for cooking things such as steak or whole chicken, when you want it to be cooked to a very specific temperature for the best flavour.
Is it difficult to clean?
Actually no! Move the cooking pot with the air fryer basket and diffuser inside. I've got a very standard sized sink and it just fits in. I move it using oven gloves (it stays VERY HOT for a LONG time!) and then I'll just initially soak it with Fairy liquid and hot water.
This works great to remove the grime and then I usually give it a wipe over with a sponge. I feel that unlike previous air fryer baskets I've had this one actually comes up clean and it is possible to remove the layers of grime that build up each time you use it.
The top can apparently be opened using a Ring doorbell screwdriver, but I'm yet to try this as a bottle brush and cloth allows me to clean this without taking it apart (which I think invalidates the warranty!)
I have found that the indentations for the pressure cooking have become grubby over time, but apart from using pink stuff and a toothbrush this is one of those things you just learn to live with if you're not a perfectionist!
Don't forget to empty the little condensation / water catcher at the back. Particularly when pressure cooking there is a lot of water that goes from the inside of the lid into the seal on the edge when you open the lid. This flows around and into a little collector. This is simple to clean by tipping the water away and using a straw cleaner or pipe cleaner. I got one with a water bottle I purchased and have used them ever since!
What about cleaning the accessories?
Cleaning the accessories is pretty straight forward as most of the ones we have are made from silicone. The kebab stand is a little more tricky, as it is metal, but I've found that a good soak and then rubbing with a sponge and rinsing directly under the tap helps to remove any stuck on bits. Also, coating it with a little spray oil before placing it into the cooking basket seems to help too!
Is it easy to transport?
It's very large, and heavy. If you're strong, and have a car, then sure thing. If you're planning to walk anywhere you're going to get tired quick as this weighs about the same as my 1 year old!
How long is the power cord?
90cm.
Where should you buy the OL750UK?
You can *buy it direct from Ninja, which makes it very simple should you have any issues. A previous model had a basket issue where a break appeared and Ninja sent me a new one out within 2 days no problem. At no cost. Despite it being more than 12 months old!
You'll usually get FREE next day delivery (even on Sundays) when buying direct from Ninja and they often have special offers, freebies or discount codes you can use listed directly on the website. When I ordered mine it WAS full price, but I received some Ninja items with it, plus an apron I think! I didn't think I'd use that but it actually washes up well and is really nice quality.
Other places that you can purchase from include *Amazon, Very and I'm sure if you shop around you could even possibly yourself a second hand one on Facebook Marketplace or eBay, as often fans upgrade to the newest models very fast.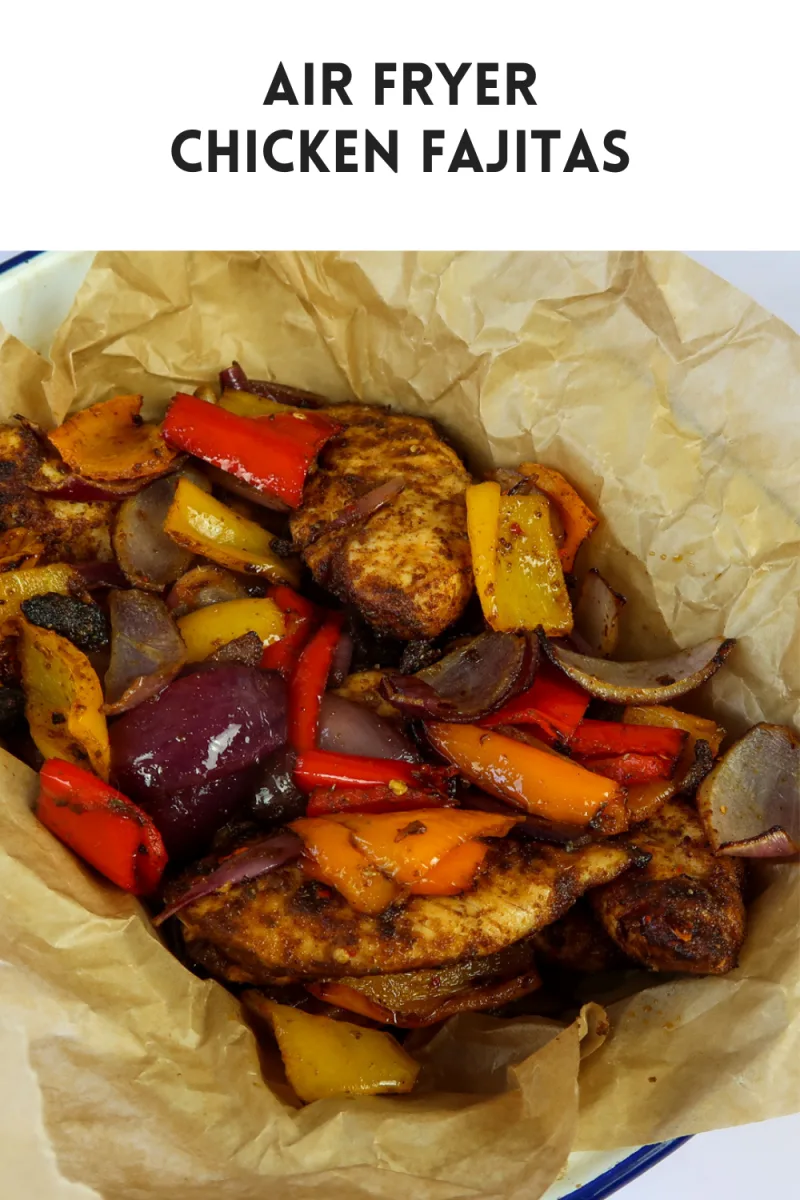 Do I recommend it?
As you can probably tell I really rate the Ninja OL750UK Foodi Max 15-in-1. It's great quality, has great features, the temperature probe has been very helpful to me as a forgetful person and I have cooked a variety of meals in this. In fact, ALL of my air fryer recipes from here have been tried and tested in the Ninja Foodi using the air fry / air crisp settings. This includes air fryer chips, air fryer chicken wings, air fryer jacket potatoes, air fryer roast potatoes, slow cooker roast beef and slow cooker whole chicken.
I bought mine direct from Ninja, as I like the warranty that they offer, and their customer service always seems to be good, also, I've heard quite a few stories about people wanting to complain about issues to retailers and being sent back to the manufacturer anyway!
If you want to buy one, and earn me a little commission, I'd be very grateful if you clicked: *Buy your own OL750UK now!
Be sure to try one of my Ninja Foodi recipes while you're here:
If you enjoyed this post I'd love it if you could pin it on Pinterest!