Affiliate links in this post will be clearly marked with a *. Clicking one of these links means I earn a discount or receive payment.
Since moving house it is fair to say we have a COMPACT kitchen! Space is at a REAL premium and as such I'm doing all I can to maximise space, keep food fresh for longer and just generally be more organised. These are the ways that I'm organising the kitchen!
Now my kitchen is super organised again, after moving, I thought I'd give this post a little update. I love being organised, as it just saves time and makes my life run so much smoother.
Being able to open the cupboards, and find what I want right away, is a big time saver when I'm cooking from scratch.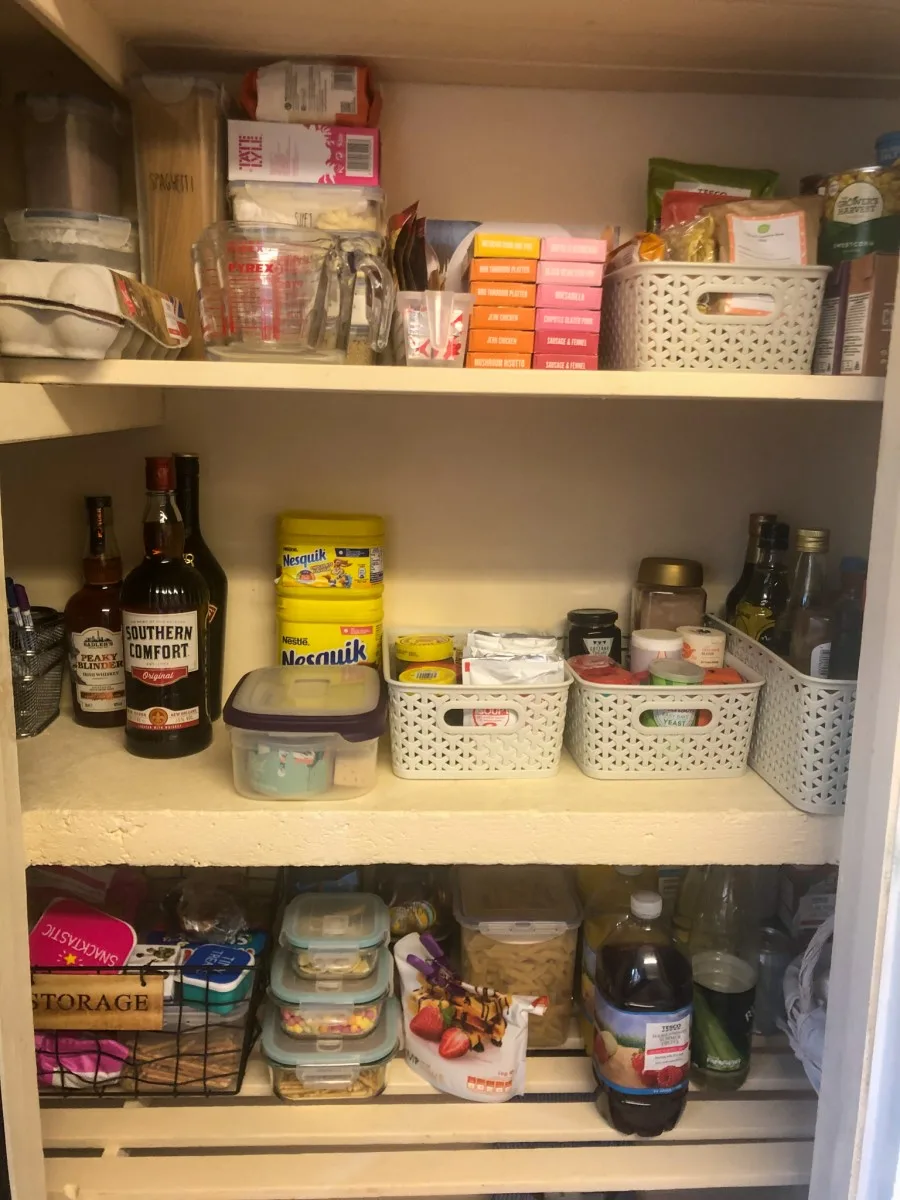 Great kitchen organising solutions:
Being able to see all of my baking trays at a glance is so handy. I find that the smaller ones can nestle inside the larger ones, which helps me store even more of my favourite baking trays with an organiser.
Any storage that nestles inside itself is good with me! I love these Joseph Joseph nest bowls, and storage boxes, as they're simple to stack together, look pretty stylish and take up less space too.
Food preservation items:
Preserving your food the best you can is a great way to save money. I love to use these beeswax wraps, instead of cling film or aluminium foil, and it is a great way to be a little more eco friendly, and save money too.
Potato and onion bags are a great way to keep your produce fresher for longer. I like to keep mine stored in my outhouse, as this helps the produce to stay cool as well.
My favourite kitchen gadget:
*
This multi-cooker is one of my favourite EVER kitchen gadgets. It has a number of purposes, making it a great space saver for me.
You can brown food, slow cooker, pressure cook, making soups, desserts, yoghurt, rice and more! It even has a keep warm function if I set the timer for the slow cooker and don't get back to it right in time.
Tidy life gadgets:
A sink caddy is great for storing all those sponges, clothes and other bits and bobs that you need by your kitchen sink. This particular one is handy to move around and easy to clean too as the middle section removes.
Having a bag holder, for all those supermarket bags, is really handy. This one can be wall mounted. Also, don't forget charity shops are often in need of plastic bags if you have some spare!
We have to keep our food waste separate at home, and this food waste bin makes it really convenient to do so. I just lift it out from under the kitchen sink when I need to use it.
Pantry/baking cupboard organisation:
I have a pantry in my home, and love it. It's just a large cupboard, with shelves in, but it is so nice to have everything all handy and organised to hand. These are my favourite pantry organisation items:
I love these baskets, they look really nice and they're super convenient to pull out too with the handles. Having everything handy in one basket is great for baking, cooking, or even just keeping sandwich spreads all together.
I've been a big fan of the Lock & Lock storage containers for years. They're really handy for me to open and close, and keep foods fresher for longer. I have arthritis and don't suffer when opening these containers, which is great. I have had some of my containers for more than 10 years now, and they still clean up lovely and work just as well as they did when I first bought them.
Now you've seen some of my favourite kitchen organising items why not check out some of my other related posts:
How to organise your email inbox
Get yourself organised with my #kickerlist
50 ways to save money – 50 moneysaving tips
Once your kitchen is clean, tidy and organised why not mess it up again with one of these delicious recipes?
If you enjoyed this post I'd love it if you could pin it on Pinterest!