Affiliate links in this post will be clearly marked with a *. Clicking one of these links means I earn a discount or receive payment.
My family are big fans of visiting Centerparcs. We have taken part in a number of activities in the past but one of our favourites, is visiting Santa's Woodland Workshop.
Our daughter Daisy was just 7 months old when we first visited. We have visited in 2016, 2017, 2018, 2019 and 2022.
Santa has been visited in Longleat, Woburn and Elveden by us, and we've been so pleased with this activity.
This is our review of Santa's Woodland Workshop. If you're reading this as you'll be visiting Centerparcs soon then be sure to check out what to pack for Centerparcs too!
As you can see we were very excited to get inside! It was raining LOTS on of one the occasions that we visited but it didn't dampen our spirits or stop us from having fun.
When you first arrive at the entrance to Santa's Woodland Workshop you see trees decked with snow. I find that each Woodland Workshop is similar, as we've visited multiple sites for Winter Wonderland now. Woburn is my favourite, probably because at Longleat they got my daughter's name wrong!
Take a look at Santa's Winter Wonderland forest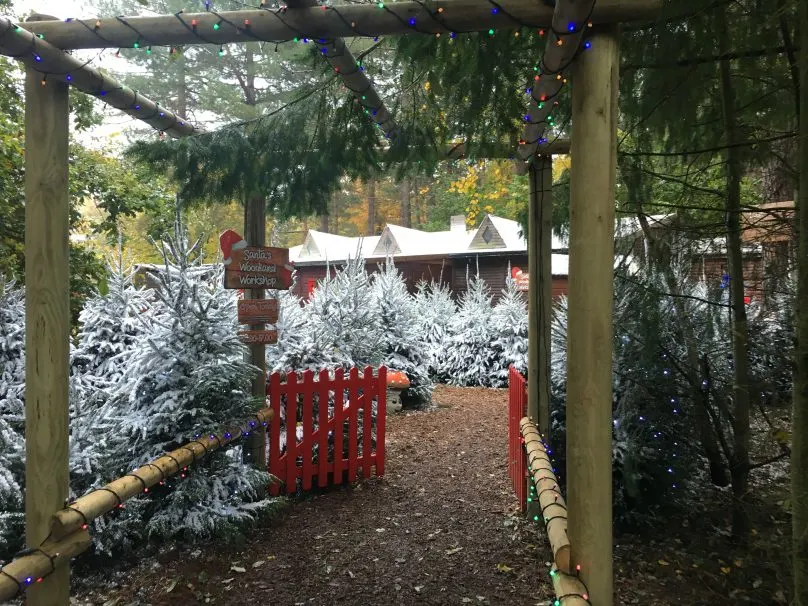 Then as you go inside these trees create a pathway for you to follow.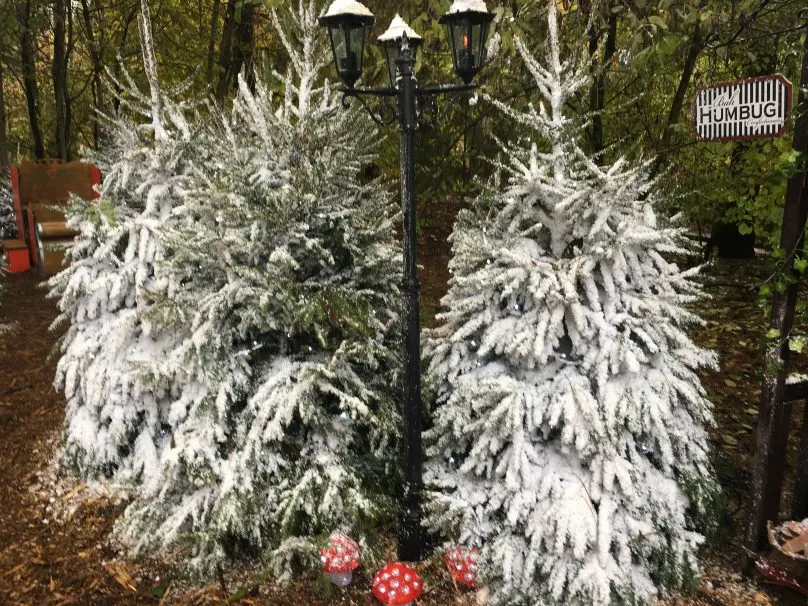 Once you get to the end of the pathway you can see lots of little houses, forming a village. It's so cute!
There are lots of moving parts, lights and lovely decorations to enjoy here. This little post office was my favourite!
Daisy was fascinated with the moving parts and loved having a look at everything.
As you can see there was so much to stimulate Daisy. She loved exploring and looking around the forest. It was really nice to start our visit to Santa in this lovely surrounding and each year it feels really magical, whatever age our daughter is.
I was really excited for us to get inside…!
It was harder to take lovely photographs to share inside, and also I don't want to spoil the magic of what is inside Santa's Woodland Workshop. Suffice to say it is even more beautiful inside and while there I shed a little tear that my baby was finally here after so many years of waiting!
You'll be asked your child's name and here you can mention anything specific that they're wanting to ask Santa for etc. I believe we wrote it down, so as not to spoil the magic. Also, we were able to mention here that our daughter has allergies, as this could change the gift from Santa!
Daisy was in awe of everything and there was no rush to walk through, in our allocated slot, and to get to meet Santa at the end.
You see artificial elves preparing presents and lots of lovely lights and several displays. Then you find yourself in a large, slightly dimly lit room, with a huge clock. This room tells the Centerparcs staff which room your Santa is waiting inside which I find really interesting and well thought out!
What did we think of Santa?
When Daisy met Santa it was wonderful! And so well thought out. There were these low but wide chairs, for parents to sit on, and Santa asked if we wanted him to hold Daisy.
I thought this was really thoughtful and perfect to allow parents to choose how they want their photograph to come out. Also, Santa's elf shook Jingle Bells to get Daisy's attention before snapping us some lovely photographs!
As you can see Daisy was looking right at the camera, as was Santa!
Cost of Santa's Woodland Workshop
In 2016 the cost was £13. For 2017 the cost was £14. In 2018 the price was £15. For 2019 the price was £16. For 2020 the price was £17. It seems to go up by £1 a year, as you can see! You'll also be charged £1 per adult who wants to attend.
How much is Santa at Centerparcs?
For 2023 the price seems to be £23!
This price includes a gift from Santa and a photograph too. I felt that this was a reasonable enough price as we got to choose from multiple photos to select the best one for us. The toy that Daisy received from Santa has varied each year.
One year Daisy received an official reindeer from Centerparcs, another year she received a play shop (Much loved for several years!), and another year she received a lovely wooden puzzle. Overall the toys feel good quality, for the price.
The toys always seem age appropriate which is great. On occasion we have chose to buy extras, spending around £12 for extra photos and a keyring too. There is NO pressure selling though and everything is very relaxed.
Overall impression of Santa's Woodland Workshop
We love it! We can't wait to go back in 2023 with both of our daughters. Daisy never gets tired of visiting and it feels magical each year. Daisy is always so entranced by the lights, snow and all the moving parts.
Our youngest is 6 years old now, and we know the magic is probably limited time wise, but she can't wait to go back again and is already counting down the days until our next holiday!
I love the inside part of Santa's Woodland Workshop and I was really emotional as we went around together exploring everything. Every year we visit I cannot believe that another year has passed by and my baby is growing so big and strong!
This year Daisy is 6 and I can't wait to see what she thinks of Santa. Each year she is more knowing and I love seeing how different each visit is.
Being able to have some nice family photographs taken, and enjoy Santa's Woodland Workshop, is definitely going to be a staple part of our annual Winter Wonderland visit to Centerparcs as long as our daughters are willing participants.
We will be in Woburn this year, instead of Elveden. We have visited Longleat in the past too. Personally Woburn is my favourite, just because I love the newness of everything and how Santa is by the waterfront.
Also, whenever the Winter Wonderland fireworks (now replaced by a lightshow!) are on Santa will fly over on a zip-line, to the left of the lake, which is great fun for the little ones to see!
Tips for booking:
If you're looking to book Santa's Woodland Workshop then pick the date of your choosing.
They make sure that the slots aren't packed and we were able to enjoy the entire walk, and the workshop, while barely seeing other people until we hit the gift shop.
It was perfect and all well timed! We are visiting on the Friday morning this time, after check out. I like us to make the most of our final day there and this feels like a fantastic way to start off!
When does Christmas start at Centerparcs? Centerparcs Winter Wonderland dates for 2023:
This year Winter Wonderland will be live from Monday the 6th of November 2023, until Tuesday 2nd of January 2024.
The villages will be lit up, all over, with beautiful lights and light displays. There are also light shows, artificial snow, festive decorations and more. They have a ton of lovely festive activities too so be sure to check those out!
Some of our favourites are the Elf academy ones!
Want to see what your lodge looks like? I've visited lots of them and have a Centerparcs video playlist on my YouTube showing you inside lots of the different lodges!
If you enjoyed this post I'd love it if you could pin it on Pinterest!