Affiliate links in this post will be clearly marked with a *. Clicking one of these links means I earn a discount or receive payment.
We have been looking for the perfect slide for our 5 year old, as she has outgrown her smaller one now, and we've been fortunate to receive the Smoby Megagliss 2 in 1 slide recently. I'm going to share some thoughts with you, as well as show the build of it!
Since moving into our first house in late 2019 we have become real fans of garden time. We can spend whole days just playing with toys, digging in sand, splashing in the paddling pool and having a BBQ together just the 4 of us. Daisy, our 5 year old, absolutely loves the garden and gets more use out of it than anyone else, despite being at school 5 days a week!
We hope to live in our house for at least 5 more years, and as we've recently had a second daughter, we were looking for a slide that was going to work longer term, but be suitable for both girls.
Here it is…!
Smoby Megagliss 2 in 1 slide instructions
The first thing that I always want to know about when buying a new item, specifically for little ones, is what are the instructions like! Well, these are VERY informative. You have a list of all the parts, with letters and a numerical code. It tells you the quantity and also shows you how long the build time is.
Build time is listed as 20 minutes if you're making up the smaller part of the slide only, or 1 hour if you're building the full 2 in 1 slide. My husband built this alone, in 41 minutes. This is listed as requiring 2 people to build.
My husband used a Stanley knife and a 10 pence piece. On the instructions it shows a 2 Euro coin. There were some pieces to break away, Airfix kit style, and then the 10 pence piece was used for tightening up the fixings because a normal screwdriver, even a flathead, probably wouldn't be large enough.
The instructions were really simple to follow and building it was light work for my husband.
The instructions were picture based, and the main gripe is that the beginning of the booklet you are seeing the instructions just for the smaller size. There IS a picture, but I would have liked to see some text showing this.
If you misread the instructions, as my husband did, it won't be a big deal to make up the little slide and then convert it into the 2 in 1 slide. It's really simple to make this change, you just connect the bigger slide and change over the handles and a piece along the bottom. That's it!
Smoby Megagliss 2 in 1 slide
Shall we finally talk about the slide itself?! You can buy it from Very.
Wow, it is HUGE! But you probably already know that if you're reading this review. The slide stands at 360cm long and 186cm high. That's right, it is over 6 foot tall. This is VERY big for little ones.
My 5 year old was initially a little apprehensive about the slide, probably not helped by wanting to use it in the pouring rain, but after a few carefully encouraged uses she was well away and absolutely loves it now. Every day after school she loves to run out into the garden and climb up to be the 'Queen of the Castle' and look around at all the sights she can see from the top.
The frame feels really sturdy. Daisy is just over 20kg, and the slide shows no sign of any weakness when she is climbing. Even on our slightly crooked garden!
The handrails are chunky, and great for both little and bigger hands, as we found out recently when Daisy's cousins visited, my 8 year old nephew in particular loved it. He rushed up the stairs with no hesitation and promptly threw himself down!
The slide has a join, where the two portions meet together, but this is lovely and smooth and doesn't irritate little bottoms as they sail over.
The bottom of the smaller slide has a smooth gradient that flattens out well even on our bumpy grass which means Daisy doesn't hit herself at the bottom, even if she's sliding down in less than ideal weather conditions.
Here is a little time-lapse of Thomas putting this slide together: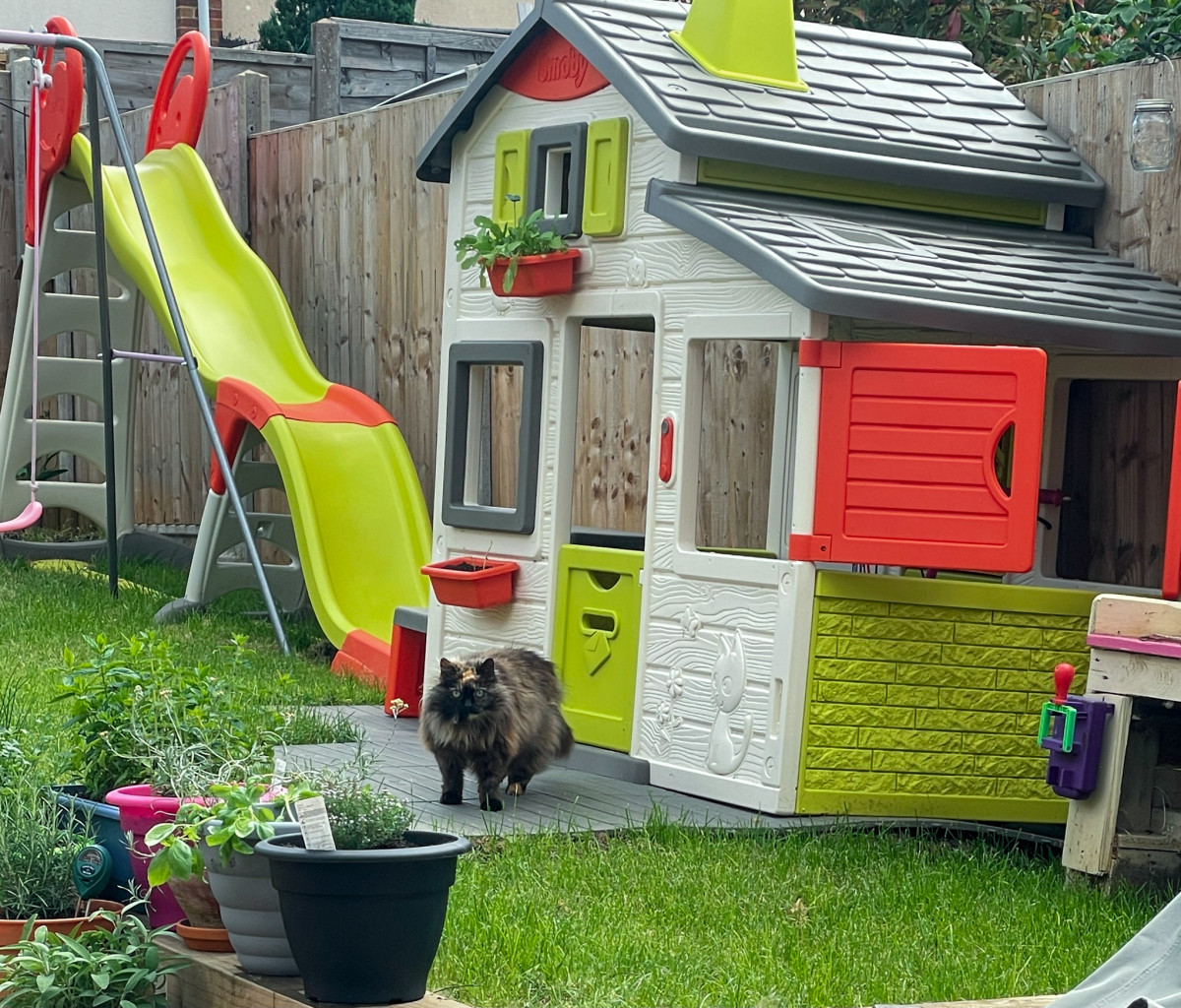 We've added our hose to this twice now, to make a waterslide, and this is so much fun on a hot day. Daisy must have travelled down the slide 50+ times in one day, and she (so far!) never tires of playing on it. I have to nag her to come inside when it's time for dinner, and I've never known her to enjoy the garden quite as much as she has since this slide arrived.
Final thoughts:
Overall it is a BIG hit! Our daughter loves it, and as Aurora grows she'll be able to make use of it too. I love that we can pack up part of it, and turn the smaller part into a little slide, for use indoors. This is going to be great in the Winter too, perhaps when a huge slide is a little too slippery for our garden (on a gradient!).
The slide is substantial in size, and nice and sturdy but I can still move it around to mow the grass, strim or even just if a particularly large amount of rain is forecast.
Daisy absolutely loves the slide, although it did take her the best part of half hour to get used to the height, none of us are height lovers, and now she happily goes down it all day, and loves that it matches her Smoby playhouse.
I love that this is UV resistant, to help the colours remain brighter for longer, and it matches the Playhouse so brings a nice look overall to the right side of our garden where Daisy has all her toys.