Affiliate links in this post will be clearly marked with a * and if you click one of these links I will earn a discount or receive payment.
I absolutely love making delicious meals for my family. Using my slow cooker is a convenient way of having a delicious dinner ready on time every day without slaving over a hot oven all day. Also, I can find 10 minutes in the morning and have a wonderful meal by the end of the day. This lovely sausage cassoulet was prepared in my slow cooker, was tasty and super simple too! If you're looking for some inspiration for other slow cooker recipes then be sure to check out my Easy slow cooker recipes (UK recipes).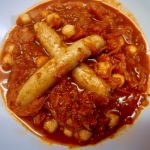 sausage cassoulet
Total Time
6
hours
5
minutes
Ingredients
Large onion

1

tin

chopped tomatoes

1

tin

chickpeas

6

sausages

30

g

tomato puree

2

cloves

garlic

1

tsp

mild chilli powder

1

tsp

medium curry powder

2

tsp

cumin

2

tsp

basil

2

tsp

oregano

2

tsp

smoked paprika
Instructions
Brown the sausages in a pan. Fry them lightly for a couple of minutes until each side is brown.

Add all of the ingredients to the slow cooker.

Cook on high for 4 hours, or low for 6 hours.
Once I had put this sausage cassoulet together then I turned it on low for around 8 hours. The first 30 minutes I cooked it on high (as per the instructions on my particular slow cooker). In the end, I had a look and I didn't need to add any cornflour to thicken it up – it was already perfect!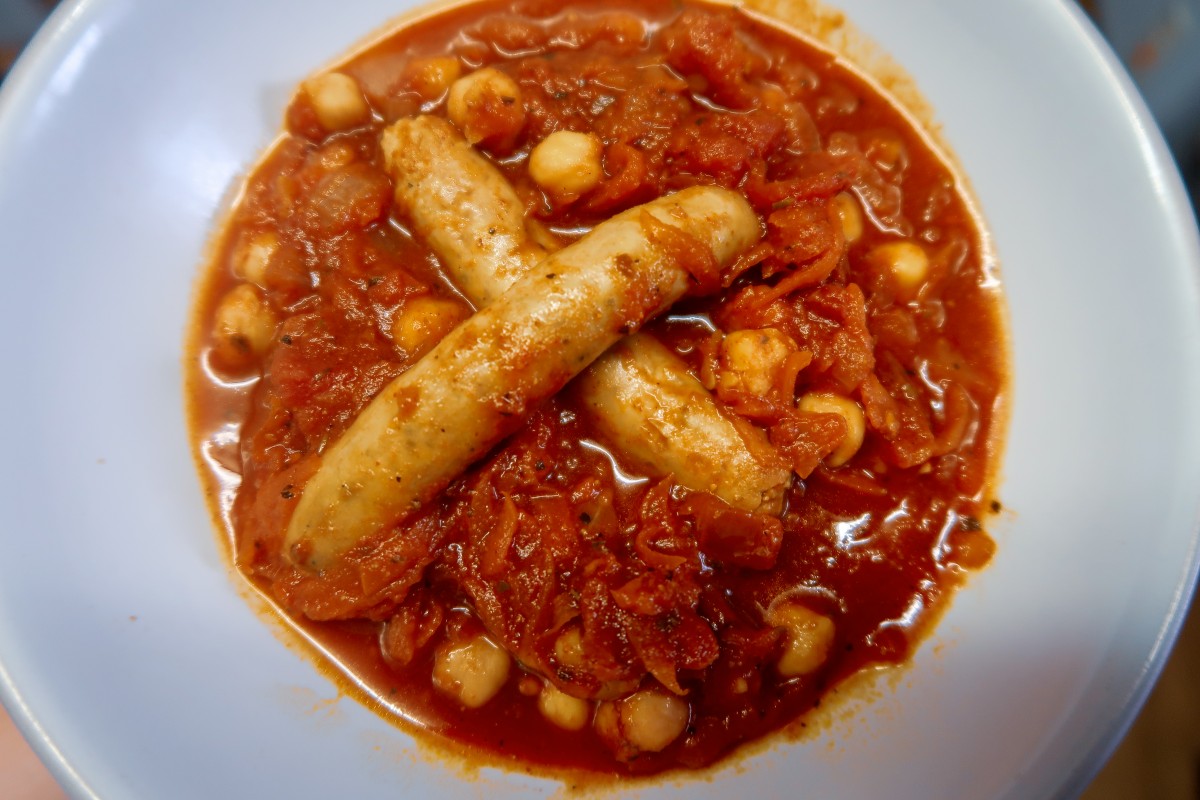 We thoroughly enjoyed this dinner. We've had it quite a few times now. I typically serve it either with mashed potato or on its own. It is a really filling dinner and if you get super high-quality sausages it needn't be too unhealthy either.
I love the flavours of this sausage cassoulet because they really compliment each other. The slow cooking really helps the flavours to meld together and as a result, it has a smoky flavour to it. I'm a real fan of slow cooker dinners. They are convenient, often cheap and you can use all sorts of cuts of meat to save money too if you choose.
Want to check out some of my other recipes? Get some mealtime inspiration now!
If you've enjoyed this recipe you might enjoy some of my other slow cooker recipes:
Beef chilli in the slow cooker
Chicken curry in the slow cooker
Chicken nachos in the slow cooker
These are a few of my favourite slow cooker cookbooks too for inspiration:
The below links are affiliate links.
*200 Slow Cooker Recipes / *Slow Cooker Favourites / *Essential Slow Cooker
Why not try one of these fantastic slow cooker accessories:
The links below are affiliate links.
*Toastabags / *Meat Shredder Claws / *Digital Thermometer / *Heat Resistant Mitts / *Meat Lifter
If you enjoyed this post I'd love it if you could pin it on Pinterest!