Affiliate links in this post will be clearly marked with a *. Clicking one of these links means I earn a discount or receive payment.
I love to use my slow cooker. It is a great, simple, convenient way to get a delicious dinner. I've put together this post that contains all of my favourite slow cooker beef recipes, in the hope that someone else can get some inspiration from reading it!
For us having the slow cooker on means I can load the dinner, during the day when it is convenient, and then serve up a lovely, hot, hearty dinner when my family are all together.
Also, if we're going to need to eat at slightly different times, say 30-60 minutes apart, then I can just serve up one portion and leave the rest cooking for when the other members of our family are ready to eat.
When it comes to serving up a slow cooker dinner I tend to do something super simple as a side, such as mashed potatoes, slow cooker rice, air fryer chips or air fryer roast potatoes. I typically want to make a side dish that takes under 30 minutes to prepare as I usually know this, as a minimum, notice wise for our family to eat together.
Beef has to be one of my favourite meals to cook in the slow cooker as it just works so well. Everything goes tender, soft and delicious! In particular I love the sow cooker beef stroganoff.
Slow cooker roast beef
Cooking up a Slow cooker roast beef joint is a delicious, simple way to start the basis of a family roast dinner.
I have quite a few roast dinner recipes that I have shared and knowing that the meat is cooking, and often making its own delicious stock for the basis of a great gravy, is fantastic too.
I love how this tasty dinner has added vegetables in the pot. In the past I have made a root vegetable mash by adding parsnips and carrots to the pot. Other times I have just added some lovely vegetables to accompany the roast beef once we serve it.
This is a great way to take away the stress of some of the elements of the dinner, especially as the slow cooker is very forgiving with timings.
Slow cooker spaghetti bolognese
This slow cooker spaghetti bolognese is the perfect example of a tasty slow cooker meal. You can have it in the pot in just a matter of minutes, with next to no effort. If you want to improve the texture a little then you can brown your meat and vegetables first.
I find that both methods work really well for this meal and it is perfect for those days when you want to give dinner next to no effort. You can even add fresh spaghetti to the slow cooker pot near the end of the cooking time if you want to further save on the washing up.
Another great side of this meal is that it makes delicious leftovers that are ideal to turn into other meals. I love to make a bolognese pasta bake 1 or 2 days after having either this slow cooker spaghetti bolognese or my 15 minute spaghetti bolognese.
Slow cooker beef keema curry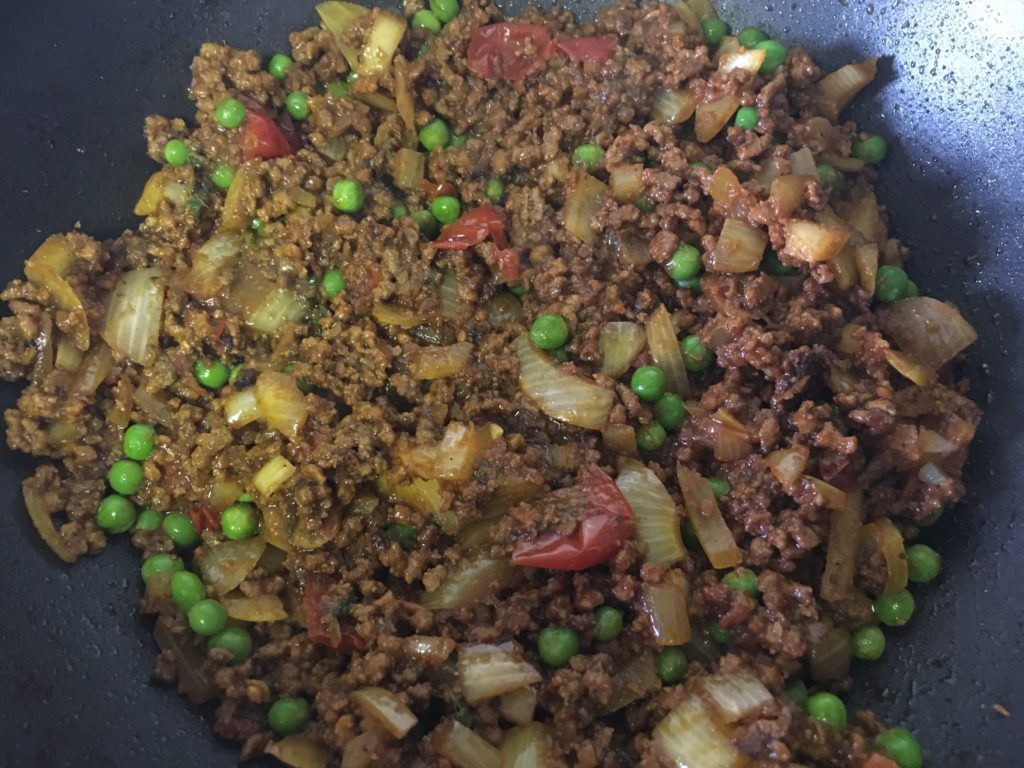 When we want a takeaway style treat we love to cook up this slow cooker beef keema curry. It goes great with slow cooker rice and on occasion I have served with my 3 ingredient flatbreads (no yeast!).
If you're looking at meal planning with mince then this is a really versatile dish that uses just a few frozen vegetables and herbs and spices. It is quite cheap and tastes just like the takeaway version!
I love how frugal this meal is, and it is a great way to make use of a smaller amount of mince, perhaps left over from a bulk packet.
Slow cooker beef enchilada mix
When we want something different then this slow cooker beef enchilada mix is a real family favourite.
It only takes a few minutes to prepare this, and then just 10 minutes in the oven at the end, and we have a lovely, hot, crisp dinner that makes a real texture change from the normal beef slow cooker recipes that I make.
What I also love about this recipe is that you can use it as the base for tacos, or something else, if you fancy a nice change.
Slow cooker beef chilli
Another versatile beef slow cooker recipe would have to be this Slow cooker beef chilli. You can add leftover vegetables from your fridge, or even use frozen vegetables if you prefer.
This chilli is a super frugal ingredient and works great either with air fryer tortilla chips, homemade tortillas to turn them into a wrap or even with something like air fryer roast potatoes or air fryer chips.
I love how well leftovers work for this chilli, as they reheat so well. You can reheat on the hob, in the oven or in the microwave. It freezes super well too and lasts for days if you cook a big batch!
Slow cooker beef casserole
(with dumplings)
Slow cooker beef casserole is perfect for those nights when you just want a really hearty meal.
We personally love to pour in potatoes, root vegetables and then add dumplings near the end too.
You can't beat coming home, from a long day at work, or a nice family walk, to find a hearty dinner waiting for you. The dumplings steam lovely on the top of the mixture, and the broth that this makes is super tasty!
Slow cooker lasagne recipe
Slow cooker lasagne recipe is perfect for just about everyone. You can use lean beef mince, to keep it healthy, or you can even mix it up with Quorn mince or another meat-free alternative.
I love that this dish has cheese on the top, and the lasagne sheets go lovely and soft too. This has a slightly lighter texture than when cooked in the oven and it works so well.
Slow cooker cottage pie
A hearty slow cooker cottage pie really is the perfect meal to come back to after the end of a busy day!
You can skip the browning step, and just throw everything into the slow cooker if you want to. Also, this recipe is very simple to adapt with Vegan or Vegetarian meat alternatives or substitutes instead, as we've done multiple times.
Either use the slow cooker to cook the meat up in advance, and freeze it or put the mash on the top and allow the slow cooker to do all of the hard work for you.
I LOVE to cook side dishes in my slow cooker. Now you could either wrap these in foil separately, use a divider to make your slow cooker into two sections or cook up at separate times. I used to have a triple slow cooker for making multiple dishes but it used up SO much space in my kitchen that it just had to go!
Slow cooker beef stroganoff
This has to be one of my very favourite slow cooker beef recipes – slow cooker beef stroganoff. This one is gluten free, PACKED full of flavour from fresh herbs and you can even use cheaper cuts of beef, like stir fry steak.
We love to use up a sirloin steak or two for this recipe, as the meat goes so tender in the slow cooker.
I love that this dish takes just minutes to prepare, and then a little work near the end and it is absolutely packed full of flavour.
If you fancy some great slow cooker sides then check out these:
When you want a delicious side dish then your slow cooker can really help. These slow cooker chorizo loaded potatoes (can be made without the foil) are a great way to enjoy a meaty, cheesy, delicious side dish with really minimal effort on your part.
This is a great way to make soft potatoes in the slow cooker, although the cooking time IS quite long.
Making a batch of slow cooker rice is perfect if you're catering for multiple people. You can make a perfect batch of rice every time, and just fluff it up with a fork before serving.
You will have to stir this dish during the cooking time but it is well worth it for minimal effort when it comes to serving up your meal! We love this with our slow cooker chicken curry too.
Making jacket potatoes in the slow cooker couldn't be easier. It takes about 30 seconds to prepare them and then you can just leave them in the slow cooker to do their thing.
I love to make a batch of these and then freeze them up for easy lunches, especially during the cold months when the daylight is short and there isn't much good to look forward to when working from home!
If you enjoyed this post I'd love it if you could pin it on Pinterest!