Affiliate links in this post will be clearly marked with a *. Clicking one of these links means I earn a discount or receive payment.
I have been working from home full time for many years now. I really enjoy the work/personal life balance that I have, as it has got much better in the last couple of years for me. Today I am going to share some tips on staying motivated working from home which I hope you will find useful.
Personally I love being able to take a day off when I want to. When my daughter has a hospital appointment for her FPIES or something comes up unexpectedly I can always be there.
Obviously working from home requires dedication and motivation. People often assume that working at home is simple. At times it really isn't. You need to work hard sometimes to make money, especially with the many revenue streams that I use.
You may also have children at home too as I do. Couple that with the everyday stresses of life, managing a home, cleaning and the other jobs a person has to do daily and you've got a little bit of stress!
Some projects that I work on are regular and very much time-limited. Others rely on me completing a set amount of work each week or month. This means I have to stay motivated and push myself to make the effort sometimes!
Having a set amount of hours to work per week can be the most challenging part of working from home as a self-employed person, for me at least. You can have many opportunities to put things off until later! There will ALWAYS be washing to go on the heated airer, or, if you're a parent like me then a small child hanging off your leg!
Procrastination is definitely the enemy of anyone who works from home. Suddenly opting to bake banana bread, or some cheese scones, over completing my work, is something I'm guilty of!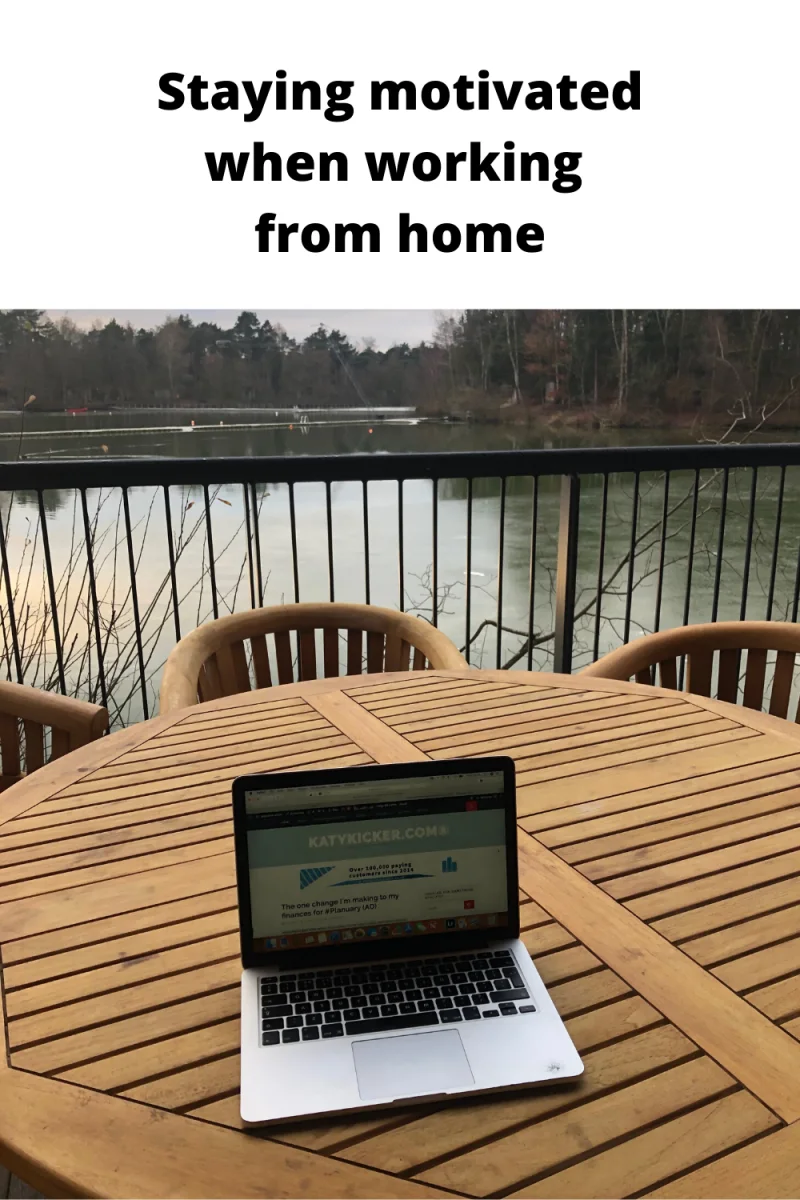 Working in an office has its pitfalls of course but the main benefit is that you are usually tied down to set times and days. You may have a supervisor overseeing you too to help you stay on track. This helps to ensure that you get your work done but it also means that you don't typically have a lot of flexibility.
As I've been working from home successfully for the last few years. Here are some of my top tips for staying motivated working from home. Hopefully, you'll find them helpful and be able to improve your own work-life too!
Staying motivated working from home
Wake up at a decent time
Depending on the work that you do you may find that waking up early helps you get a good start on the day ahead. It can be a great achievement to see the sun rising. Also, knowing that you've already achieved a great amount of work is nice!
I always feel more motivated in the morning. Often I find time for exercise too – which makes me feel good about myself. Now that I have a 4-year-old it has become even more important to me to carve out a small window of time, even just 30 minutes, to allow myself to have an iced Nutribullet coffee, enjoy a pampering shower and feel refreshed for the day ahead.
Have a dedicated work space
Since moving house in 2019 I've been very, very fortunate to have my own small office to work from. I'm so proud of this space, and I feel so motivate when I work there. I conduct about 90% of my work in this space now, and the other 10% is usually out in the garden enjoying fair weather.
I love that my office overlooks the garden as I can enjoy lots of natural light in the day.
Try to think about your workplace. I know not everyone is going to have an office, or a spare room to convert. Do try to avoid working in your bedroom. This can be demotivating and can lead to you working late into the night too.
Your bedroom should be your sanctuary after a long day working so try to keep it that way.
I make a point to only ever work in my bedroom if I need to escape the noise of family life. Perhaps for a phone call, radio appearance or to record a podcast.
Get dressed
Getting dressed can be very motivating. Putting on a nice outfit can make you feel good about yourself. Also, who wants to have to scurry around to find something presentable if a courier knocks?!
If I'm having a day when I really can't be bothered then I always make sure I've got well-brushed hair and a clean pair of PJs on! I'm happy to just make the change from night-time to daytime and I find that I feel more productive. I'm not even sure why?!
Create a schedule for yourself
This may refer to set work, depending on your career field. It may refer to jobs/activities around your home. I have set days where I complete chores around my home. Usually on the days when Daisy is at nursery and I am getting work done. I have a schedule to work on posts for my website.
One day a month I complete blog admin and any jobs that I have been putting off. I find that this prevents the overwhelm from becoming too high if I have been having a busy period of work.
Sometimes I feel a little bit squeezed for time when I am fitting all of my work into set times or days. I find it more rewarding when I want to have a day off. I have minimal jobs to worry about, my home is clean and I've been organised and motivated for the week ahead so I can truly enjoy my time not working. This makes it all worthwhile.
Make a list
I love to be organised by keeping a #kickerlist which is my own form of a to-do list. I prioritise the most important jobs and aim to work on those early in the day so that I have been productive and feel more motivated.
Todoist is a great website that I use to track recurring jobs, from the smallest less regular cleaning jobs in my home to big work jobs that recur on a regular basis. This helps me stay on track and then I look here daily to find jobs for my list. Also, if I am going to have a planned day off I can complete any jobs due on that day in advance.
Exercise
A couple of years ago I remember including exercise in a post about staying motivated. However, then I had a baby and things went by the wayside. Now I've got right back in to the habit and I'm feeling fantastic for it. The most important thing for me is that working out helps me feel energised for the day ahead.
Exercise is a fantastic morale booster, gives a boost of energy, makes you feel good and best of all it helps look after your physical health.
It is great to carve out a little piece of time that is just for myself. Also, on the days when my daughter is in childcare and my husband is home we workout together. This gives us 30-45 minutes to chat, without devices or distractions, while we work on keeping ourselves healthier too.
Books that helped boost my productivity/motivation:
Avoid social media
Social media, unless you need to use it for your work, can be a real time sink. Should I need to Tweet, post photos on my Instagram or update my status on Facebook regularly I use apps to help do this. With the likes of HiPlay you can prepare your posts in advance and leave the actual posting up to an app.
I love to use scheduling apps as it allows me to share content with my readers regularly without taking up all of my time. I also *use Tailwind to schedule Pinterest and this has given me a huge boost of traffic from Pinterest too.
Using social media can definitely have a negative effect on you, especially if you're struck down by comparison syndrome. I deal with this by removing apps from my personal mobile phone when I want to enjoy time away from work. This prevents me seeing all of the great work other people are achieving or all of the lovely things that everyone is doing. This works for me but you'll have to find the right balance of social media for yourself!
Get some fresh air
Try to make a conscious effort to get outside and get some fresh air. Why not consider walking to your local supermarket or even just making a trip to the post box, to collect a parcel or even send a letter or card to someone who may need cheering up.
I love to complete random acts of kindness regularly and find this gets me out of the house more! Get yourself a nice boost of energy at the same time!
This is a real important one for me. My husband works shifts. This can mean that he is out of our home for 13 hours, often from dawn to dusk. Or dusk til dawn. Which means if I don't go out with my daughter just the two of us we might not see the outside World that day!
Have days off every week (AD)
Working from home means that you have the flexibility to choose when you stop working. I try to choose my days off on a week to week basis, depending on my workload. Often I will have time at the weekend where I rest and relax. I have a pamper session on Sunday afternoons, which sets me up mentally for the week ahead. I enjoy time off with my husband when he is not working.
At least one day a week I try to visit friends or relatives, depending on their schedules. This helps us keep in touch with family, avoids the single members of our family feeling lonely and gives us a good excuse to get out of the house regularly. Make sure that you use time during your days off to take care of your mental health by using a company like BetterHelp.
I hope my tips can help you with staying motivated working from home. It can be a mountain to climb but I've found that the routine just comes easy to me now. No longer do I sit up until 2am trying to meet deadlines and get all of my work done. Despite being busier than ever.
Want to read more posts from me?
If you enjoyed this post I'd love it if you could pin it on Pinterest!