Affiliate links in this post will be clearly marked with a *. Clicking one of these links means I earn a discount or receive payment.
Who doesn't love a bit of caramel? I'm a real fiend for salted caramel sauce and today I want to share with you how you can make it in under 10 minutes! It keeps for days and days in the fridge too, if yours lasts that long!
Pop this in a squeezy sauce bottle, they're super cheap, and then you can just drizzle it over the top of your desserts, air fryer cookies, bakes or just about anything you fancy!
Ingredients for salted caramel sauce:
175g brown sugar
300ml double cream
50g butter
1/2 tsp of salt (Sea salt works SO well for this!)
Method for this delicious caramel sauce:
Weigh out your ingredients then combine in a saucepan.
Cook on a very low heat, stirring frequently until the ingredients have melted together.
Turn to heat up to medium and leave it for a few minutes to bubble up slightly, but NOT to boil over or you'll be left with a HUGE sticky mess!
This should take around 2-3 minutes.
Cool it for 5-10 minutes first so you don't burn the skin off the top of your mouth and then you'll have a glorious thick, golden sauce that is ideal for pouring into a squeezy bottle for convenient serving.
Serving suggestions
This is absolutely delicious served over my 3 ingredient mug cake. Two super fast and simple desserts that take just minutes to prepare and go so well together!
If you want to give it a little more effort then I love this salted caramel sauce with a chocolate ripple cheesecake:
Step by step images for my salted caramel sauce: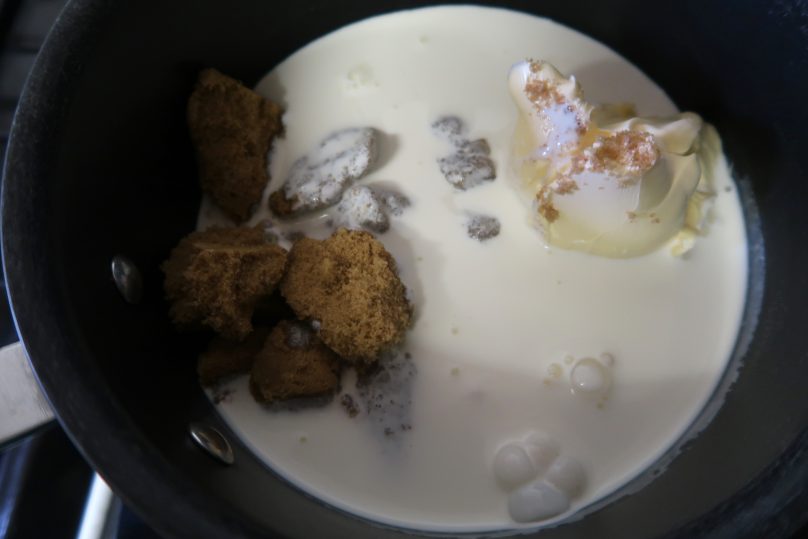 I like to make this in advance, cool it and then I leave it in the fridge until we want to use it. This is ideal for re-heating on the hob or even in the microwave. Sometimes I use this salted caramel sauce in recipes and it goes great on the top of Christmas pudding, brownies, ice cream and much more.
It is salty, without being overpowering, and it has a lovely glossy sheen to it. I love to put my salted caramel sauce in a plastic squeezy bottle once it has cooled. This is ideal for easy distribution or even applying just a few blobs on a piece of cake or one of my Christmas cookies.
Products I use to make my salted caramel sauce:
How to make a squeezy caramel sauce:
salted caramel sauce
A delicious salted caramel sauce
Servings
8
servings (50ml each)
Ingredients
175

g

brown sugar

300

ml

double cream

50

g

butter

1/2

tsp

of salt

Fleur de Sel ideally
Instructions
Weigh out all of your ingredients and throw them all in a saucepan. Better yet weigh it in the saucepan to save on the washing up!

Cook on low, stirring until the sugar and butter has melted. This should only take a couple of minutes.

Turn the heat up to medium-high and then leave it for a few minutes to bubble up, but not boil over. This should only take about 2-3 minutes and you'll be left with a thick golden syrupy sauce.

When this has finished just turn it off the heat and leave it to cool for 5-10 minutes before you serve it.
Note: All calorie information is for demonstration purposes only and is based on the specific uncooked ingredients that I used when creating the recipe.
Looking for something different to serve your salted caramel sauce with?
If you enjoyed this post I'd love it if you could pin it on Pinterest!