Affiliate links in this post will be clearly marked with a *. Clicking one of these links means I earn a discount or receive payment.
With more than 50 air fryer recipes here it is fair to say that I consider myself something of an expert now! In this post I'll be sharing with you some of the best air fryer potato recipes that I have in my repertoire!
The air fryer is a fantastic way to make crispy delicious potatoes that have a fluffy centre. It works great for every potato recipe I have ever tried, and I'm yet to make a single bad potato side dish in my air fryer.
I use the Ninja Foodi OL750UK, a multi-cooker with 15 functions in 1. The air fryer / air crisp setting is one of the most commonly used ones in my home, but there are lots of other functions that I love too. If you're going to purchase a Ninja Foodi be sure to use *TopCashBack too!
Using the air fryer is a great way to save money, and energy. Food cooks faster and as long as you don't overload the air fryer basket it costs nice and evenly too.
Anyway, let's get too it – scroll on down and see some of my favourite potato recipes for the air fryer.
Be sure to check out my air fryer pros and cons, toppings for chips and air fryer vegetable recipes too!
10+ of the best ever recipes made in the air fryer using potatoes
Air fryer chips
This is one of the first ever recipes I perfected in my first ever air fryer, and I'm sure it's one of the first for more people! Making air fryer chips is the perfect example of one of my air fryer recipes for beginners.
If you have a chopper, doesn't everyone seem to these days?!, then you'll want to place your potato at an angle to chip them easily. Alternatively just cut them by hand and save having another gadget cluttering up your kitchen!
Chips go super crispy in the air fryer, particularly if you use a little tiny bit of oil. But you don't need to make them from scratch if you don't want to.
If you're wanting to know more about how to air air, such as can you use olive oil, how do you clean it etc then be sure to check out this post: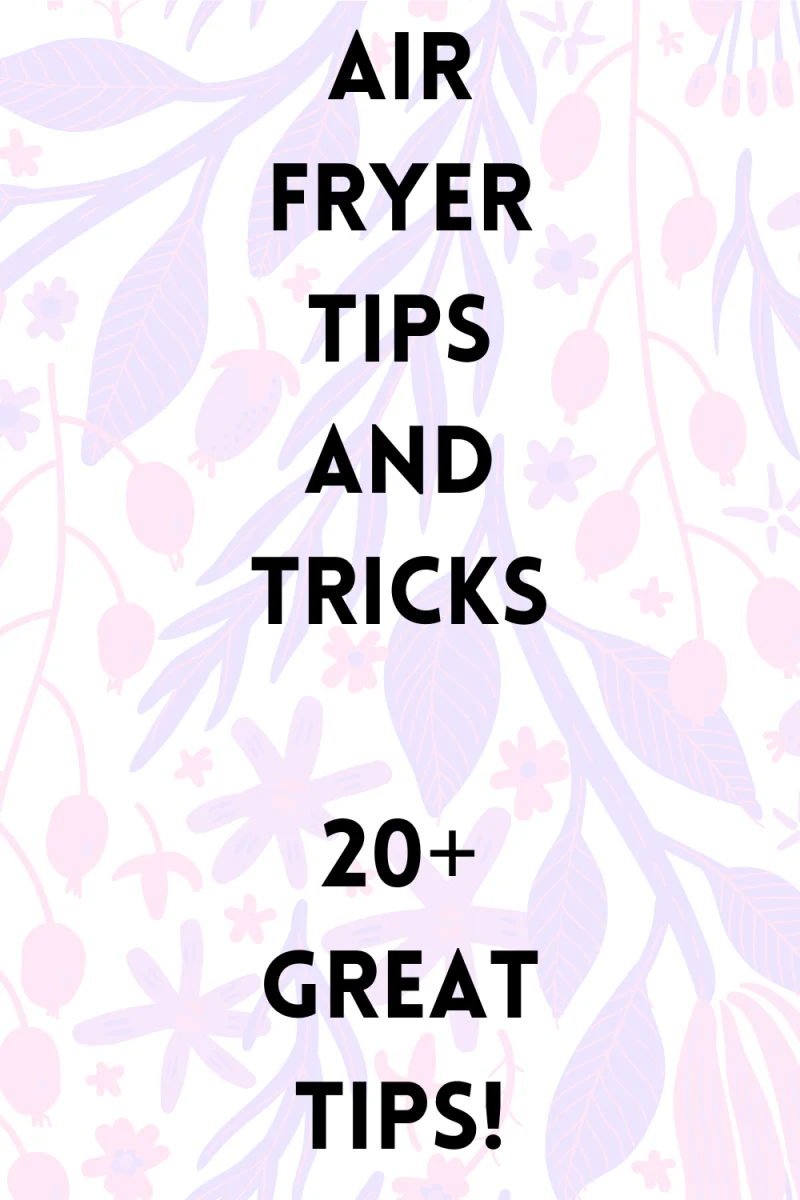 Air fryer frozen french fries
If you're someone who likes a shortcut, or perhaps you don't have the time or energy to stand peeling and chipping potatoes, well why not try making air fryer frozen french fries or even air fryer frozen crinkle cut chips? These are super simple, and take just over half the time usually quoted on the package too. Best of all a huge bag of French fries is often cheap too!
If you're not a fan of frozen french fries then be sure to try out my air fryer frozen chips recipe instead! THey're lovely a chunky, perfect for dipping into BBQ sauce or tomato ketchup.
Air fryer cheese fries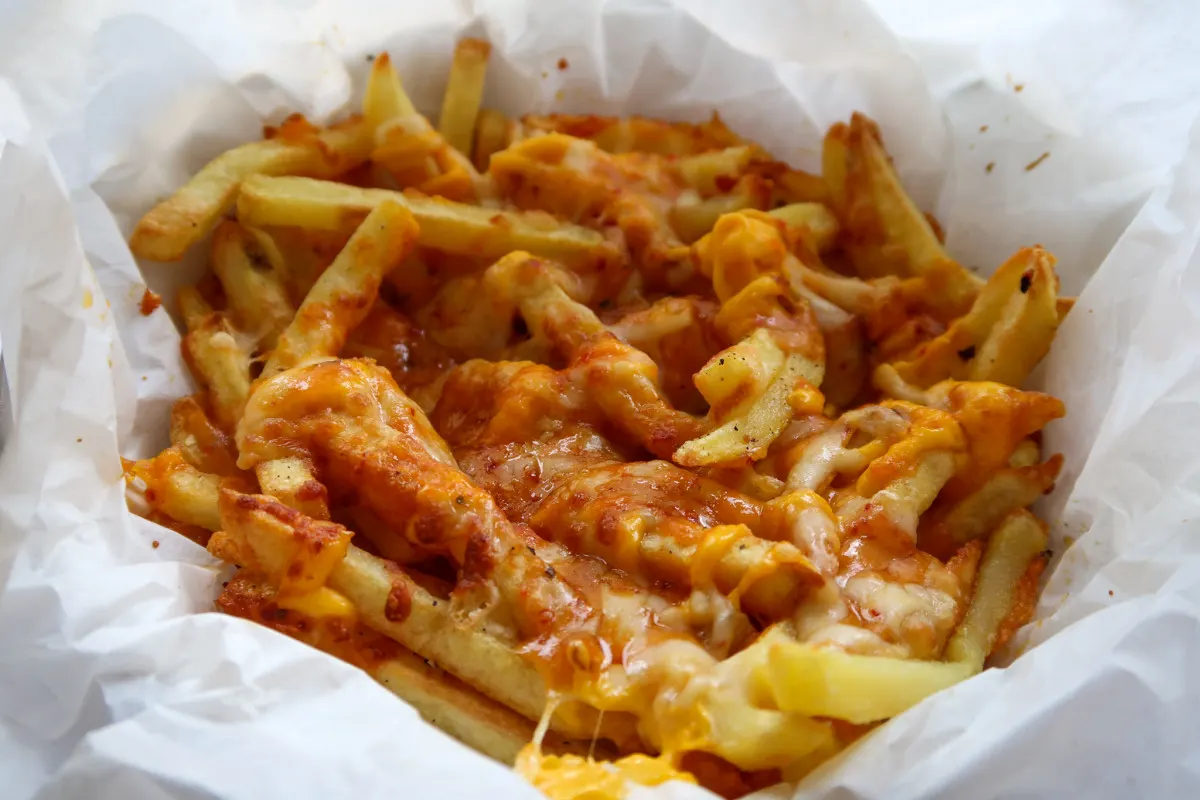 If you're looking to make something a little more takeaway style, but still on a budget, then these air fryer cheese fries are delicious. They're packed full of flavour, super simple to prepare and you can use frozen french fries too. Alternatively, if you're more of a chip fan, then check out my air fryer cheesy chips instead!
I love to use a little Italian seasoning when I serve these, so they have more of a pizza flavour to them!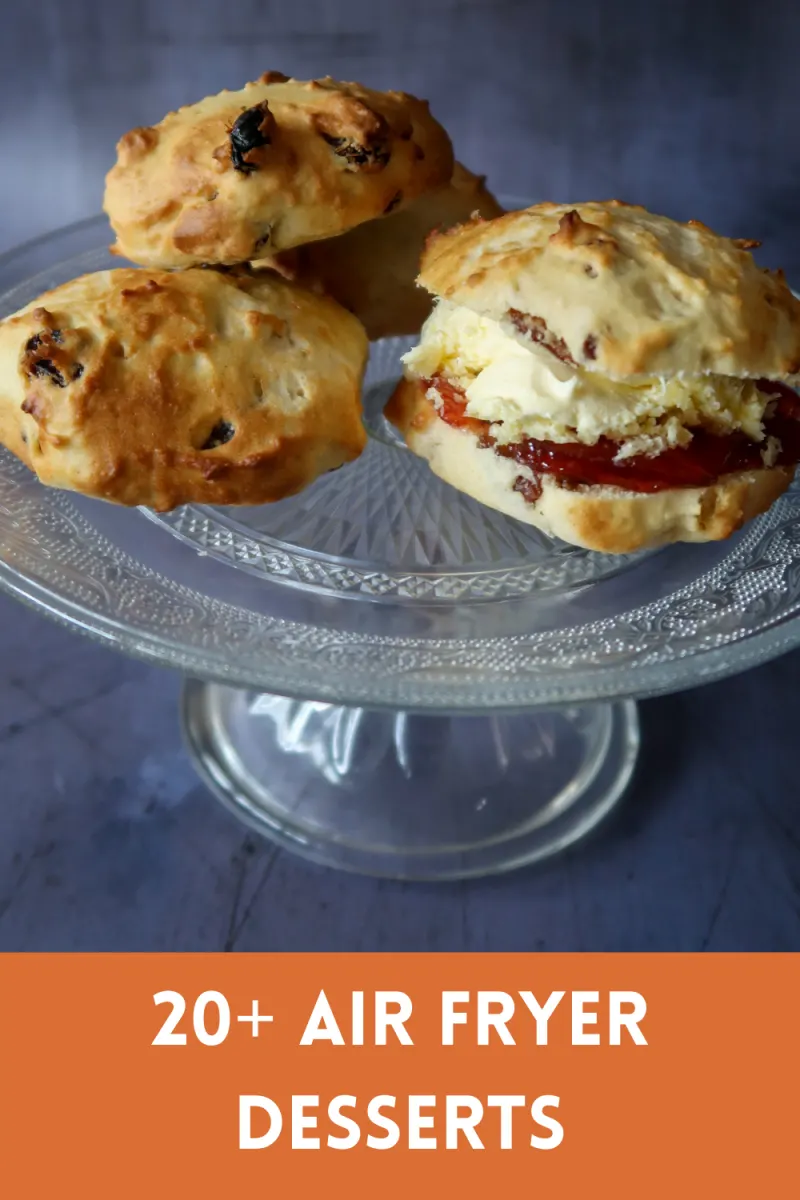 Air fryer loaded fries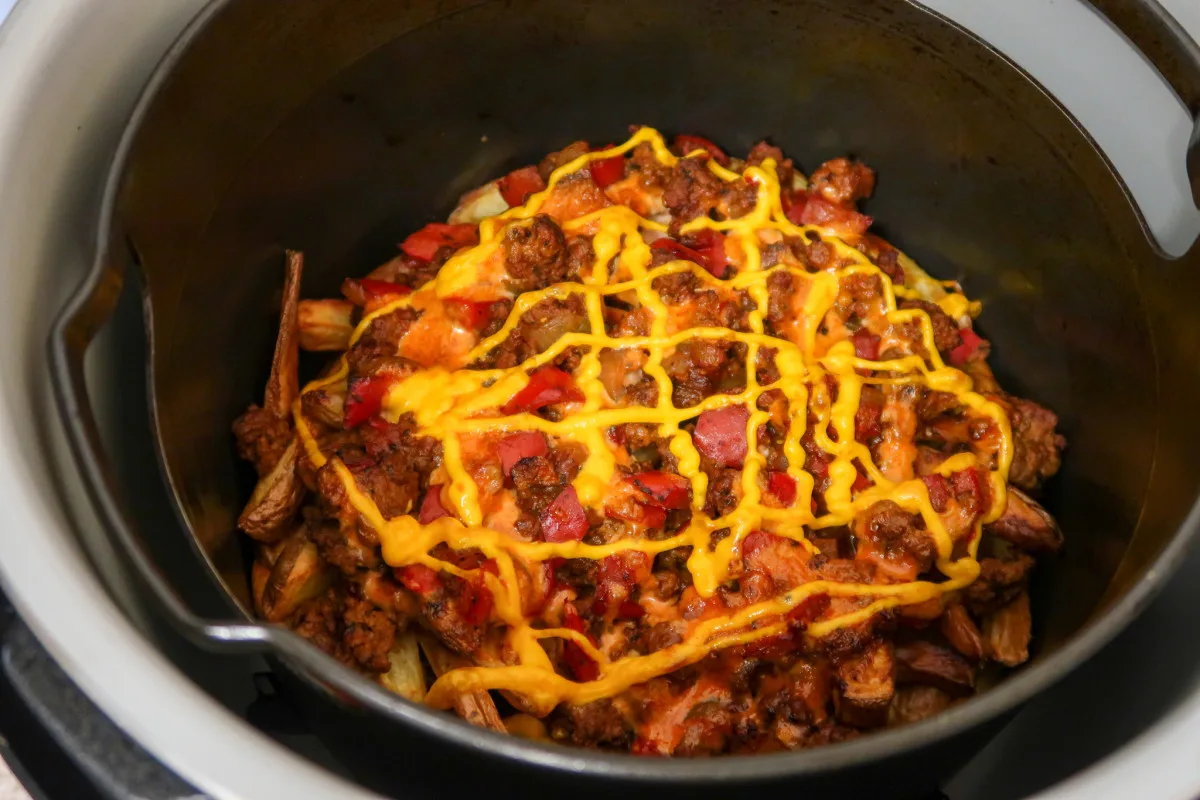 These air fryer loaded fries are more of a main meal than a side dish. I love to use up whatever we have in when making this dish. Sometimes that means using air fryer bacon, other times that means using some leftover slow cooker spaghetti bolognese, air fryer cajun chicken, air fryer peri peri chicken or air fryer fajita chicken.
You really can use anything that you have to hand, and you can use Quorn mince or another meat substitute if you want to make this dish healthier, or even Vegan.
Air fryer mashed potatoes
Whether we are having a hearty family dinner, such as sausage and mash, or I want to make a slow cooker cottage pie, this air fryer mashed potato is really simple to prepare.
I love that I don't have to stand over a pot on the hob and I can get on with other things instead.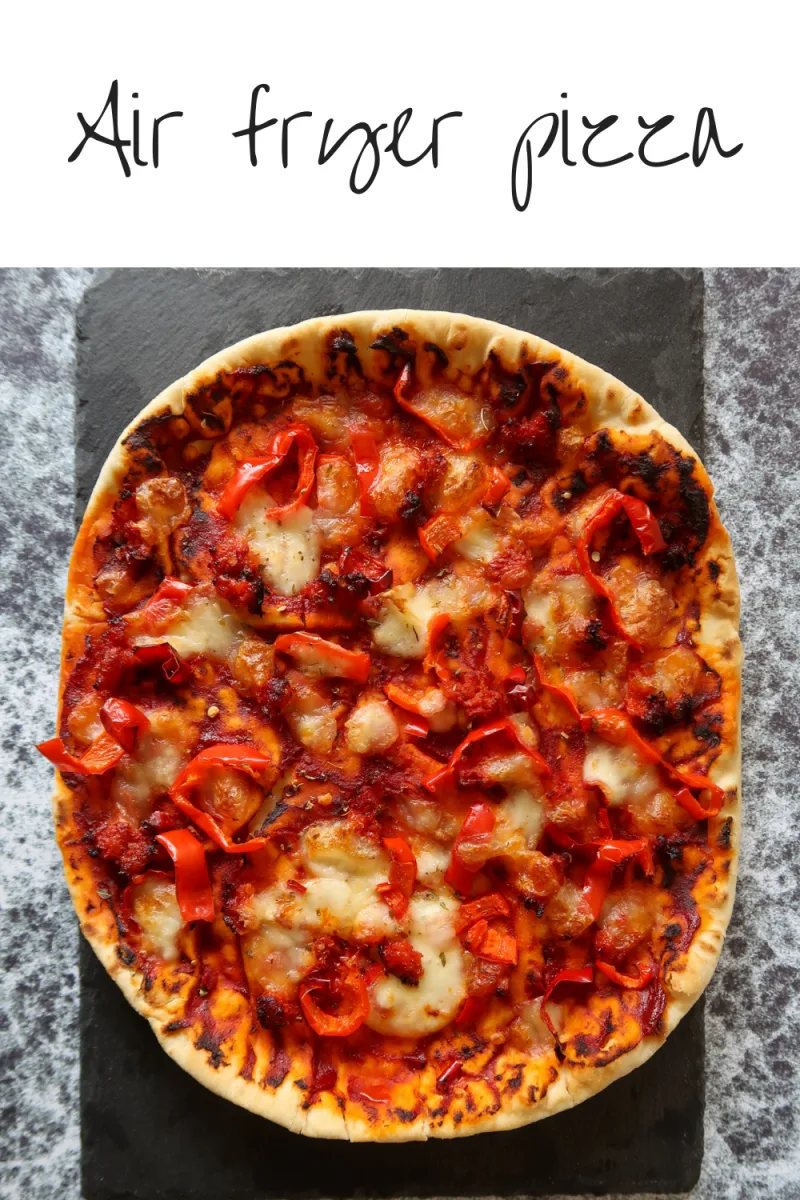 Air fryer mashed potato balls
When we have leftover mashed potato I love to make these air fryer mashed potato balls. These are crispy, delicious and fluffy on the inside too.
I absolutely love these mash balls, they're the perfect size for little ones too and my 1 year old in particular loves these!
Air fryer hasselback potatoes
When you want to serve potatoes for a crowd, but want something a bit different to the norm, then these air fryer hasselback potatoes are always a hit with my family.
You can cook these in advance and just re-heat right before serving in the air fryer in under 10 minutes. The crispy outer layers, and soft fluffy inside layers, are perfect for layering with sauce and grated parmesan cheese too for a real treat.
Air fryer roast potatoes
No roast dinner would be complete without air fryer roast potatoes and this is another must try recipe when everyone gets themselves an air fryer I swear!
All I hear about are different methods for cooking roast potatoes and these are perfect. If you're looking for something a little different be sure to try out my Ninja Foodi roast potatoes, Marmite roast potatoes or OXO roast potatoes. Also, check out my tips for crispy roast potatoes!
Air fryer canned potatoes
These delicious little potatoes are tinned! Many supermarkets sell canned potatoes from around 30p a tin and these air fryer canned potatoes are the perfect simple side dish.
If you've got limited mobility, or perhaps are short on time, then you can just rinse and drain these, pat them dry, get them dressed and pop them in the air fryer! So simple!
Air fryer diced potatoes
We love all types of potato recipes, but this one has to be one of the easiest. Making diced potatoes means that they will cook evenly and these are perfect for dipping in sauce, serving as a side dish or even offering as an additional dish when hosting guests.
This recipe is super simple to prepare, and very frugal too!
Air fryer potato skins
These potato skins are delicious, hearty and packed full of flavour. They are surprisingly simple to make and a great recipe for beginners.
I love to serve these when we have guests, as part of a party food platter style dinner or Birthday celebration and also I love to make these as a side dish for Ninja Foodi hunters chicken.
Air fryer hash browns
I love to make family breakfasts, and these homemade hash browns go so crispy in the air fryer. If you're not looking to make them from scratch then be sure to check out this air fryer frozen hash browns recipe too. They cook faster than in the oven and they'll be almost as crispy as if you deep fried them!
Why not try some of my favourite air fryer accessories and cookbooks while you're here?
Air fryer potato wedges
Serving air fryer potato wedges is a great way to bulk out just about any meal. You can also prep enough potatoes for a whole family in just a moment or two. One large potato can make eight super thick wedges and they'll be crisp on the outside yet fluffy on the inside.
Air fryer frozen potato wedges
If you don't have the time or effort for making homemade wedges then be sure to check out my air fryer frozen potato wedges recipe. They go SO crispy in the air fryer and are more in line with deep fried ones, rather than just never quite crisping up like oven cooked ones.
Air fryer baked potatoes
These have to be the number one requested item in my home when we want a hot lunch. Making a big batch of air fryer jacket potatoes is a great way to batch cook. You can use any of your favourite toppings and you can even just freeze some and then re-heat them, from defrosted or from frozen, for a perfect easy lunch or cheap dinner.
If you enjoyed this post I'd love it if you could pin it on Pinterest!