Affiliate links in this post will be clearly marked with a *. Clicking one of these links means I earn a discount or receive payment.
Happy Friday! Meal plan is something that I have come to enjoy, and running this linky in particular. I personally love to see what meals people are cooking and get some inspiration from others.I'm running this weekly meal planning linky, that allows other bloggers to share their meal plans too. I hope that this will help people to find lots of inspiration, delicious recipes and maybe read some helpful blog posts about meal planning and money saving.
It doesn't take me long to meal plan now. Normally I sit down once a week and look at what groceries we have available. Recently I have been planning 4 weeks at a time, to try and have more variety in our meal times. I think about the different meals that we haven't had recently, or look online for some inspiration. The posts people link up with here are a great souce of inspiration for me too now! I then place my Tesco shop online or visit Aldi, depending on what kind of mood I'm in. In the past, I switched from shopping at Tesco to shopping at Aldi and saved over 30%! I don't always want to go out in the car and browse the aisles so I find online shopping really convenient. This week we HAVE gone back to Aldi though, and the saving was really worthwhile for us, with the shop costing £51 versus around £72 for similar items at Tesco.
The rules of the Meal Planning Linky
Link back to Katykicker on your post or display my linky badge
Comment on this post
Visit other people if you would like to
What I will give you in return for linking up with The Meal Planning Linky
I will comment on all posts linked up
Pin your post on my Pinterest (vertical pins only)
Share your post on my Twitter – at least once every week
A link back to my favourite meal plan each week (Follow link)
Grab the Meal Planning Linky badge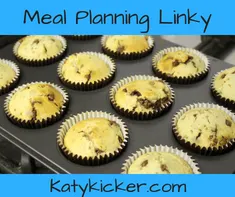 How to link up with The Meal Planning Linky Week #68
Once your post is live all you need to do is hit the button that says "Click here to enter". This takes you to the link-up page where you can add your post.
You are invited to the Inlinkz link party!
Click here to enter
My favourite meal plan from last week was: Meal Planning Monday from At Home A Lot. Always great to see new people joining in – especially when they bring a dose of honesty with their meal planning!
The Meal Planning Linky Week #68
This week I have planned 7 dinners. I have planned specific dinners for specific days, based around our workload. I have a pre-op appointment in hospital this week as well as a first aid course and lots of other things going on too. I'm trying to ensure that we don't end up buying an unhealthy or expensive takeaway.
The meals for the Meal Planning Linky Week #68 are:
Salt & pepper chicken with egg fried rice
Slow cooker chicken curry with rice + naan + Bombay potatoes (I'm working on writing up recipes!)
Pizza + chicken night
Slow cooker cottage pie (I'm going to be testing a recipe where I cook the whole thing in the S/C!)
Fish, homemade air fryer wedges & beans
Aldi meal kit (I'm going to choose one when in store)
Chicken fajitas
I absolutely love my triple slow cooker. It helps me batch cook, make a separate meal for Daisy and I can even make side dishes too!
If you're looking for meal planning inspiration then be sure to read my meal planning tips and my meal planning with mince post. I've also got a post about how to stretch a whole chicken.