Affiliate links in this post will be clearly marked with a *. Clicking one of these links means I earn a discount or receive payment.
Happy Friday! I hope your week has been a good one so far. This week has gone well for me. I've tried to branch out & get some new ideas for meals this week. I really enjoy meal planning but find that we sometimes get stuck in rut. This meal planning linky has been fantastic for my family as we have a lot more meal ideas now an almost nothing feels boring. I love to see what meals people are cooking and get some inspiration from others. I'm running this weekly meal planning linky, that allows other bloggers to share their meal plans too. I hope that this will help people to find lots of inspiration, delicious recipes and maybe read some helpful blog posts about meal planning and money saving.
It doesn't take me long to meal plan. Normally I sit down once a week and look at what groceries we have available. I think about the meals that we haven't had for a while or look online for a bit of meal planning inspiration. The posts people link up with here are a source of inspiration for me too now! A couple of years back I switched from shopping at Tesco to shopping at Aldi and saved over 30%! Then I fell off the wagon and started doing the grocery shop online, for convenience. Now I'm back to browsing the aisles of Aldi and really enjoying it. Our local store, Aldi Harlow, had a refurbishment recently and I am enjoying shopping there even more now.
The rules of the Meal Planning Linky
Link back to Katykicker on your post or display my linky badge
Comment on this post
Visit other people if you would like to
What I will give you in return for linking up with The Meal Planning Linky
I will comment on all posts linked up
Pin your post on my Pinterest (vertical pins only)
Share your post on my Twitter – at least once every week
A link back to my favourite meal plan each week (Follow link)
Grab the Meal Planning Linky badge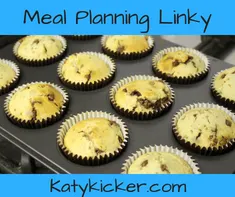 How to link up with The Meal Planning Linky Week #78
Once your post is live all you need to do is hit the button that says "Click here to enter". This takes you to the link-up page where you can add your post.
You are invited to the Inlinkz link party!
Click here to enter
The Meal Planning Linky Week #78
This week I have planned 6 dinners. We have a family wedding next weekend. Obviously we don't need to plan a meal for this day as we will be enjoying being catered for I'm really looking forward to a nice family weekend and having lots to celebrate together.
The meals for the Meal Planning Linky Week #78 are:
Slow cooker cottage pie (I'm going to be making it with the mash on top again to change my recipe/photos!)
Slow cooker lemon chicken (perfecting this recipe!) with rice made in the slow cooker
Slow cooker beef stroganoff (I'll be writing this up for Allergy Free Day as I hope it'll be gluten & dairy free!)
Daisy friendly hot dogs, buns, airfryer chips or onion rings
Slow cooker roast chicken with all the trimmings including gravy, air fryer roast potatoes, sage & onion stuffing and airfryer parsnips.
Toad in the hole with onion gravy (and an individual gluten and dairy free toad in the hole for Daisy!)
I've had more of a plan for lunches and breakfasts too this week. I am going to bake some snacks, including gluten free jam drops and gluten free puff pastry doughnuts. I'm also going to be using my 40 ideas for your Yumbox post to make sure Daisy is having varied lunches as she is just constantly hungry at the moment!
I absolutely love my triple slow cooker. It helps me to batch cook, make separate meals for Daisy as required and I can even make side dishes for us too!
If you're looking for meal planning inspiration then be sure to read my meal planning tips and my meal planning with mince post. I've also got a post about making a roast chicken go further.