Affiliate links in this post will be clearly marked with a *. Clicking one of these links means I earn a discount or receive payment.
Happy Friday! Another week has flown by in a sea of sandpaper and paint over at our new house. I'm REALLY struggling with spinning all of the plates and today I am off to a blogging conference for the weekend. I'm really excited and I have also just realised that next week is our last full week in our flat. This means I've got one week left to use up all of the food in the chest freezer, so we can defrost it before moving. Anyway, I won't chat all day – as I've got to get on! I've done myself a favour and ordere a few ready meals in so that we can still eat fairly well, and avoid the takeaway too. This week I want to try and ensure that we're having zero food waste and keep avoiding expensive takeaways too. We need every penny we can save for moving as we are in need of paint, new carpets and lots more! Meal planning helps us to stay organised and saves us money too. Every week I share with you my meal plan for the coming week and provide a post for other bloggers to link up (see below). I love seeing what everyone is linking up meal plan wise, cooking each week and also getting inspiration for my own meal plan. I hope that this will help people to find lots of inspiration, delicious recipes and maybe read some helpful blog posts about meal planning and money saving. Don't forget to check out my post to help you avoid overspending on your groceries.
I sit down once per week & see what groceries we have leftover from the previous week. Then I think about the different meals that we haven't had recently, or look online for some inspiration. I then place my Tesco shop online. In the past, I switched from shopping at Tesco to shopping at Aldi and saved over 30%! I've been enjoying shopping at Tesco again because I love the convenience of just picking things online and then collecting during a slot that suits us. Also, I'm really pleased that Tesco recently moved to not having plastic bags too! We don't have the time for browsing the aisles of Aldi at the moment. I've even been doing my food shop in a couple of stages too, just because I'm so pushed for time!
The rules of the Meal Planning Linky
Link back to Katykicker on your post or display my linky badge
Comment on this post
Visit other people if you would like to
What I will give you in return for linking up with The Meal Planning Linky
I will comment on all posts linked up
Pin your post on my Pinterest (vertical pins only)
Share your post on my Twitter – at least once every week
A link back to my favourite meal plan each week (Follow link)
Grab the Meal Planning Linky badge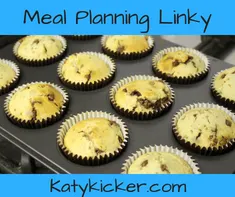 How to link up with The Meal Planning Linky Week #90
Once your post is live all you need to do is hit the button that says "Click here to enter". This takes you to the link-up page where you can add your post.
You are invited to the Inlinkz link party!
Click here to enter
My favourite meal plan from last week was: What's Cooking at The Madhouse?
The Meal Planning Linky Week #90
This week I have planned 7 dinners. I have a few days where I am at home in the morning and I plan to slow cooker dinners overnight while asleep and then pop in the fridge in the morning. This way I can re-heat whatever time we arrive home from the house and have a healthy homemade dinner waiting too.
The meals for the Meal Planning Linky Week #90 are:
Pork & parsnip traybake with mash
Lasagne & homemade garlic bread
Air fryer chicken kebabs & airfryer chips or Air fryer potato wedges
Slow cooker jacket potatoes with leftover slow cooker chilli
Shortcrust pastry pizza with anything leftover in the fridge (got to run everything down!)
Slow cooker roast beef dinner (the last one in our flat!)
I absolutely love my triple slow cooker. It helps me to batch cook, make a separate meal for Daisy and I can even make side dishes too!
If you're looking for meal planning inspiration then be sure to read my meal planning tips and my meal planning with mince post. I've also got a post about making a roast chicken go further.