Affiliate links in this post will be clearly marked with a *. Clicking one of these links means I earn a discount or receive payment.
Let me start by saying that this post is going to be based solely on my own personal opinion. I AM the owner of an approved trademark and I did not consult a trademark lawyer, or anybody else. Instead, I did my own research online and then I went ahead with it. This is my guide to trademark a blog name.
I'm not an expert, by any stretch of the imagination. However, I did receive approval for my trademark in the past so presumably, I did something right!
Can you trademark a blog name?
Yes! Absolutely. I have done it myself.
Trademark a blog name – where to start?
First of all this is the official website to trademark a blog name. Always go through the GOV.UK website. Don't get caught out by fakes. Also, this is the ONLY website where you need to pay to trademark a blog name.
Note: Once you have applied fees are non-refundable. There is a guide you can read which I found a little helpful. It talks to you about why you may want a trademark.
To trademark a blog name, or brand, you need to follow these guidelines:
Your trademark must be unique. It can feature words, sounds, logos, colours or a combination of these. You cannot use offensive language, such as swearing.
You cannot register a phrase that is too common, for example 'we lead the way'. Phrases that are trademarked may be common, but the rules seem to change as the years go on.
Before you decide on your trademark name search the registry. You'll need to ensure that somebody hasn't already registered the trademark you want to register.
If you find somebody with an identical, or similar, trademark, then you'll need a letter of consent from them which you must send with your trademark application.
How long does it take to trademark a blog name?
From start to finish the process should be around 4 months. I registered mine on the 25th July and it was in the register by the 21st October. So 3 months in total.
Now my trademark lasts for 10 years before I have to pay to renew it. Online it states you will receive feedback within 20 days, have 2 months to resolve any problems and then your trademark will be published within 2 months.
How much does it cost to trademark a blog name? (UK)
The price varies based on a few factors. The standard fee is £200. Your application will be checked and typically people are advised of any wording changes up front now. This is based on information from friends who have registered a trademark in 2020.
You will have your application checked and be informed if it is likely to be accepted. It is an additional £50 for further classes. Within this fee you get the 10 year trademark registration and you can register your trademark in one class.
You can find out more about the trademark classes here. You can see the full 2020 trademark fees here.
What class do you use to trademark a blog name?
As stated above this is based on my personal opinion. I went for classes 36 and 41. If I was registering my trademark in 2020 I would register more classes, just based on discussions with friends who hold trademarks. Consider thing related to content creation, such as books.
Class 36 relates to financial and monetary affairs, among other things.
Class 41 relates to education and entertainment.
As my blog relates to teaching people about making and saving money, among other things, these felt like a good fit for me. Also, the research that I did told me these were quite common for people who were looking to trademark a blog name.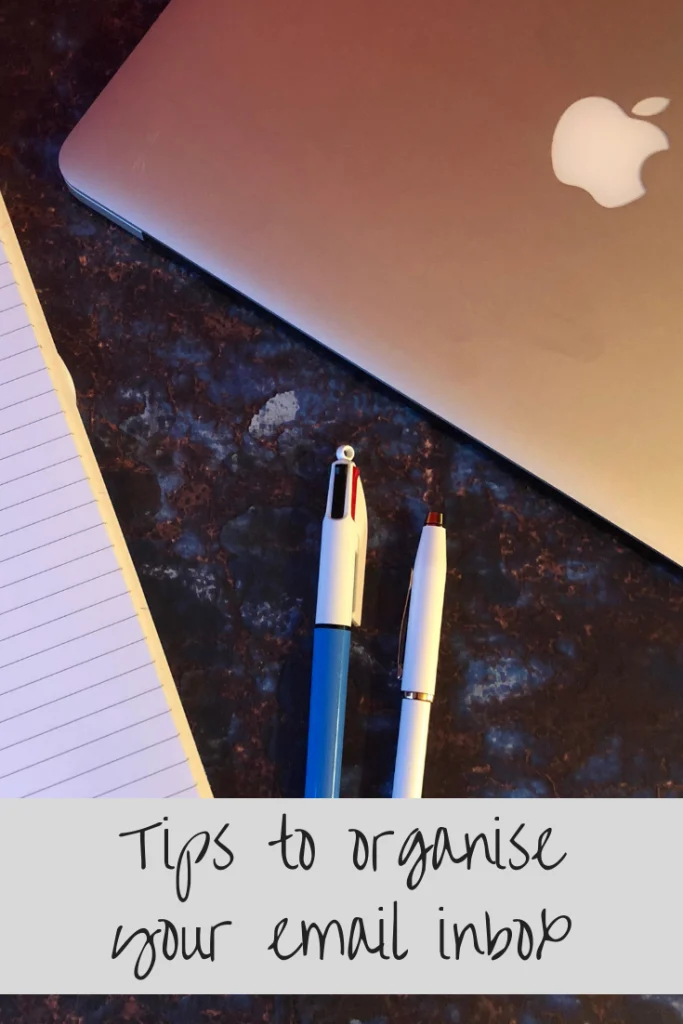 The specific wording that I used to trademark a blog name was:
Class 36 On-line journals, namely, blogs featuring commentary and information in the fields of personal finance, online moneymaking and frugality.
Class 41 On-line journals, namely, blogs featuring commentary and information in the fields of parenting and lifestyle.
As you can probably see this covers what I write about here.
The wording that I used came from some research online. I just tried to do a search for that specific wording, to find the website I used last year, however, it brought up Britney Spears' trademark! Very random.
Update – Another UK Money Blogger has been told to update to the following:
'Commentary and information in the fields of personal finance, debt advice, insolvency advice, credit ratings, budgeting and frugality all provided by on-line journals (blog).
You may want to try this instead of my above text, as possibly the guidelines have changed slightly. It seems in 2023 that people are advised to use different information on occasion. This post is based on my own personal experiences of course.
The whole process to trademark a blog name can be completed online. You can also print off forms, if you choose. It took me around 15 minutes to register online and the process was really straight forward.
Basically, you tell them the trademark name, add your details to the database, then you choose your relevant class/es. Then you can choose to supply a disclaimer, I did not do this. Most applications don't need this.
After this, you choose what service you want. Standard or Right Start. Those are the only options so it isn't overly complicated. Then that is it basically. Just wait 20 days (ish) for the application to be reviewed and then your clock is ticking. 2 months for people to appeal.
I believe if there is an appeal it will then slow the process down, to potentially 4 months. However, if you are looking to trademark a blog name that you've created, that is unique, you should be fine. I was anyway!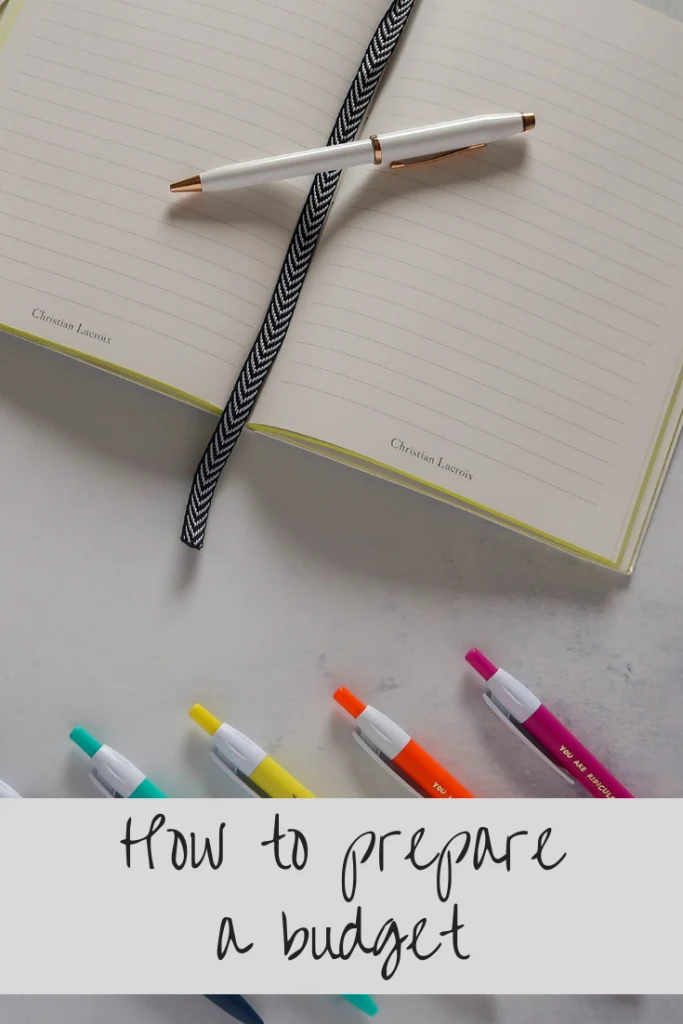 What happens after you apply to trademark a blog name?
I used the Right Start service. This meant that I filed on the 25th July and waited. On the 8th of August I received this via email:
I paid the rest of the fee. On the 9th of August I received this via email: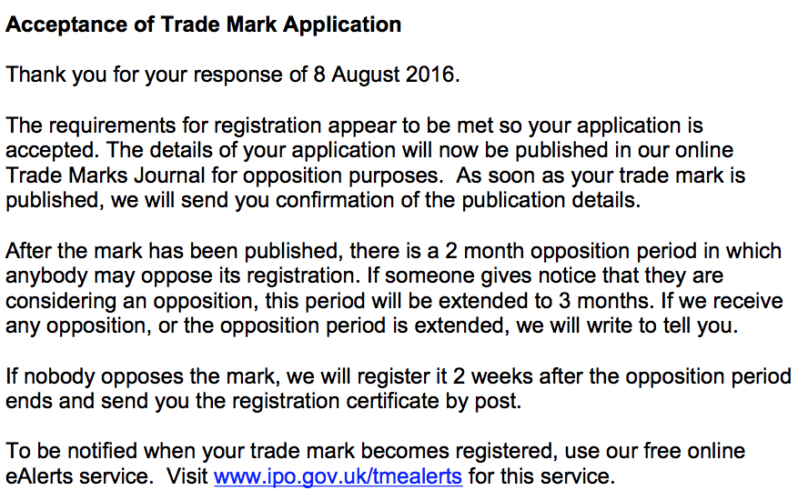 On the 12th of August I received this via email:
After that I did not receive anymore correspondence until my trademark was registered. I received a copy in the post. My trademark was then on the register as 'Registered' within a couple of days. There were no objections as my trademark is already unique.
Other things to consider when you trademark a blog name:
Do you want to trademark your brand also? Or instead of your blog name?
Your trademark will only provide protection of your brand within the UK.
Don't want to go it alone when you trademark a blog name?
If you want to find a trademark specialist to help with your application then use this search function. You'll find Chartered Trade Mark Attorneys in the UK on this website.
Do you need to trademark a blog name?
Who knows?! I have had a trademark now for around 4 years and haven't had any issues, that I know of. However, I like knowing that Katykicker is my name, effectively. I've used my Trademark once now, to have some unsavoury content removed online, via a qualified specialist, with success.
Should I trademark a blog name? Do I need to trademark a blog name?
It's personal opinion but I like knowing I have done this, and feel it is a valid taxable expense. If you own the .co.uk and .com domains, and all of the named socials for your blog name, or business name, then you may feel comfortable leaving it.
The most important thing for after you trademark a blog name…
You WILL get lots of spam in the post and possibly online too for a while. Companies will send invoices and other officially looking letters in the post. Some of these are asking for vast sums of money for you to be added to their 'trademark database'. These just aren't worth doing.
You don't need to do them as you already own the registered trademark at this point. These aren't necessarily scams, as such, however, they don't really offer any value from what I could tell.
Not least because some of them are £1,000 for a year! I could see no benefit to joining these and it is nothing to do with the genuine Government IPO.
My post is my own opinion. You may want to consult a trademark specialist. I don't know everything about trademarks, or enforcing them.
If I needed to enforce mine because someone was using my trademark without consent I would probably pay a specialist to help me.
If you enjoyed this post I'd love it if you could pin it on Pinterest!