Affiliate links in this post will be clearly marked with a *. Clicking one of these links means I earn a discount or receive payment.
I've posted a fair few slow cooker recipes here now and I want to share with you today a week of slow cooker dinners.
I'm a huge fan of using our slow cooker. It is so simple to prepare a meal, leave it cooking and then serve it up when we are ready to eat. If our plans change or our my daughter doesn't want to go to bed, then dinner won't be ruined.
We can set the slow cooker to keep warm and our dinner will be waiting for us when the time is right. Another thing that I love about using the slow cooker is that we can use cheaper cuts of meat and bulk out our meals with lots of healthy vegetables.
A week of slow cooker dinners
Slow cooker beef casserole:
This slow cooker beef casserole is the perfect Winter warming dinner. it is hearty, packed full of flavour, you can hide lots of lovely vegetables in the thick stock and you can use a cheaper cut of beef too.
This goes GREAT with dumplings, which you can add near the end of cooking for the final hour or so. Also, you can serve this with some lovely soft white rolls.
Slow cooker pulled pork:
When we have a family gathering coming up I love to make this slow cooker pulled pork or Ninja Foodi pulled pork. It is super simple, PACKED full of flavour and a little goes a long way. I love to serve this with a variety of sides including slow cooker rice, air fryer wedges, air fryer chips and it goes great as the topping for one of my moroccan lamb burgers too.
If you're hosting a family BBQ then this is a great dish to make in advance in your slow cooker. People can serve themselves direct from the slow cooker pot and it is a great way to top off burgers. It is a really cheap cut of pork used for this recipe too so this is a great way to feed a crowd on a budget.
Slow cooker whole chicken:
I love the convenience of this slow cooker whole chicken uk recipe. It's really simple, and I can cook a whole host of vegetables in the pot too. I love to use the stock that is created when making this recipe for an onion gravy, half to serve alongside dinner, and half to freeze for another meal.
Slow cooker sausage cassoulet: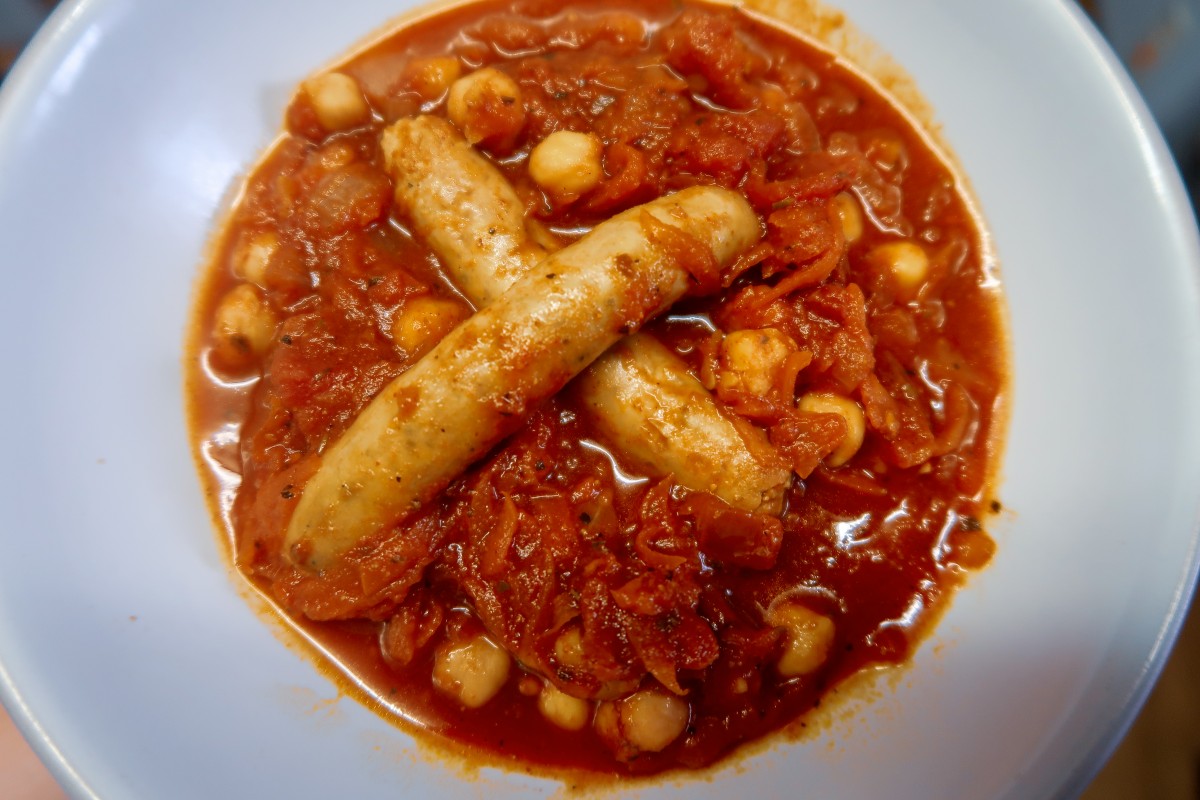 My slow cooker sausage cassoulet is a real winner in our home. Everyone loves this meal, and I love that I can pack it full of healthy beans and goodness for my family.
This dish has such a vibrant flavour to it, and you can use any type of sausages, including meat free.
If you want to keep it a little simpler then go for a slow cooker sausage casserole.
Slow cooker chicken curry: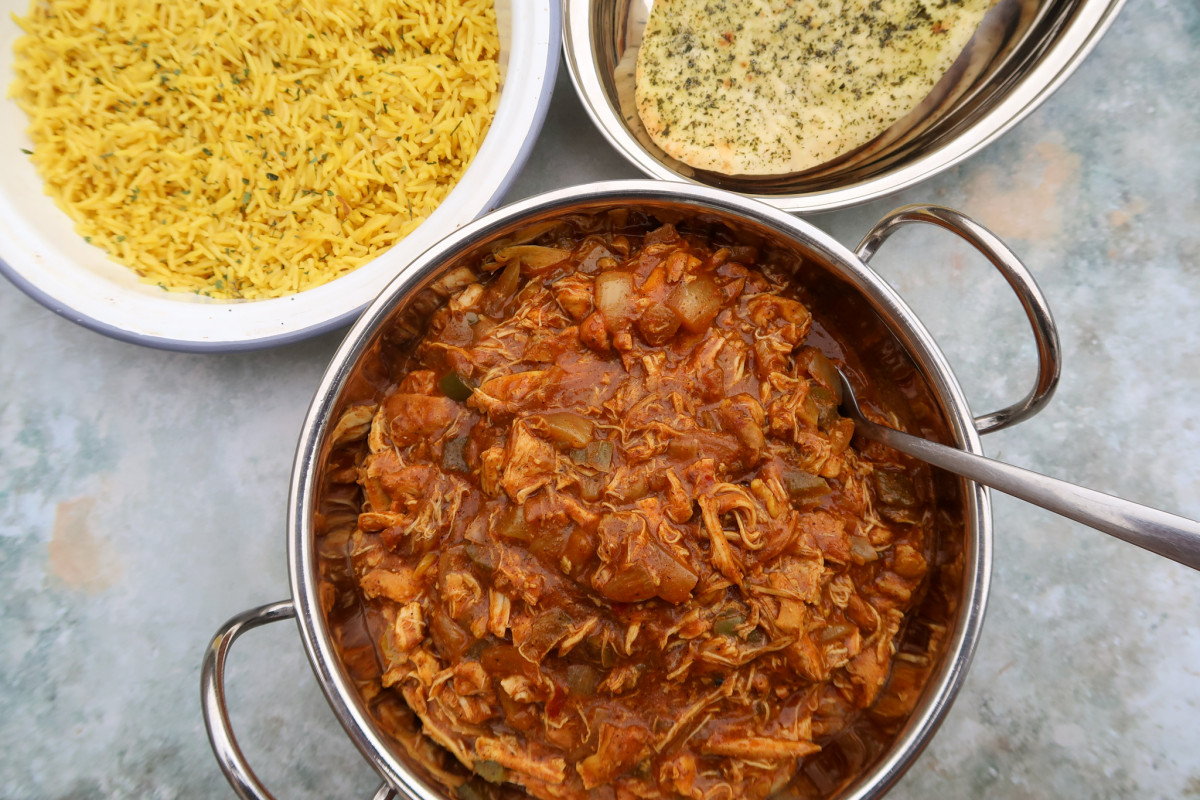 When we want to have a takeaway style meal, without spending a fortune, then I love to pop a slow cooker chicken curry in the slow cooker. I serve this with microwave rice when I want a super simple evening meal and I love to also make a batch of my no yeast flatbreads.
This is another meal where I can hide lots of vegetables from my family, and use up things from the bottom of the vegetable crisper drawer in the fridge too.
Slow cooker beef chilli
We love a hearty slow cooker beef chilli with rice. You can make slow cooker rice, or just serve with microwave rice. Also, this chilli goes so well in tortilla wraps, I love to make my own.
What I love about this meal is that you can freeze it, either cooked or uncooked. I also use leftovers of this meal for a couple of days afterwards and it is ideal to make quick lunches too.
Slow cooker jacket potatoes:
When I want a simple dinner, or lunch, I love to make these slow cooker jacket potatoes. I love making a huge batch of these up, and I freeze them too. When it is time to re-heat one of these I just cook it from frozen, for 25 minutes, and it works really well for a quick, hearty lunch.
I tend to cook the jacket potatoes the day after we've enjoyed the slow cooker beef chilli. This means we have leftovers to use up and this is a super simple, and cheap, meal for us to enjoy. This week of slow cooker dinners is easy to shop for, simple to prepare for in advance if required and means you can have a delicious, hearty dinner every night.
Being able to use my slow cooker saves us money, time and effort. It also means that we have a hot meal ready at the end of a long day – which is really needed sometimes! Fellow parents will know only too well what I'm talking about I'm sure! What else will you serve a glass of wine alongside?
A lot of the above meals in this week of slow cooker dinners are quite meat heavy, but as a result there are often leftovers if you are just cooking for 2 or 3 people.
For example I often have meat left from the whole chicken which I use for sandwiches, salads and even omelettes for our lunches. I love to prepare salads in advance.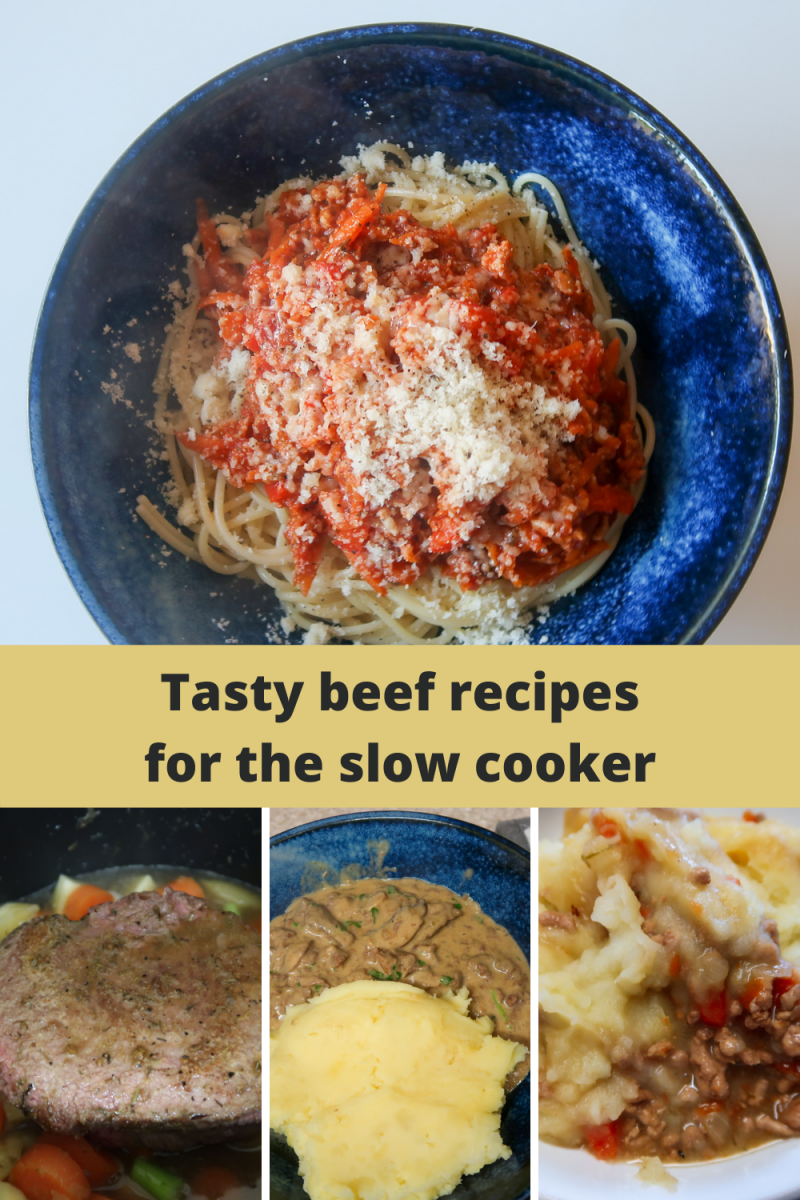 Looking for other ways to make life a little easier at meal times? Check out my meal planning tips for mince and how to avoid overspending on groceries too.
ALL of the slow cooker recipes on this website have been cooked using a Ninja Foodi OL750UK, or the previous model, but you can use ANY slow cooker, as timings should be very similar.
These are a few of my favourite slow cooker cookbooks too for further inspiration:
Why not try one of these fantastic slow cooker accessories:
If you enjoyed this post I'd love it if you could pin it on Pinterest!