Affiliate links in this post will be clearly marked with a *. Clicking one of these links means I earn a discount or receive payment.
Throwing a tasty meal in the slow cooker has to be one of my favourite good life tips. This slow cooker chicken curry is simple, cheap and perfect for any time of the year.
You need a blend of basic spices for this, and perhaps some fresh garlic and ginger, although you CAN use the puree or frozen versions to save on time and/or effort.
If you're looking for some inspiration for other slow cooker recipes then be sure to check out my Easy slow cooker recipes (UK recipes) or my slow cooker beef recipes.
I love the simplicity of using the slow cooker. There is something so satisfying about being able to put a load of ingredients together in just a few minutes and then at the end of the day there is a delicious meal waiting for you.
I love the convenience of leaving the slow cooker to work its magic while I am working hard. Or out for the day. Or even just lazing around in my PJs. The slow cooker has been a godsend for us since we had our daughters, and now the cooler nights are drawing in I'm back using it all the time again!
Chicken thighs are my 'go to' chicken for this recipe, but you can just use whatever you have to hand, or any particular cut you have a preference for. You can use skinless, or skin on, and boneless or bone in, again, just to your own preference.
Be sure to check out my slow cooker tips while you're here too.
Ingredients for slow cooker chicken curry:
600g chicken thighs
3 medium onions
1 green pepper
4 cloves of garlic
1 tsp tumeric
2 tsp cumin
2 tbsp medium curry powder (or hot / mild as you prefer)
1 tbsp garam masala
1/2 tbsp grated ginger
A pinch of cinnamon
1/2 a green chilli (or red chilli pepper puree if that's what you have available)
Salt and pepper to season the chicken
400ml chicken stock
70g of tomato puree
15g cornflour – you'll use this near the end!
My method for slow cooker chicken curry:
This is SUCH an easy dish!
You CAN brown the vegetables and chicken, if you like, but if you are really short on time then skip this step. This is the type of slow cooker dish that is perfect when it is all soft and lovely.
Place everything into the slow cooker.
Cook on high for 4-6 hours, or low for 8-10 hours.
Serve with your choice of sides and goodies. We love Ninja Foodi white rice and these 3 ingredient flatbreads that don't even require yeast!
I think this slow cooker chicken curry is lovely. It is quick, simple, cheap and healthy. If you want to bulk this out a little more you can add a tin of chickpeas.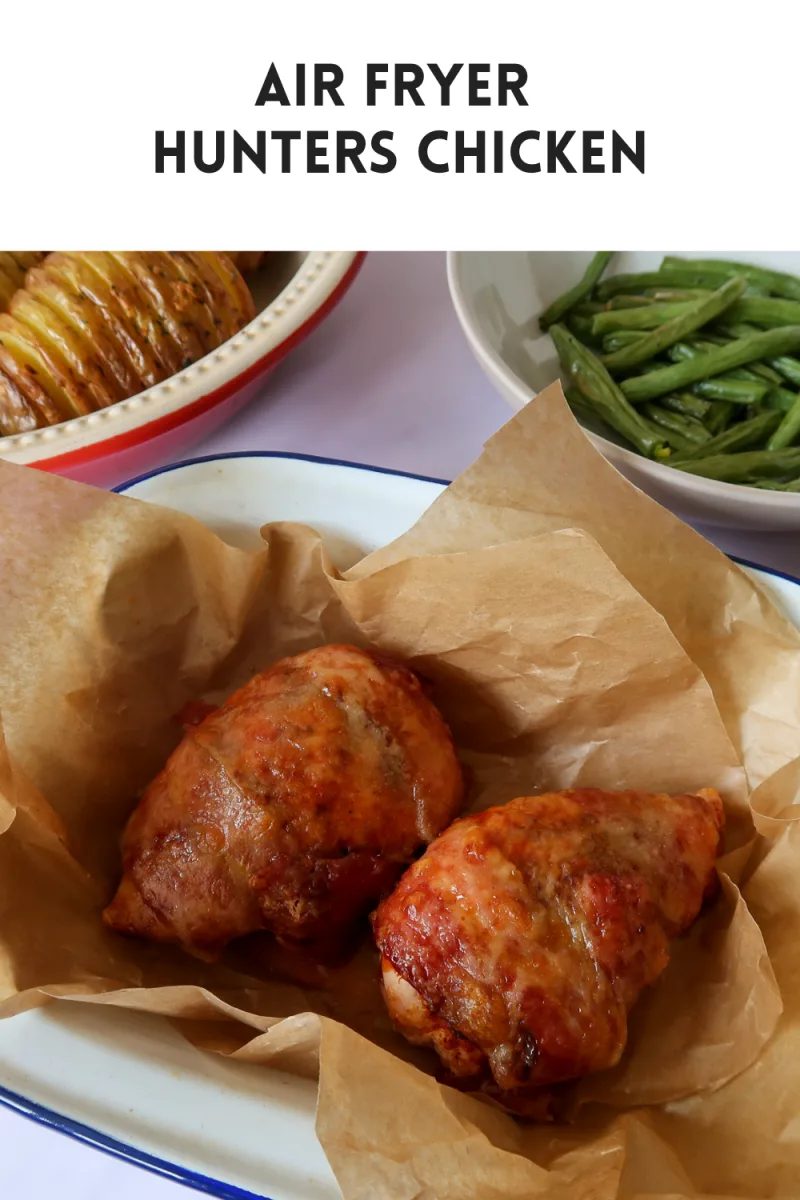 How to thicken slow cooker chicken curry?
If your curry needs a little thickening then 30 minutes before the end take the 15g of cornflour, mix it with a tiny bit of water to make a paste, and then add this to the slow cooker pot.
When your slow cooker is also a multi-cooker, like mine, it has other features too, so sometimes I like to set to sauté for a couple of minutes, just to help it along. I do find that with a multi-cooker things tend to be thicker than a stand alone slow cooker, not entirely sure why!
Want to make a curry with coconut milk?
Add this for the final 30 minutes of the cooking time, and it'll bring some lovely extra flavour to the dish, as well as a creamy consistency.
Want to use other cuts of chicken?
You really can use any chicken you like this with dish. Drumsticks, thighs, chicken breasts, chicken wings or even a whole chicken! I'd recommend making a paste with the herbs and spreading that over the chicken if you want to cook it whole.
Want to serve this to toddlers?
My 1 and 6 year old daughters both love this dish, I don't actually change anything apart from switching to a mild curry powder. If you want to make it cooler still then you could stir a little greek yoghurt through at the end of the cooking time just to cool it down a bit more! You can also skip the chilli step if you want to!
Want some other serving suggestions?
This curry would work great served with cauliflower rice, noodles, air fryer canned potatoes or even just some tasty Indian breads such as chapati, roti or naan. Air fryer cauliflower cheese is something a little different that is still absolutely delicious!
ALL of the slow cooker recipes on this website have been cooked using a Ninja Foodi OL750UK, or the previous model, but you can use ANY slow cooker, as timings should be very similar.
How to make a slow cooker chicken curry:
slow cooker chicken curry
A delicious, simple, cheap slow cooker chicken curry that takes just minutes to prepare.
Total Time
6
hours
5
minutes
Ingredients
600g

g

chicken thigh

3

medium onions

1

green pepper

4

cloves

garlic

1

tsp

tumeric

2

tsp

cumin

2

tbsp

medium curry powder

1

tbsp

garam masala

1/2

tbsp

grated ginger

Pinch

cinnamon

1/2

a green chilli

salt & pepper

400

ml

chicken stock

70

g

tomato puree

15

g

cornflour
Instructions
Brown your chicken a little, just to seal it, if you have time.

Prep the onions and peppers. I like to chop mine using a dicer, just for convenience and time saving.

Add all ingredients to the slow cooker pot, except the cornflour.

Cook on high for 4-6 hours or low for 8-10 hours.

If you need to thicken this up before serving then 30 minutes before it is finished add the cornflour, mixed with a little water first to make a paste.
Note: All calorie information is for demonstration purposes only and is based on the specific uncooked ingredients that I used when creating the recipe.
If you enjoyed this post I'd love it if you could pin it on Pinterest!