Affiliate links in this post will be clearly marked with a *. Clicking one of these links means I earn a discount or receive payment.
Fancy making a super easy slow cooker beef casserole? Don't want to put too much effort in? I've got you covered with this super simple recipe!
You can spend just 5 minutes to prepare the ingredients and then this lovely meal will slow cook all day under it is tender and delicious.
This dish costs around £5 to make, and will easily feed 3-4 hungry people. If you want to bulk it out a little further then you can serve it with a delicious air fryer bread roll or even with a nice side of air fryer green beans, air fryer mashed potatoes or slow cooker mashed potatoes.
If you're looking for some inspiration for other slow cooker recipes then be sure to check out my easy slow cooker recipes (UK recipes). Be sure to check out my slow cooker tips while you're here too.
This beef and broccoli casserole looks delicious if you want to try something a little different.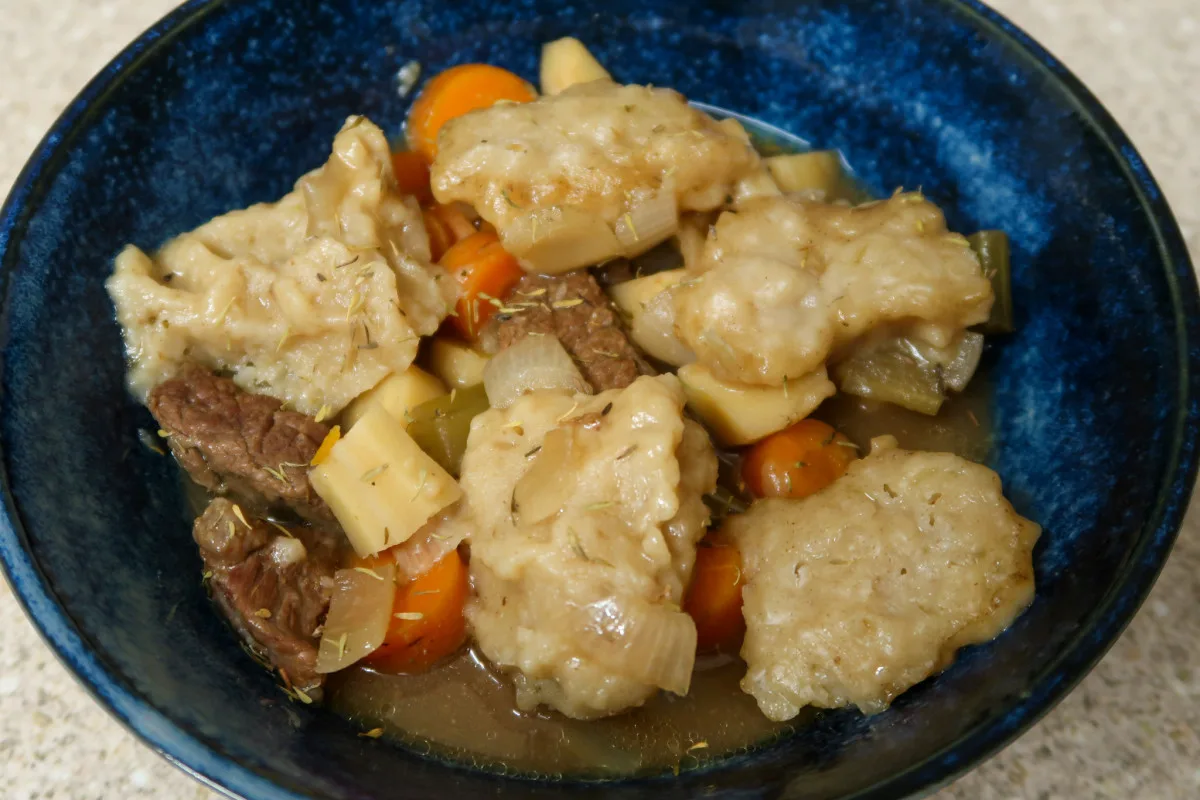 Ingredients for slow cooker beef casserole
3 medium onions
5 medium carrots – sometimes I skip these if I'm serving air fryer carrots and parsnips with it instead for a bit more texture
2 stalks of celery
450g casserole beef (you can one of the cheapest cuts as it will cook for hours to become lovely and tender) or even Cube Steak (minute steak) if you're cutting back a little
500ml beef stock or bone broth
30g cornflour
3 garlic cloves
Salt & pepper
3 tablespoons of fresh thyme or 2 tablespoons of dried thyme
A generous splash of Worcestershire sauce
A splash of brown sauce
That is it! Now you can add more vegetables as you like. Also, you can add a splash of red wine, a bay leaf and balsamic vinegar if you want to make it extra special. I often skip this and still find this casserole is delicious!
Scroll down to see my dumpling recipe too – which you can add near the end of the cooking time!
Extra for slow cooker beef casserole – dumplings
100g plain flour
50g suet – beef or vegetarian will work
Just enough water until you get a wet, slightly sticky dough – I usually find a couple of tablespoons are enough.
Method for slow cooker beef casserole
Season and brown off the meat lightly first. This seems to help with a nicer flavour overall and is worth spending a few minutes to achieve.
Throw everything in the slow cooker. Apart from the cornflour and dumpling dough.
This is it once it is all mixed together and the cooking begins. I always start off on high for 1 hour. Then I turn down to low for 5-6 hours. You can cook this on high in 4 hours if you prefer. You can also leave it 8 hours on low. It will just be super tender and pull apart with ease.
One hour before serving mix the cornflour into a little water, to form a fine paste, and add this to the slow cooker pot. You can also add the dumpling mix here if you'd like to.
I make around 8-10 decent sized dumplings from the ingredients I have mentioned above. This is ideal if you're feeding a few people, or even if you're just a BIG dumpling fan!
In our home, there is usually 4 of us eating and sometimes we have seconds! Adding more vegetables is a great way to stretch this further without spending lots more money. Just about any root vegetables work fantastic within this casserole. I sometimes serve it with root vegetable mash too.
Products I use when making my slow cooker beef casserole:
Looking for some other slow cooker beef recipes?
Want a few ways to make this recipe even easier?
You can purchase casserole vegetable mixes in the supermarket. These sometimes are found in the vegetable aisle, and other times you may find them prepared in the frozen section. These are ideal if you're making a casserole but perhaps have limited mobility.
You can also use the casserole mix sachets of flavouring, if you don't have lots of herbs and seasonings at home. This can be a great way to cook a hearty meal for your family without spending lots of money on herbs you may not use again frequently.
The ingredients in the recipe above are cheap to source, and you can make a huge number of portions just by bulking it out a little more with additional stock and vegetables.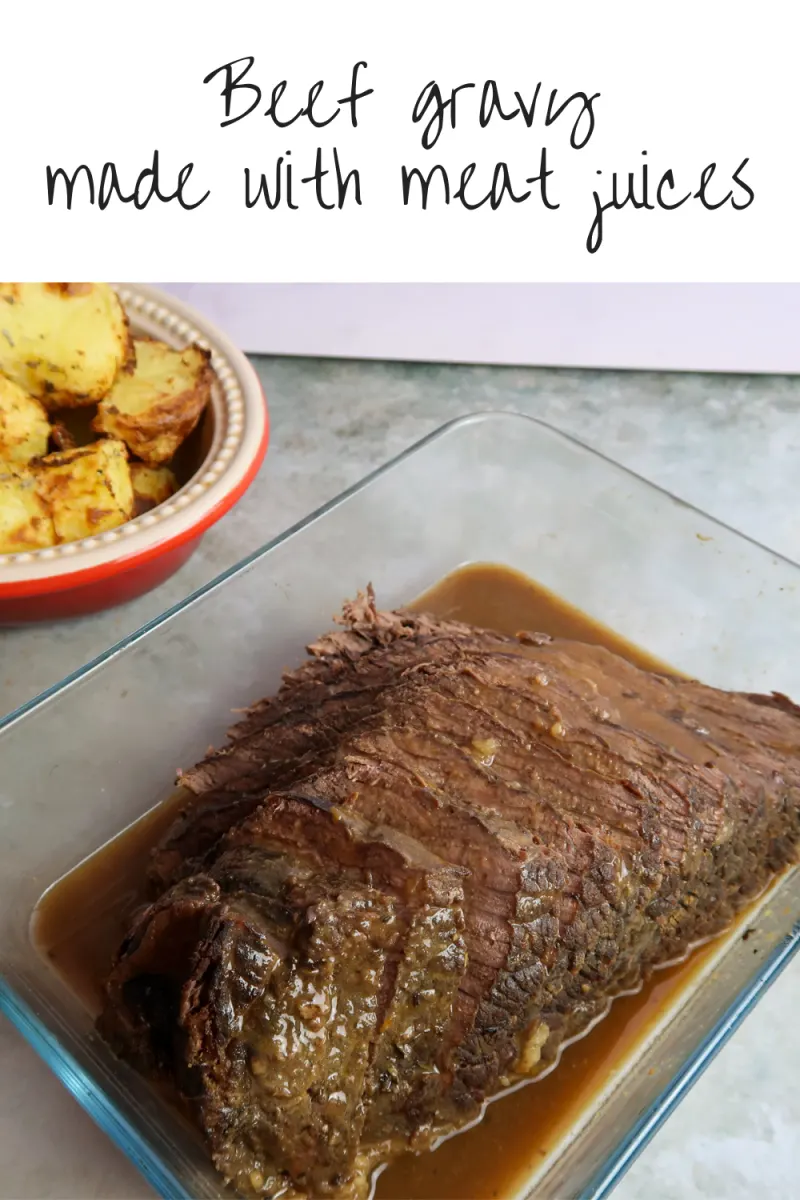 What are the best vegetables for a slow cooked beef casserole?
Personally I just love any root vegetables. My favourites are onions, parsnips, celery, carrots, turnips and then potatoes (not technically a root vegetable I know!) go SO well too and help make this a really filling hearty meal.
If you're looking to stretch this a little further then look to add some grated ingredients, such as carrots and onions, to really stretch out the meal without a much larger cost, and in a manner that is not very noticeable.
Can you cook dumplings in the slow cooker?
Absolutely! Follow my recipe above. Be sure to keep the lid on for the whole of the cooking time to create the best cooking environment and get those dumplings to steam up nicely.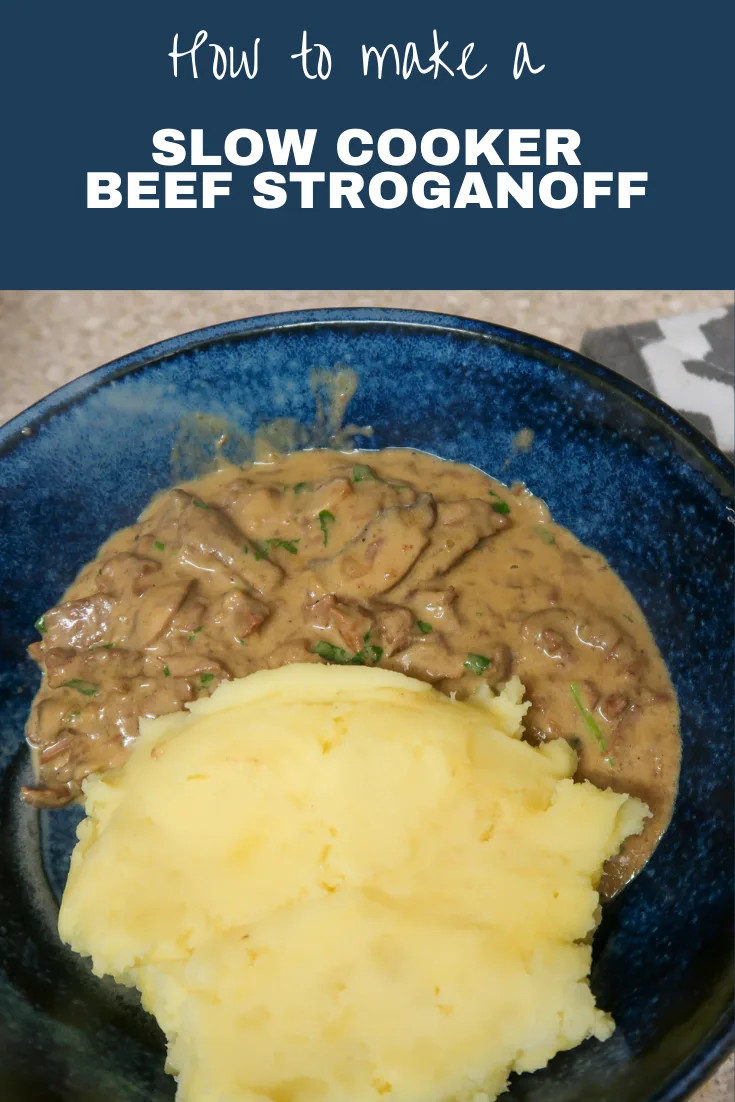 Want to make a cheap beef casserole?
While casserole beef in supermarkets is typically cheap there are even cheap cuts that you may be able to source from a local butcher. Brisket, skirt, shin and flank would all work really well for this slow cooked beef casserole.
ALL of the slow cooker recipes on this website have been cooked using a Ninja Foodi OL750UK, or a previous Ninja multi-cooker model, but you can use ANY slow cooker, as timings should be very similar.
How to make my slow cooked beef casserole:
slow cooker beef casserole
A delicious slow cooked beef casserole with tasty dumplings
Total Time
4
hours
10
minutes
Ingredients
Casserole ingredients
3

medium onions

5

medium carrots

2

stalks of celery

450

g

casserole beef

500

ml

beef stock

30

g

corn flour

3

garlic cloves

1/4

tsp

salt & pepper

2

tbsps

fresh thyme

or 1 tbsp of dried thyme

Splash

worcestershire sauce

Splash

brown sauce
Dumplings
100

g

plain flour

50

g

suet

water

to make a slightly sticky dough
Instructions
Season and brown the meat before adding to the slow cooker pot.

Add all of the casserole ingredients into the slow cooker, apart from the cornflour.

Cook on high for 4 hours or low for 5-6 hours. I always start with 1 hour on high. If you need to leave it longer you can easily cook for 8-10 hours, or overnight.

One hour before serving stir through the corn flour (mixed in a little water to form a paste)

If you're having dumplings then add them for the final hour. I always make them smaller than when I'm cooking them in the slow cooker so that one hour is enough time.
Recipe Notes
Add lots more vegetables if you want to bulk this out. They will release a little juice, which will help create more stock too.
Calories don't include dumplings.
Note: All calorie information is for demonstration purposes only and is based on the specific uncooked ingredients that I used when creating the recipe.
Like this slow cooker beef casserole recipe? Fancy trying another one of my recipes? Here are some great ones:
Why not try one of these fantastic slow cooker accessories or cookbooks:
If you enjoyed this post I'd love it if you could pin it on Pinterest!